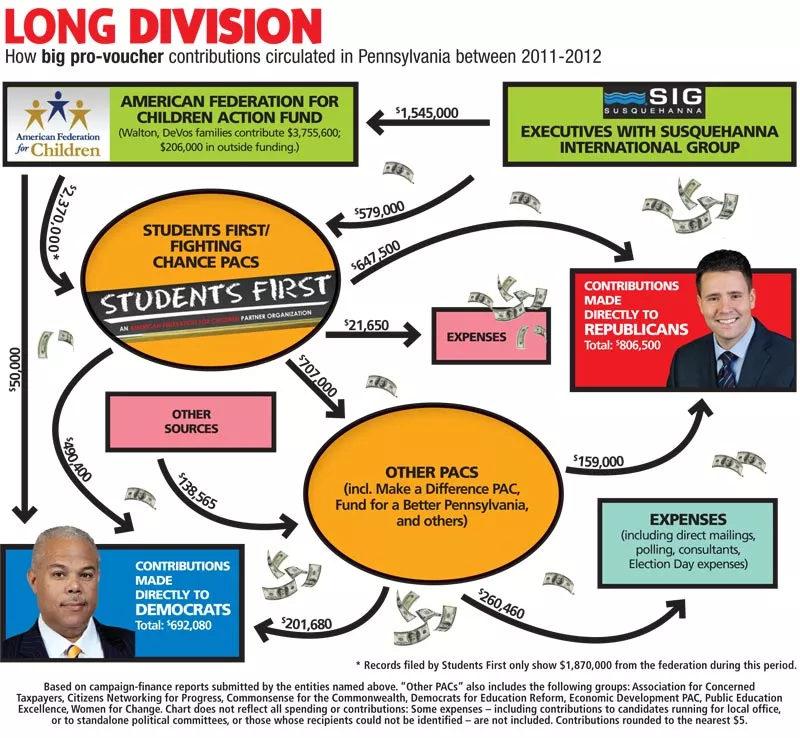 State Rep. James Roebuck has been in politics for a quarter-century, but he'd never before faced the kind of primary fight he had this spring. His challenger, Fatimah Muhammad, was a political upstart with little history in the district. Yet she was able to raise more than $230,000 for her campaign, seemingly overnight. 
"I felt like the money was being poured on my head," recalls Roebuck, a Philadelphia Democrat. Muhammad "put up billboards all across the district, and had six or seven people working at every polling place."
And then there were the mailings, like the one blaring, "James Roebuck has sold out our children to special interests." Finally, Roebuck says, "My wife said, 'I hate coming home, because I'm tired of always finding mail about you in the door slot.'"
Roebuck couldn't even tell where the money was coming from. The "special interests" mailer — which blasted Roebuck for the sorry state of Philadelphia's public schools — was sent by a group billing itself as "Public Education Excellence." Roebuck had never heard of the group, which state records show was created just weeks before the election. Still, it contributed $7,500 directly to Muhammad's campaign, while spending $4,000 on its own mailings. 
Muhammad could not be reached for comment. But a City Paper review of campaign activity suggests that roughly half of her money came from a network of political committees sharing a small group of contributors — and a common goal: expanding the use of school vouchers. 
And while Roebuck's case was extreme, it wasn't isolated. During the 2012 elections, a small group of voucher proponents contributed over $1.5 million to some 150 candidates for state office. (The number is likely much higher, since some reports are incomplete, and final reports aren't yet available.) Much of that money was funneled through a network of political committees.
Big money is a fixture of politics in Pennsylvania, where there is no limit on contributions to political campaigns. The Marcellus Shale gas-drilling industry, for instance, spent $1.6 million in 2010 — the height (so far) of its political activity. But while those contributions, as tracked by MarcellusMoney.org, came from executives at more than 50 companies, the vast majority of voucher money came from just seven wealthy donors. Among them: Three executives with a Philadelphia-area financial business, and two of the wealthiest families in America.
Roebuck is a staunch opponent of vouchers — he boasts of once kicking some supporters out of his office — but beat Muhammad by 11 points. And he notes that while Republicans have controlled Harrisburg for the past two years, supporters of "school choice" have enjoyed only moderate success. "When you spend that much money, and don't produce the results you want," Roebuck says, "I don't know what your next move is."
We may soon find out. 
"We didn't talk enough about education during this election, but education is a statewide issue, and that's what we're going to see next year," says Jessie Ramey, a public-schools advocate based in Pittsburgh. "If people follow the money trail, they'd learn a lot about what's really going on."
No more bake sales
That trail became a lot more visible in 2010. 
Voucher proposals generally tap taxpayer money to help students pay for attending private schools. They've long been popular with conservatives who favor free-market solutions to problems, and with some urban Democrats who see them as a lifeline for students in underperforming districts. Yet vouchers have gotten little traction, due to opposition from teachers' unions and critics who say the program takes money that should be spent on improving public schools.
But the political landscape shifted two years ago, when three executives at the Susquehanna International Group — Arthur Dantchik, Joel Greenberg and Jeffrey Yass — spent more than $5 million trying to elect Anthony Williams governor. Williams, a Democratic state Senator from Philadelphia, had made vouchers the centerpiece of his quixotic campaign. He finished an undistinguished third in the Democratic primary, but his campaign signaled a turning point for voucher backers.
"When you've got millions of dollars, even if you lose, it puts a certain spring in your step," says Larry Feinberg, a voucher opponent and founder of the Keystone State Education Coalition.
The Susquehanna executives, whose Philadelphia-area firm trades derivatives and other financial products, have said little in public about their political activity; the company did not respond to City Paper's requests for comment. But campaign-finance reports suggest that they, and other voucher supporters, haven't given up.
The Susquehanna execs direct most of their campaign cash through a political action committee (PAC) called "Students First." That PAC contributed nearly $950,000 to political candidates this election cycle. And it wasn't acting alone.
Students First's other major source of contributions is the American Federation for Children, a Washington, D.C.-based group whose mission to is "promot[e] school choice, with a specific focus on advocating for school vouchers" and similar programs. Of the more than $2 million in contributions to Students First between 2011 and Oct. 22 of this year, City Paper found that $1.87 million came from the Federation.
(That number may understate the Federation's support. Federation records show a $500,000 contribution to Students First in June 2012, but Matthew Keeler, a spokesman at Pennsylvania's Department of State, says there is no report on file covering Student First's activity during that period. Students First officials did not respond to repeated phone calls and emails. The former head of Students First, Joseph Watkins, declined comment on that report.) 
Students First and the Federation are "partner organizations," says Federation spokesman Malcom Glenn, whose "highest priority is making sure kids get a high-quality education." The groups work "in a collaborative process" to decide which candidates to support. 
Since 2011, the Federation itself has raised $5.5 million. Of that, $3.75 million comes from members of the Walton family — of Wal-Mart fame — and Betsy and Richard DeVos, the cofounders of Amway. The DeVos family is no stranger to conservative political causes: They have also supported the National Organization for Marriage, which opposes marriage equality for same-sex couples.
 "I guess all these people have so much money, tossing a million dollars at a race is like me buying a sandwich," says Feinberg, who has tracked pro-voucher political contributions on his website, keystonestateeducationcoalition.blogspot.com. And it bothers him that "you've got million-dollar logs being thrown on the fire from out-of-state." 
And something else troubles him as well: "Instead of making contributions directly, they go through a bunch of other entities to do it." 
Math problems
When it comes to vouchers, following the money isn't easy. For starters, while Students First receives large sums from the Federation, the Federation gets much of its money from ... the executives who bankrolled Students First. Dantchik, Greenberg and Yass have given the Federation $1.5 million since 2011, according to Federation records. 
Confused? You ain't seen nothing yet. (See chart, "Long Division.")
Earlier this year, a new political committee, Fighting Chance, was established with $395,000 — all of which was contributed by Students First and the Susquehanna executives. It's not clear what Fighting Chance's goals are: The organization's chairperson is a Harrisburg lobbyist, Patricia Welty, but she directed calls to Fighting Chance's spokesman, Jamie Santora. Santora did not return calls for comment.
 But Students First and Fighting Chance both give money to many of the same politicians — and to an array of smaller PACs, many of which were established only this year. 
Those new groups have cryptic names like Public Education Excellence, For a Better PA Fund and Commonsense for the Commonwealth. City Paper reviewed records for nine such groups: Students First and Fighting Chance were the largest, if not the only, sources of support for all of them. Most of these groups were comparatively small, and concentrated solely on the Roebuck/Muhammad race, but others are active statewide. State Rep. Mark Mustio (R-Moon), for example, received $9,000 from three different groups: Students First, Fighting Chance and Commonsense — even though the latter two organizations rely almost entirely on the first for their funding.
In all, the groups tracked by City Paper have contributed more than $1.5 million to 157 state politicians. Nearly all were legislators, though Students First gave Gov. Tom Corbett $25,000. Nearly three dozen state-level politicians received $10,000 or more; eight of them received more than $50,000. 
Those totals don't include polling and other expenditures — including mailings like those attacking Roebuck — that could benefit favored candidates, but which can't be traced through state records. 
Contributions to Republicans outweighed those to Democrats by $806,500 to $742,080; most Democratic recipients were black officials from the Philadelphia area. (Many are said to have political ties to Williams, though he declined comment.)  
Shifting money around between committees "isn't illegal, but 'shell game' might be a good description," says Barry Kaufmann, executive director of Harrisburg watchdog group Common Cause. "It certainly creates a perception of broad-based strength where it may not exist: It looks like support from all these very idealistic-sounding names, when they may just be subsidiaries of a parent group." And the problem with such "crypto-PACs," as Kaufmann calls them, is "you have a PAC called Citizens for a Glorious Pennsylvania, and all you have is a treasurer's and a president's name, so you don't know much about it."
Malcom Glenn says the proliferation of such committees reflects a broad coalition of voucher supporters.  "These organizations are part of a broader reform movement, and some have a more specific focus," he says. 
Joe Watkins, who founded Students First in 2010 and left it earlier this year, agrees. "I don't think it's unusual for political-action committees to support other groups," he says. "Different groups work with different populations."
But the voucher groups seem especially close-knit.  For example, state records show that Commonsense and the "For a Better PA Fund" share the same chairperson: Sheila Flickinger. Flickinger is a staffer at the state House Republican Campaign Committee; she did not return calls for comment.  
 And the network features some strange bedfellows. In August, for example, the "Democrats for Education Reform" reported giving $10,500 to another new group, the Association of Concerned Taxpayers, which spent the money on a mailer. But the Association's chairman, Ryan Shafik, is a political consultant whose firm, Rockwood Strategies, boasts solely of working for Republicans. (The firm's website includes a testimonial from U.S. Sen. Pat Toomey.) Neither Shafik nor Mark Fabbi, who is listed as treasurer for the Democratic group, responded to calls for comment. 
Star pupil?
Based on records currently filed with the state, the state's top recipient of pro-voucher money in 2011-12 was state Rep. Jim Christiana, a Beaver County Republican. With $151,000 in donations, he beat out even Williams, the movement's previous standard-bearer, who received $142,250. 
All but $1,000 of Christiana's donations came either a few months before, or a few months after, he sponsored a bill to extend the "Educational Improvement Tax Credit," a program that allows businesses to deduct contributions made to private schools from state taxes. Although the program, which was later incorporated into a bill signed by Gov. Tom Corbett, can benefit public districts as well, it is widely seen as a victory for private schools. 
Still, Christiana says it's "completely off-base" to suggest he sponsored the bill to repay contributors. "I've been a supporter of choice in education since 2007, when I first started to run for the state House," he says.
"Candidates that support the issue tend to get funded, but nobody can be held to anything by the money they receive," agrees Watkins, formerly of Students First. "You have a dialogue with them, in the hope that they care about the issue."
Anyway, Christiana says, it's not as if voucher opponents lack funding: "I don't begrudge the teachers' union spending tens of thousands of dollars to oppose me in previous elections. But public-sector unions have a stranglehold on a lot of elected officials in Harrisburg."
Teachers unions are a powerful force: One teachers union, the Pennsylvania State Education Association, spent $1 million of its own money in 2012 alone, most of which went directly to candidates. But the vast majority of that money — more than $975,000 — came from contributions of $250 or less, money given by rank-and-file teachers and other supporters. 
"You've got a dozen people with a lot of money, versus thousands and thousands of teachers," says Feinberg. "Just from a democracy standpoint, you have handfuls of people trying to set public policy. They're not winning every battle, but they're winning enough."
Final exam
For all the money spent by voucher advocates, it's not clear the 2012 elections helped the cause.
"We're still making assessments of what we're going to do in the New Year," says Malcom Glenn, the American Federation for Children spokesman. But he adds that "a majority of the folks who were supported by Students First were victorious. We think that speak to an appetite on behalf of voters for more choice." 
However, the vast majority of candidates backed by voucher supporters were incumbents. Many, like Christiana, faced token opposition or none at all. And as with the Roebuck race, voucher proponents had setbacks: In Pittsburgh's South Hills, Republican Raja lost an open state Senate seat to Democrat Matt Smith — despite a $7,500 contribution from Students First.
Voucher backers are circumspect about the work ahead. 
"Change takes time," says Joe Watkins. "People who present good ideas have to keep doing so again and again. As with a lot of movements, the ball hasn't moved forward as quickly as they might like."
But Watkins' own career shows that those who support privatizing schools may be making headway. This summer, Gov. Corbett appointed Watkins to overhaul the long-suffering Chester-Upland School District. Watkins released his recovery plan last week: It envisions the possible use of charter schools and vouchers if the district can't right itself by 2015. 
"This stuff is in the weeds right now, and voucher advocates are counting on people not paying attention to it," says Jessie Ramey, a University of Pittsburgh professor whose blog Yinzercation has become a gathering place for local public-school supporters. Among other things, the blog has decried decreasing funding for public schools under Corbett; Ramey worries that vouchers will make things worse. "We're being sold a bill of goods: Vouchers take public money and send money to parochial and private schools." 
And in any case, Ramey says, "We ought to care that our state policies are being bought and paid for."