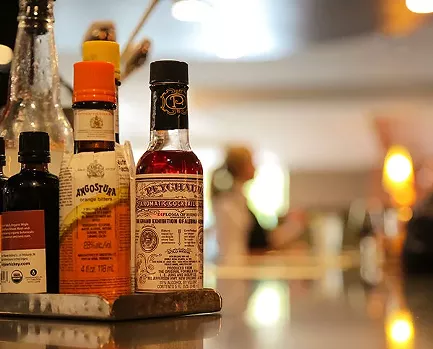 Hotel bars get a bad rap. And with boring, overpriced draft lists and way too many cocktails ending in "tini," a lot of them deserve it. But these days, hotels around the world are spending serious time developing beverage programs that leave cookie-cutter bars in the past. The bar at East Liberty's brand-new Hotel Indigo is one of them, boasting a drinks list that looks to the future while nodding to the neighborhood's rich history.
Though the Hotel Indigo is owned by massive hotel company IHG, its bar/restaurant, named Wallace's Tap Room, is hardly a corporate affair. "The idea is to bring in the culture of the community here," explains bartender Cat Cannon. "Pittsburgh is its own beast."
Wallace's Tap Room draws inspiration from the history that dances around it. One of the buildings that makes up the Hotel Indigo once housed the Governor Hotel, whose architect, C.L. Wallace, gave the bar its name.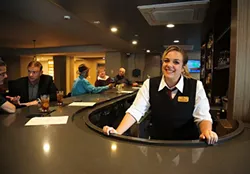 Another of the hotel's buildings supposedly contained a speakeasy during Prohibition, and drinks like the Boulevardier and the Bee's Knees date to the bootlegging era. Other cocktails honor the past in different ways. One of Cannon's favorites, The Carnegie Collins, is a biting Scotch, honey and ginger cocktail with a float of Penn Dark Lager. It pays homage to Pittsburgh's most famous Scotsman, who once had a home in the neighborhood.
The beer list is equally Pittsburgh-focused. The night I visited, nearly three-quarters of the drafts were taken up by local brewers, including a pumpkin ale from Highland Park's Costar Brewing and a lime-basil saison from Lawrenceville's Hop Farm. Other local touches abound, such as a house coffee blend from nearby Zeke's Coffee and sodas from Natrona Bottling Company.
The prices at Wallace's Tap Room are as unexpected as the drinks themselves. Cocktails start at just $8, and most drafts are about $6. The Hotel Indigo will hold its grand opening in mid-October.