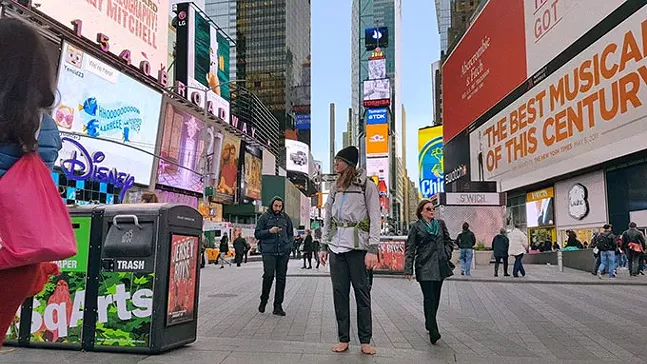 As the effects of climate change become more extreme, so does the activism fighting against it. In the fall of 2016, Mark Baumer, a Rhode Island artist and activist, began walking across the country barefoot to raise awareness about climate change and to raise money for a local environmental organization. He documented the journey with prolific YouTube videos and blog posts. One hundred days into his journey, Baumer was hit by a car and killed.

Baumer had started to gain an online following during his journey, but his message spread even further after his death. Barefoot: The Mark Baumer Story, a documentary by Pittsburgh director Julie Sokolow, chronicles Baumer's journey, preserving his work and his message as an artifact that can instill both hope and urgency. The film will have its Pittsburgh premiere at the Three Rivers Film Festival on Sat., Nov. 16 (followed by Q&A with Sokolow, cast, and crew) and on Wed., Nov. 20 (Q&A with Sokolow) at Regent Square Theater.
Like many of Baumer's online followers, Sokolow was devastated by his death because she'd felt like she came to know him well through his vlogs. In the videos (there was one for each day of his trip), Baumer is funny, honest, and personal about his journey. He filmed himself walking along the side of the highway in rain and snow; he showed the blackened bottoms of his feet; he yells, "I DON'T WANNA LIVE IN A WORLD WHERE PENGUINS DON'T EXIST" into the dark, night sky. His videos have titles like "The purpose of life in Zanesville Ohio" and "Don't let the advertisements control your mouth." The project was both a form of activism and performance art.
"Because he's really funny and smart and whimsical, he made the issue of dealing with climate change and climate catastrophe more approachable for me," says Sokolow. "It was just an issue that depressed me deeply and was so overwhelming, and the fact that this one person was out there trying to make a difference and doing it in this kind of joyful way really appealed to me."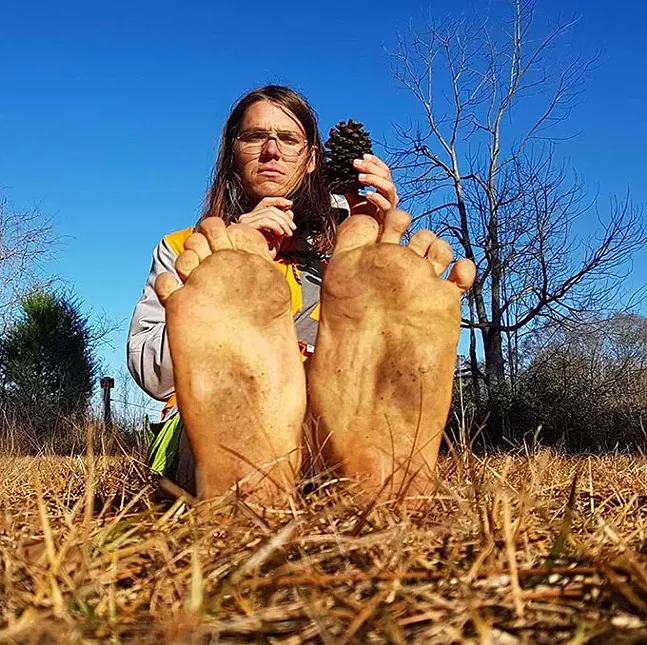 When Sokolow first started watching Baumer's videos, she thought that he'd be a good documentary subject and considered reaching out to him when he was done. When he died, she contacted his parents, starting with a heartfelt letter telling them what she admired about their son and why she wanted to make the film.
"[I told them] the truth, that Mark was and is a role model to me, that I respect him as an artist and as a filmmaker, and wanted his materials to be preserved and presented to the world in an accessible way," says Sokolow. The crew began filming in March 2017, two months after Baumer's death.
In the film, we see how Baumer inspired his parents, friends, and complete strangers to continue some of his work. His parents went vegan because their son did. They started a fund in his honor and gave scholarships to student activists.
"I admired his fearlessness and wish I could be more like that," says Sokolow. "Through making the film, I wanted to maybe even learn how to be more fearless in my own life and my own activism and trying to make a difference."
Parts of Barefoot and of Baumer's life feel almost too on the nose, like part of some cruel cosmic joke. The website he used to blog about his trip had the URL notgoingtomakeit.com. His last video documents the 100th day of his journey, on Jan. 20, 2017. It was also the day of President Trump's inauguration and Baumer's last full day alive. He walks along the side of a highway in the rain, yelling into his camera, and at cars and people passing by, "If you support this man, you do not support human life on this planet, plain and simple."