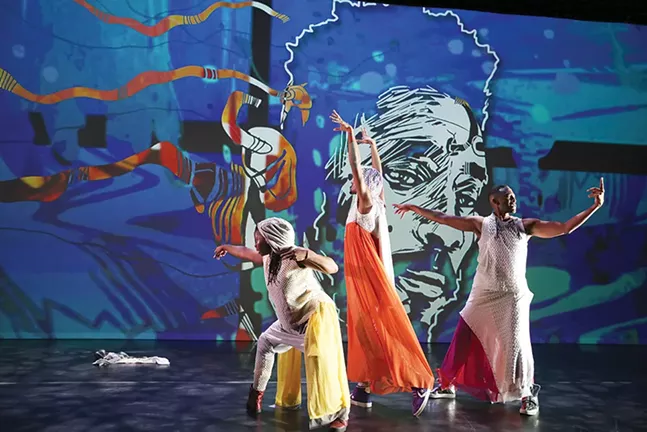 Bessie Award-winning choreographer Cynthia Oliver says of her latest work Virago-Man Dem: "It's a love letter to my son."
Co-commissioned by the Kelly-Strayhorn Theater, Dance Place, and others, this hour-long, dance-theater piece without an intermission is performed by Cynthia Oliver Co., and premieres in Pittsburgh on September 28.
Described as "a nuanced study in masculinities and their multiplicities within cultures of Caribbeanist and African-American communities," Virago-Man Dem was inspired by Oliver's experiences raising her now 14-year-old son.
"I watched in amazement at his socialization outside our home and the kinds of things he was picking up," says Oliver, a professor of dance at the University of Illinois, Urbana-Champaign. "Some of it was horrifying."
Most frightening to her were the narrow-viewed do's and don'ts' of masculinity. "As the mother of a black male child in America, there are certain harsh realities you have to contend with to give them the best chance at a long, productive life," she says.
One reality informing the work was a heartbreaking conversation with her son that Oliver says is familiar to many African-American parents: "You can't do this in the classroom just because Billy can, because you are seen differently than Billy."
Virago-Man Dem acknowledges those harsh realities and looks at a world without those types of constraints, and at the joyful beauty of black life.
Set to an original rhythmic score by Jason Finkelman, and utilizing movement, spoken word, projections, and black futurist imagery, this work also draws heavily on its cast members' personal experiences related to masculinity and black life. "A lot of my interest in storytelling is rooted in the experiences of the actual performers and woven through experiences of my own with certain key figures in my life," says Oliver.
The New York Times described this work as being "all about defying cultural pressures and expectations, or slyly slipping out from underneath them." Oliver says audiences can also expect surprises — some humorous and others perplexing — for people familiar with black culture.
"I want to get dirty, acknowledge demons, hail the angels, tell secrets, question and celebrate conflicted, complicated, glorious lives fully lived," says Oliver.
Follow featured contributor Steve Sucato on Twitter @ssucato.

Virago-Man Dem
Fri., Sept. 28 and Sat., Sept. 29. 8 p.m. No set prices. Kelly-Strayhorn Theater, 5941 Penn Ave., East Liberty. Kelly-strayhorn.org