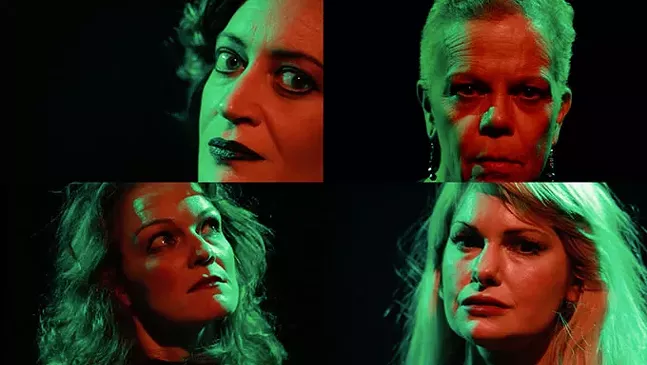 Infobox: Welcome to Moonside. Thu.–Sun., Aug. 22 – Sept. 8. 2204 E. Carson St., South Side. $50. vigilancetheater.com

Vigilance Theater's first production, the supernaturally tinged murder mystery
Hollow Moon
, was staged at a private residence, with an address fittingly kept secret until attendees bought tickets. The sophomore effort from the theater group, founded in 2018 by Sean Collier, Dana Custer, Ariella Furman, and Renee Rabenold, is taking a different approach. For
Welcome to Moonside
— running Aug. 22-Sept. 8 — they chose an equally unique but more public venue in the space formerly occupied by Lava Lounge in South Side, known for its uniquely designed, volcano-themed interior.
"Last year, because someone owned the house, it was better to keep it secret," says Rabenold, who's directing the show with a script by Collier. "This year, because it's a public space, it's easier to announce."
But while they take place in distinctly different locations and neighborhoods, the shows share a connection via two characters introduced in Hollow Moon — a figure known simply as The Spirit and a slain woman, played by returning cast members Ashley McKinney and Karen Forney, respectively. The show will follow them into the titular Moonside, a surreal pseudo afterlife inhabited by other spirits both welcoming and hostile. Audience members enter this world at a time of crisis and are invited to help the characters make things right.
While Rabenold describes Moonside as a dark, surreal, sci-fi follow-up to the first Vigilance show, she feels audience members will relate to its human themes.
"It plays with how we deal with memory, how we deal with loss, and how we interact with each other," says Rabenold.
For the remaining cast members, all of whom are women, Vigilance brought in a group of people from the city's improv comedy scene and theater community, including Hazel Leroy, a local stage veteran who plays the villainous ruler of Moonside.
Moonside performer Saige Smith believes the varied cast has helped her grow as an actor, especially one who has little experience in immersive theater, which, unlike conventional plays, incorporates both scripted and unscripted scenes and requires performers to interact with the audience.
"When it comes to the improvisational scenes, I really have to look to the other ladies to show me how to do things and how to stay natural, and how to stay strong in your character and also interact with someone," says Smith, who studied acting at Point Park University.
She's joined by fellow performers Bevin Baker, Jennifer Dallas, Tamara Siegert, Vanessa St. Clair, and Anna Failla, who will act alongside Smith as Dawn, a spirit split into two bodies.
"Together, we make one spirit and we kind of have this synergy where we know what the other one is thinking and we can finish each other's sentences," says Smith, adding that the very high-concept character is tasked with handling "all the sociopolitical relations on Earth."
But Lava Lounge will surely steal some of the spotlight with its distinct layout and fiberglass details meant to look like flames and molten lava. Rabenold says that while she was initially intimidated by the former bar, she has come to enjoy directing in it, as it offers more space, levels, and weird features to play with compared to the Hollow Moon location. For example, one of the sunken seating areas will serve as a pit-like home for a Moonside creature.
"It really helps give us this otherworldly feel that we were looking for," says Rabenold. "We're playing with the general strange inside of a volcano-slash-on the moon aesthetic it brings us and trying to transform it a little bit, but trying to go with the flow of what it's telling us it wants to be."
After hearing stories about all the "crazy" things audience members did during Hollow Moon, Smith is eager to see how groups react to the show and its unconventional setting.
"I'm just really excited to stay on my toes and pretty much just do whatever needs to be done to keep the show running," she says. "I'm just really interested to see what the audience is going to do."