About a year ago, rumors of a new Vietnamese restaurant in the East End began circulating. This proved true when sisters Trinh Phan and Trang Somphomphakdy posted a sign reading "we pho realz" on the storefront of what would become Two Sisters Vietnamese Restaurant, Pittsburgh's newest spot for first-rate pho and traditional Vietnamese cuisine. After almost a year of waiting, Pittsburghers jumped at the restaurant's soft openings in January of 2019 before its official launch on February 4.
Two Sisters is built around family. Phan and Somphomphakdy have relied on the skills of their nieces, Kellie and Tuyen Truong, who run Bahn Mi & Ti in Lawrenceville, as their restaurant solidifies a place in the city.
Inside the restaurant, Two Sisters echoes the design of Bahn Mi & Ti: minimalist, modern, and functional. The dining room transitions smoothly from a fast-casual lunch joint to a swanky, first-date approved spot. High ceilings lined with exposed lights warm the space with a soft glow. It feels spacious even when the tables are packed. There are places to tuck away for privacy and spots to people-watch. The decor honors the sisters' heritage, the focal point being a flowing mural.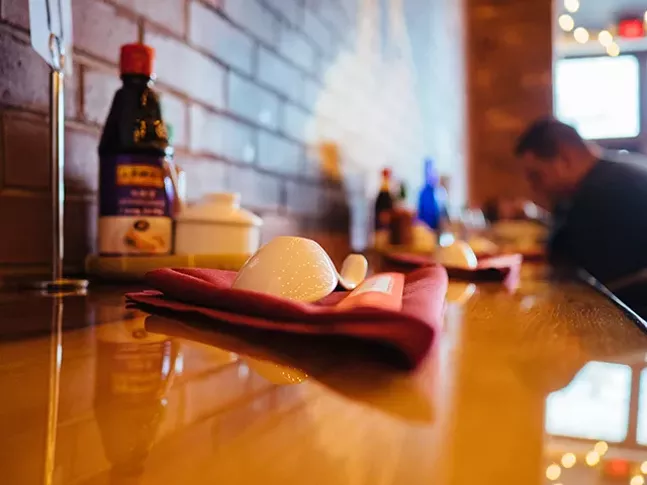 The one-page menu is as simple as the restaurant's Instagram bio: "two sisters makin' pho." There's pho, bún (cold vermicelli noodles), and cóm (rice dishes), along with a mix of spring rolls, salads, and specialty drinks. Phan and Somphomphakdy feature a range of traditional Vietnamese dishes but pho is their main focus.
Searching for a dish with a bit of spice, I opted for a something in between bún and pho — the lemongrass-marinated beef soup. Phan and Somphomphakdy's sense of flavor is remarkable. All parts of the soup felt deliberate. The meat was tender, bursting with a touch of citrus. Thick noodles filled out the broth, neutralizing pockets of spice.
Pho is the restaurant's specialty, but bún (cold vermicelli served with fresh vegetables, pork, and a spring roll), rivaled the soup for best dish on the table. It balanced sweet, honey-soaked pork with a douse of fish sauce and tang of pickled carrots.
In the end, Two Sisters taught me one thing: broth is the most important part of pho. There was a lot of care that went into that simple beef pho. It didn't need the vegetables or meat. The broth alone was memorable.
On the surface, Two Sisters Vietnamese restaurant seems like a straightforward eatery, but this team of sisters brings a depth to each dish. Phan and Somphomphakdy, from day one, weren't joking. They are "pho realz" about flavor.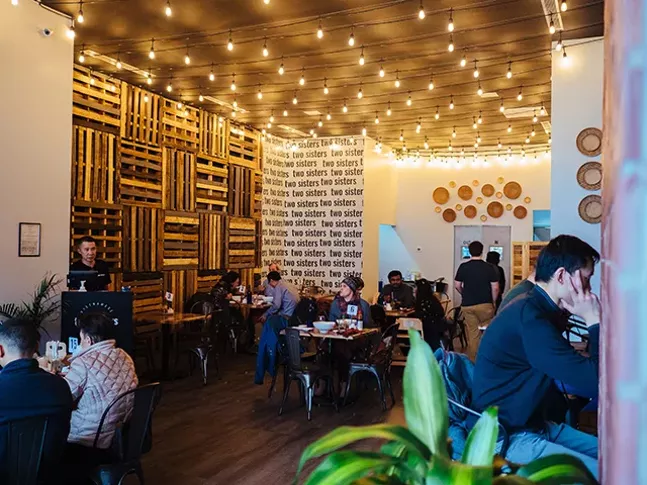 Favorite Features

1. Spring Roll

Half of a spring roll at Two Sisters is the size of two full rolls at any other Vietnamese restaurant. It's a beautiful rainbow of vegetables in a vessel the size of a king-size Snickers bar.
2. Community Table


A large table takes up the center of the restaurant. It's a natural fit for Two Sisters, the family-centric eatery supporting family-style eating at one community table.


3. Leftovers


Two Sisters doesn't joke around about flavor, and they don't joke around about portion sizes. The bowls of pho are huge — over half of my soup is waiting for me in a takeout container.