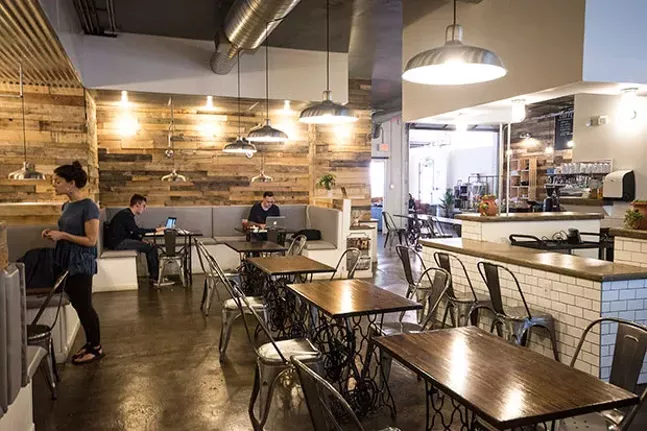 A former motorcycle shop in Lawrenceville has been transformed into a beautiful swan, the recently opened Vietnamese-American coffee shop Ineffable Cà Phê.
"Café" is fair, but one could bump it up to "lounge." How else to categorize a spot with such an inviting assortment of seating and congregating areas? There are nooks with armchairs; a tiled bar with high stools; booths; small tables for two (these are actually beautifully restored old Singer sewing-machine stands); a home-like coffee-table-and chairs space, near a shelf of board games; a free library; a kids' play area; and, weather permitting, outside seating near a raised herb garden. There's even that East End rarity — off-street parking.
The food menu is brief — some pastries, and a selection of báhn mi sandwiches, available with roasted pork belly, grilled marinated pork, grilled lemongrass chicken or fried tofu. Served warm on French bread, each sandwich is dressed with cucumber, cilantro, shredded pickled carrot and daikon radish, jalapeno slices and house-made butter.
From 7-10 a.m., early birds can take advantage of a breakfast menu — egg-bacon-cheese sandwich, avocado toast, granola, or a báhn mi bo duong (warm baguette with butter and sugar).
But one need only stop by for a hot or cold drink to take advantage of the aforementioned lounging and socializing areas. There is a selection of bubble teas, as well as the standard selection of coffee preparations, such as espresso, cold brew, latte and cappuccino. For a more authentic Vietnamese take on coffee, try cà phê sua/da. Here, the coffee drips very slowly through a filter into a glass prepared with sweetened condensed milk. The result is an intense dark coffee, balanced by the sweet milk. Enjoy hot (sua), or served over ice (da).
3920 Penn Ave., Lawrenceville. www.ineffablecaphe.com