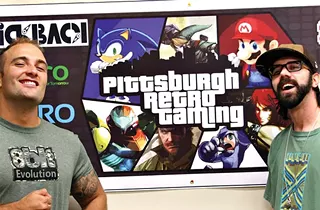 James Deighan has a serious addiction to quite possibly the worst video game to ever appear on a gaming system.
"Shaq Fu!" yells an excited Deighan, naming the video game that he's compelled to collect even though it's universally hated by just about every gamer who's had the misfortune to play it since its introduction in 1994. "I have about 80 "Shaq Fus," and people keep buying me more.
"Everyone hates it. There are people in the gaming industry whose goal is to destroy every copy. But it's campy. It has Shaq as a ninja, which is ridiculous.
"In fact, do you want to play "Shaq Fu" right now?"
Pass. But it's the existence of gamers like Deighan, 28, with his uncontrollable urge to buy and protect copies of "Shaq Fu," that have led him and his best friend and business partner, Matt Jurcic, 33, to launch the inaugural Pittsburgh Retro Gaming Expo, taking place Nov. 15 at the Pittsburgh Irish Center, in Squirrel Hill. The event will bring together collectors of vintage games under one roof to play, buy and celebrate retro video-game culture.   
Deighan and Jurcic run 8-bit Evolution, a retro-video-game company that restores, modifies and resells vintage video-game systems and game cartridges, including the original Nintendo, Sega Genesis, Gameboy, Dreamcast and everything in between. Basically, they take a vintage gaming system — a beaten-up mid-1980s Nintendo, for example — and turn it into a playable piece of art.
"There's really nothing like this in Pittsburgh," says Deighan says. "We wanted to have something that was video-game-specific.
"This is a great opportunity to get in and build on the Pittsburgh infrastructure of retro-gaming enthusiasts."
Deighan and Jurcic say the culture of retro gaming is spurred by modern video games and systems. A parent "may see their kid playing the new Super Mario Brothers game and that brings back memories of the games they used to play," Deighan says. Jurcic says he got involved in collecting by watching videos of classic games on YouTube and now has his own retro-gaming YouTube channel.
The pair has been talking about starting a gaming convention for years, but only decided in August to host the event.
"We really put this together fast considering that some of these conventions can take a year to plan," Jurcic says. "We've talked about it for while, but in August, James said, 'We're doing this,' and I realized, "Oh shit, we're doing this.'"
The event will feature several stations with free game play, along with free or low-cost gaming tournaments and contests like a Super Smash Bros Melee. There will also be free pinball machines provided by Lawrenceville's Kickback Café and vendors selling vintage video games, art and memorabilia. Live music throughout the day will be provided by three bands: Dethlehem, Klaymore and The Existential Gentlemen
"We wanted to have a fun event where people who are like-minded could get together," Deighan says
Being like-minded is how Jurcic and Deighan got together in the first place; they met while buying and selling games. Jurcic says the pair got into vintage gaming as a business because, as collectors, they were buying games at a premium and realized "we could do this and do it better."
"If you have a massive video-game collection, you either have to be rich or be buying things, keeping what you need and selling off other stuff just to keep buying," Jurcic says
"We're like video-game gypsies," adds Deighan.
"Yeah, like video-game nomads," replies Jurcic.
"More like video-game Vikings," counters Deighan.
  While you might not be a gamer on this level, Deighan says the event is not just for hard-core gamers and collectors.
"We wanted to have an event [where] people who might be interested could see what retro gaming is all about and get their feet wet," he says. "People get bitten by the bug when they see how excited you get over this community."
Jurcic says while his children play modern games, they still bond over playing the games he played as a child
"My kids love the old stuff," Jurcic says. "My son began playing "Sonic the Hedgehog" on Sega Genesis when he was 3 years old. You only had to use one button to play and the graphics are still cool today
"It holds up well. Not every retro game does, but a lot of them do."
While Jurcic and Deighan both play modern games as well, they still play their old systems and games, often setting goals to make the game more challenging, like finishing on one life or seeing how many extra lives they can accrue
"I think at the root of it, a lot of people play video games because it's a ton of small accomplishments," Deighan says. "You play to beat a level, or for a high score, or for an Xbox achievement. It's a series of little rewards and achievements that keep people coming back."