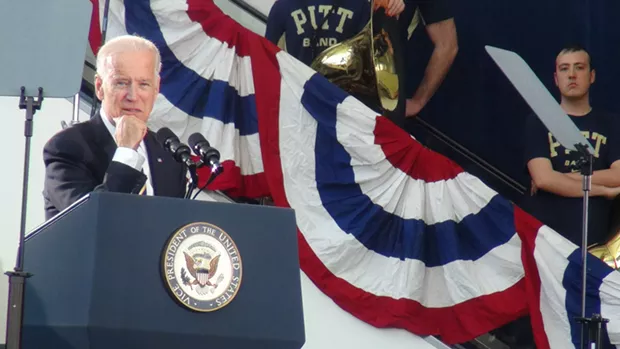 In the more than two decades since Vice President Joe Biden began fighting to address sexual violence, studies suggest the overall number of sexual assaults has decreased while the number of victims coming forward to report sexual assault has gone up.
Today, Biden visited the University of Pittsburgh for one of several stops at college campuses around the county as part of the national
It's On Us Week of Action
to engage college students in preventing sexual assault and supporting survivors of sexual assault.
"Domestic violence is down 64 percent in the last 20 years even though a higher percentage of women are reporting now because they have confidence they won't be re-raped by the system," said Biden. "We have saved over $12.6 billion in averted social costs, medical costs, costs associated with the loss of productivity in the workplace."
Although these statistics are encouraging, the one area where sexual violence has not decreased is among young adults and children ages 14-24, especially those on college campuses.
"Every one of your parents when they dropped you off on the first day of class, put you on a plane or a train, kissed you goodbye, they had great expectations for you, and along with those expectations was a nagging nagging fear, would you be alright?" said Biden. "You'd think the last place you'd have to worry about dropping your beautiful son or daughter off would be at a college campus. It should be the safest place in the world. The fact of the matter is, that fear is real, for too many parents that fear has been realized or will be realized."
Long before he entered the White House, Biden had been fighting to end sexual violence. In 1990, he introduced the Violence Against Women Act in the United States Congress. The legislation changed law enforcement practices, improved the criminal justice system, and created a network of services for victims.
"I'm always asked, for the last 25 years, why am I so passionate about this. Was my mom, or my sister, or my wife abused? Thank God no," said Biden. "But I was raised by a truly graceful decent man. My dad used to say, the greatest sin a man or women can commit is abuse of power. The cardinal sin of all is when a man raises his hand against a woman or a child, or anyone who raises their hand to someone who is physically weaker."
Part of the effort to get Biden's legislation passed two decades ago involved collecting 365 stories of women in America. Among them were a girl who was raped by her father with her head in a vice; a model who's face was slashed with razor blades because she spurned the advances of her landlord; and a college student raped by a peer who was walking her back to her dorm.
"The consequences of abuse of women and some boys and men has long-term chronic problems," said Biden. "Now the Center of Disease Control has issued a report saying women who are abused and raped end up with long-term problems in their immune system, hypertension, post traumatic stress."
While stories of sexual violence are tragic and horrifying, Biden cautioned the audience not to view them as anomalies in our society. Instead he demonstrated how sexual violence has been ingrained in our culture through laws. Among them is a since-abolished law in Texas that gave men the right to murder their wives.
"This is ingrained in our culture. We still have genital mutilation. We still have honor killings. We still have cultural excuses for the abuse of women around the world," said Biden. "I had my staff go back and look at the legislative penalties related to abuse and rape in each of the states. In my state of Delaware, there was a law that said if I leaped out of an alley not knowing you and raped you, I could be convicted of first-degree rape. But if you went out with me on a date I can't under any circumstance be convicted of first-degree rape."
Other speakers at today's event included Pitt students, Pennsylvania Gov. Tom Wolf, actor Matt McGory, and Pittsburgh Mayor Bill Peduto.