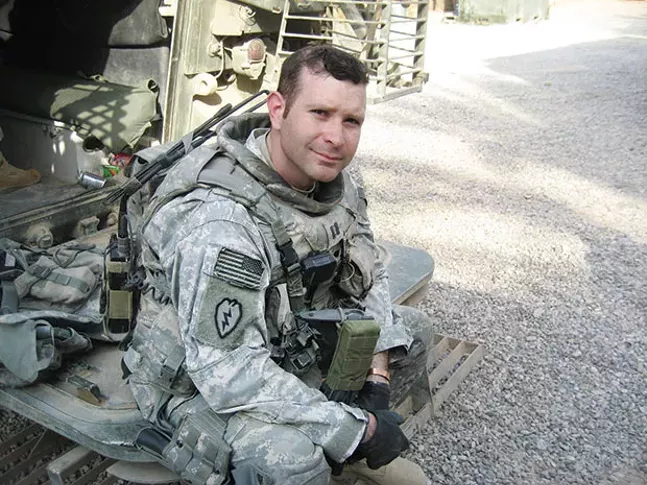 Stories of veterans and armed-service members are typically portrayed in TV shows and movies, but one local Iraq War veteran wants to share his firsthand.
Mat Bocian will speak at Soldiers & Sailors Memorial Hall on June 14. He will address time served in the Army during Middle East conflicts and dealing with post traumatic stress disorder (PTSD).
"It is preserving veterans' legacies, I find that appreciative," Bocian says of Soldiers & Sailors. "They're providing a venue for so many other soldiers' stories to be told."
Inspired by the Greatest Generation's fight in World War II, Bocian joined the Army for combat. After multiple deployments during which his unit experienced casualties, Bocian started seeing combat differently.
"I didn't really understand, it was difficult to process," says Bocian, who began writing as a coping method for dealing with complex emotions and PTSD.
He wrote a blog. He wrote vignettes. He even wrote poetry.
Bocian says writing a book was integral to his emotional recovery.
"First book I wrote was about living with PTSD, the progress, the transition," says Bocian. "It was easier to write than to talk about it."
His books include The Ghosts of Tal'Afar, Living in the Shadow and Operation Erdanus.
Bocian says getting thoughts on paper helped him reflect on who he was and who he was becoming. He knows seeing combat has powerful effects on everyone.
"Combat changes you," says Bocian. "Anyone who is going to be a combatant, it is going to change you."
He says the Middle East conflicts changed his outlook, because it was "soul crushing" to fight for so long and then see the Islamic State take over. He says it felt like the U.S. wasted time and money.
Bocian hopes his event at Soldiers & Sailors will encourage other veterans to publicly share their stories. He encourages veterans to tell their stories, no matter what their experience might be.
"I want to help veterans," says Bocian. "I want to tell the ones in the audience that we need to tell our stories. The only people who will do this is us. Even if you are cook, someone is going to want to know about that experience."