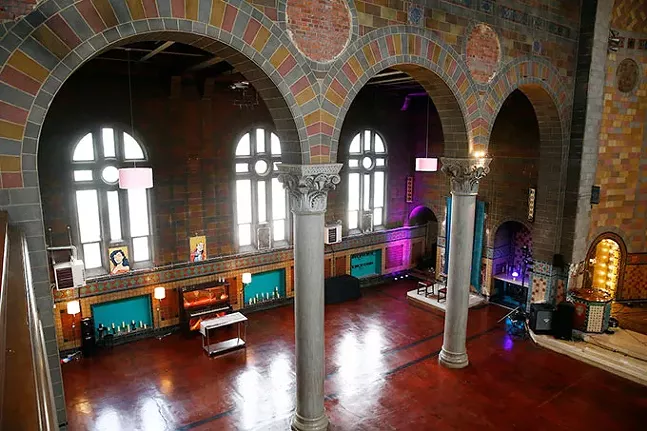 Heading to a venue for the first time can be anxiety-inducing or at the very least cause inconveniences. Where's will call? Is there parking? Will you have to hide your expensive bag behind a tree because it's too big to pass security?
Pittsburgh City Paper
wants to help make attending shows as comfortable as possible. So, welcome to our
venue guide
, where you can find out what to wear, where to smoke, and everything in between. CP will detail the ins and outs of venues in Pittsburgh, so you can fully enjoy the experience and not worry about little nuisances like not knowing the bar was cash-only.
---
An advertising agency by day and event space by night (and weekends), THIS IS RED occupies the former St. Michael's Slovak Roman Catholic Church building in Homestead. When the company moved in during the summer of 2016, they decided to keep church features like the 54-foot hand-built mahogany ceiling, 18-foot Corinthian-topped solid marble arches, and 50-foot parabolic mirror with a herringbone-patterned half dome. At the same time, they modernized the inside by recycling and integrating many of the materials left behind by the church into their renovations.
The result is stunning, and since the THIS IS RED team are music nerds, they felt they had to share their beautiful office space with Pittsburgh, renting it out for events ranging from live music to weddings. (They drew the line at wresting.)
The first floor is home to THIS IS RED's workspace, equipped with a full-size kitchen — former home of the church commissary — laundry room, and even showers. In addition, there is a gift shop where visitors can buy CDs from MCG Jazz artists and others who have previously performed at THIS IS RED. Jeff Myers, owner of THIS IS RED, either paints or creates digital art for MCG Jazz's album covers.
The middle floor, or altar level, is where most of the events take place. This is where the original altar with parabolic mirror is found, allowing sound to be amplified in a way not found in newer buildings.
On the top floor, along with a mini library, movie theater, and guitar collection (courtesy of Myers), is a handmade bar, fully stocked with whiskey and beer.* This area is not always open. Bands, musicians, or companies pay for the space they use, and not everyone rents the bar.
But that's what is magical about THIS IS RED; it's extremely flexible. Those who use the space can customize the event to their heart's desire.
Smoking:
Non-smoking venue (this includes vapes)
Smoking is allowed outside in the garden, located to the right of the altar level
Food & Beverage:
Bathrooms:
Two bathrooms located on altar level
For big shows, VIP or regular porta-potties are typically rented and located outside
No bathrooms inside are ADA compliant (with porta-potties, the space can be handicap accessible)
Age Restrictions:
Room:
Standing and seated room (depends on show)*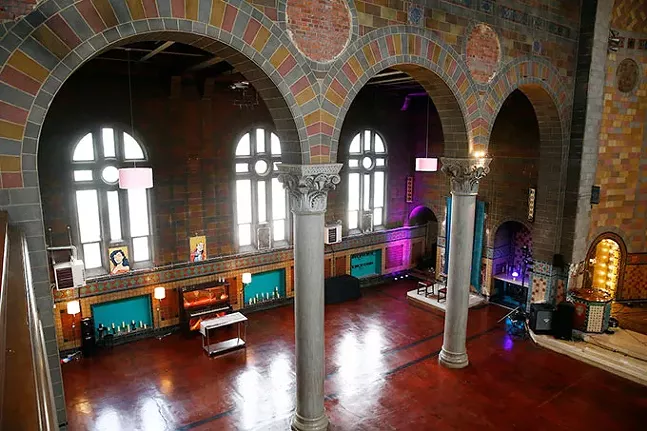 Transportation:
Free parking on E. Ninth Ave. and surrounding streets
Uber and Lyft can drop off/pick up in front
52L, 53, 59, and 61C buses get within walking distance
Walkable to those living in or visiting the Homestead area
Valet available for some shows
Security
Coat check available in the colder months
Security around for shows with over 150 occupants
Ticketing
Visit livefromthisisred.com to purchase tickets
Tickets can be purchased at the door (if not sold out)
Accessibility
Ramp on side of building can take you to the altar level.
Only steps are available to take guests to the lower or top levels
Fun Facts:
There's an indoor grotto on the lower level that features a huge mural along with faux stalactites at the top of the stone altar.
On the top level is a cinema used to preview and create THIS IS RED's video content
Many of the pieces in THIS IS RED were crafted from leftover church materials – the marble on the upstairs bar is from the side altars.
*Because the events at THIS IS RED are completely customizable for the artist/band/company throwing the performance, food and beverage, age restrictions, and more are chosen by the event host. Check livefromthisisred.com come for more information about specific events, or contact info@thisisredagency.com with questions and concerns.