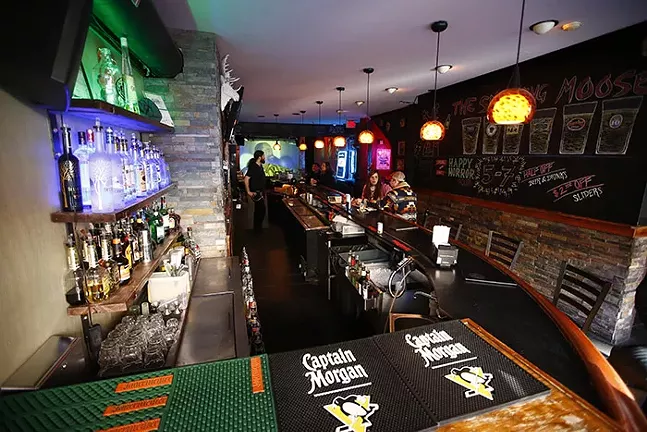 Heading to a venue for the first time can be anxiety-inducing or at the very least cause inconveniences. Where's will call? Is there parking? Will you have to hide your expensive bag behind a tree because it's too big to pass security?
Pittsburgh City Paper
wants to help make attending shows as comfortable as possible. So, welcome to our
venue guide
, where you can find out what to wear, where to smoke, and everything in between. CP will detail the ins and outs of venues in Pittsburgh, so you can fully enjoy the experience and not worry about little nuisances like not knowing the bar was cash-only.
---
The Smiling Moose lives in the heart of South Side's East Carson Street corridor. Historically hailed as a hard rock and metal spot — the venue turned 15 in 2018 — it now increasingly features hip hop, pop, and even emo trap. In addition to music, The Smiling Moose hosts drag performances, trivia nights, and comedy shows, and is one of the few venues in Pittsburgh that offers all-ages shows.
While many venues have food menus that feel like an afterthought, The Smiling Moose is widely respected for its ambitious cuisine. Owner and head chef, Mike "Scarfo" Scarlatelli, who took over in 2016 and has been a musician for most of his life, offers a diverse menu of soups, sandwiches, tacos, pizza, mac & cheese, and more, along with a selection of craft beers and cocktails. While the kitchen closes between 11 p.m. and midnight, The Smiling Moose is open from 11-2 a.m. every day.
---
---
Smoking:

• Non-smoking venue (this includes vapes)
• Smoking is allowed out front and reentry is permitted
Food & Beverage:

• Cash, credit, and debit are accepted
• Two full-size bars available on both floors
• Prices on lower end, with drink specials and happy hours Mon.-Fri
• Happy hour deal is half-off beer and drinks
• Full food menu available on bottom floor
• Kitchen Hours: 11-12 a.m. Wed.-Sat.; 11 a.m.-11 p.m. Sun.-Tue.
• The menu includes shrimp skewers ($8), pizza ($7), gourmet burgers ($9-12), baked mac & cheese ($10-12), and sliders ($9-10), and more
• Vegetation, GF, and vegan options available (i.e. Impossible burger)
• Can swap out any bun or bread with GF buns, can make soup with veggie broth instead of chicken
Bathrooms:

• Two sets of bathrooms
• On the bottom floor, the bathrooms are located in the back of the venue behind the stage to the right
• On the top floor, bathrooms are located behind the corner bar (as soon as you come up the steps, down a hall)
• Both men's rooms have one stall and two urinals
• Both women's rooms have two stalls
• Bathrooms are not ADA compliant
Age Restrictions:

• 9/10 times, the shows will be all ages. Check event info beforehand to see*
• For all ages shows, if you buy an alcoholic drink, you must stay behind roped area
Room:

• Capacity: 82 people downstairs, 144 upstairs
• Downstairs: standing and seated room
• Upstairs: mostly standing room, with a few seats at the bar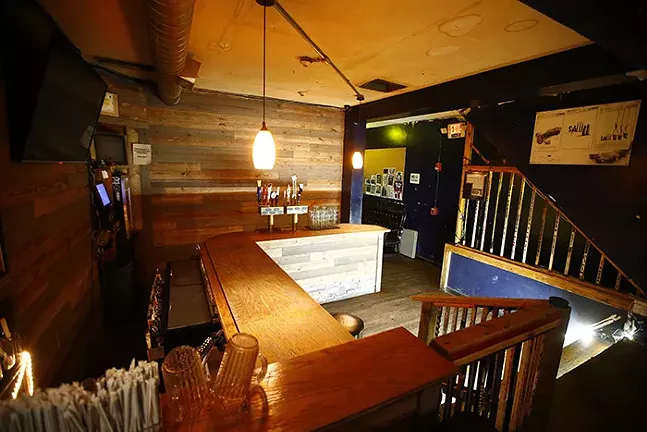 Transportation

• Ride share! Parking on the South Side sucks!
• 48, 51, and 54 buses get within walking distance
• 75, 81, and 83 buses get within a longer walking distance
Security

• No bag policy
• No dress code (but don't come naked)
• At night, bouncer checks IDs at front door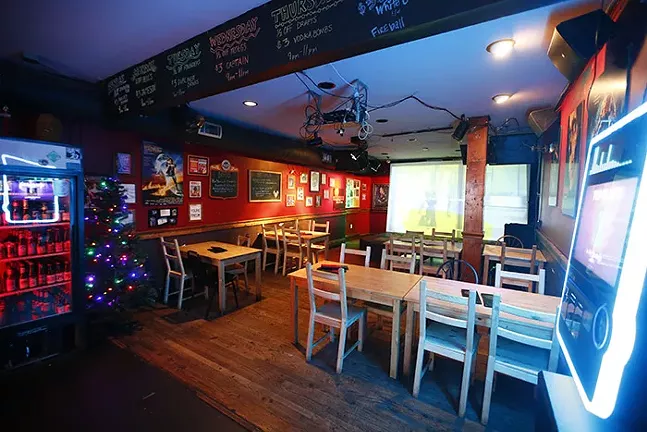 Ticketing

• At the top of the stairs on event days, there will be a door person, where you can pick up your will call or buy them if not purchased in advanced
Accessibility

• Not ADA compliant
Fun Facts:

• *The Smiling Moose's
Facebook event section
is more up to date than its website. Check there for the latest show happenings!