Heading to a venue for the first time can be anxiety-inducing or at the very least cause inconveniences. Where's will call? Is there parking? Will you have to hide your expensive bag behind a tree because it's too big to pass security?


Pittsburgh City Paper wants to help make attending shows as easy as possible. So, welcome to our venue guide, where you can find out what to wear, where to smoke, and everything in between. CP will detail the ins and outs of venues in Pittsburgh, so you can fully enjoy the experience and not worry about little nuisances like not knowing the bar was cash-only.
---
The Mr. Roboto Project prides itself on being a safe space and is completely run by a board of seven volunteers. Most shows at Roboto fall under the punk, indie, bedroom pop, and rock categories.

---

The Mr. Roboto Project
5106 Penn Ave., Bloomfield
therobotoproject.com

facebook.com/robotoproject

roboto.info@gmail.com

---
Smoking:
Non-smoking venue, including vaping
Smoking is allowed outside, and reentry is permitted. Hand is stamped upon entry

---
Food + Beverage:
This is a DRY venue. No alcohol is allowed inside.
Water and LaCroix ($1, cash only) are available for purchase from a small mini fridge to the right of the stage.
Attendees can bring food and non-alcoholic beverages into the venue.
Mr. Roboto is near several restaurants that work with most dietary restrictions.

+ Spak Brothers – small pizzeria with hoagies, wings, many vegetarian and vegan options, and gluten-free pizza
+ People's Indian Restaurant – all you can eat Indian food
+ Friendship Perk & Brew – casual dining serving breakfast, lunch, and dinner
+ Taquitos – Taco food truck (not open all year-round)
+ Bantha Tea Bar – cute and cozy tea spot
+ Artisan Café – craft coffee and vegan snacks

---
Bathrooms:
Two bathrooms, both gender natural and handicap accessible
Standing at the entrance, both restrooms are located down a hall on the right (next to where tickets are purchased)

---
Age Restrictions:

---
Room
Capacity: 200 people

Seating/Standing room depends on the show
Most shows are standing room, but chairs and benches are lining the walls around the venue
---
Security
No dress code
No bag or security check. Goes by the honor policy of "Don't be a shithead."
---
Transportation
Paid street parking in front of the venue is often available. (Free after 6 p.m.)
88 bus stop right across the street, 87 and 64 stops nearby
Bike racks to the right of the venue
Walkable to those living in or visiting the Garfield/Bloomfield/East Liberty area
---
Ticketing
Promoters for the show choose whether tickets are purchased at the door, online, or both
For bigger shows (Frankie Cosmos, Beach Bunny, etc.) the tickets will most likely be available to purchase on brownpapertickets.com
Will call and ticket purchase are located in the same place, straight back from the entrance
When purchasing tickets onsite, it is cash only
There is a PNC Bank ATM located around the corner to the right of the building
---
Accessibly
Full ADA accessible venue
Steps are leading into the venue, and steps are required to enter the performance area but in the back of the venue (in the performance area) is a wheelchair accessible ramp that leads outside.
---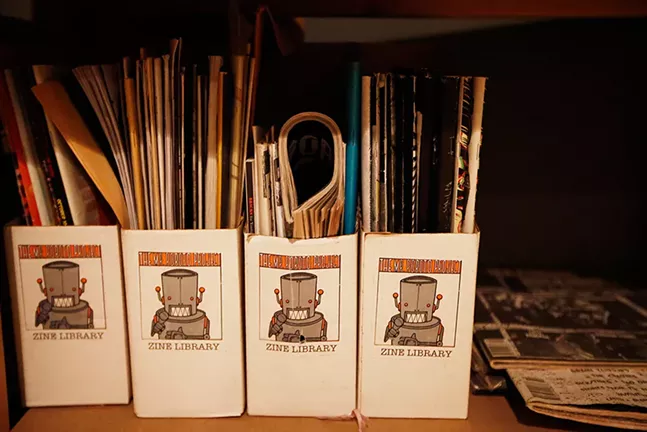 Fun Facts about Mr. Roboto
Mr. Roboto turned 21 in November
The venue was previously located in Wilkinsburg, where it was founded in 1999
There is a zine library. Mr. Roboto started as a collective and has a long history of zines. The venue still receives zines in the mail to this day.
There is a box of free earplugs by the mini-fridge. Help yourself!
A completely DIY venue, everything is run by a board of volunteers
Elections for board positions are held two times a year – spring and fall
There is always at least one board member at each show
Pictures of the board members are located on a wall by the bathroom, along with their positions. Feel free to ask them any questions or voice concerns.