Heading to a venue for the first time can be anxiety-inducing or at the very least cause inconveniences. Where's will call? Is there parking? Will you have to hide your expensive bag behind a tree because it's too big to pass security?
Pittsburgh City Paper
wants to help make attending shows as comfortable as possible. So, welcome to our
venue guide
, where you can find out what to wear, where to smoke, and everything in between. CP will detail the ins and outs of venues in Pittsburgh, so you can fully enjoy the experience and not worry about little nuisances like not knowing the bar was cash-only.

---
The Andy Warhol Museum on the North Side, the largest museum in the U.S. dedicated to a single artist, isn't necessarily thought of as a venue for music. But the space hosts Sound Series, a variety of all-ages music performances. Depending on the act, The Warhol puts on shows in four locations: The Warhol Theater, The Warhol Entrance Space (both located in the museum building), Carnegie Music Hall (Oakland), and Carnegie Lecture Hall (Oakland). For this guide, the focus is The Warhol Theater and Entrance Space. Almost all performances at the museum start at 8 p.m. and end by 10 p.m.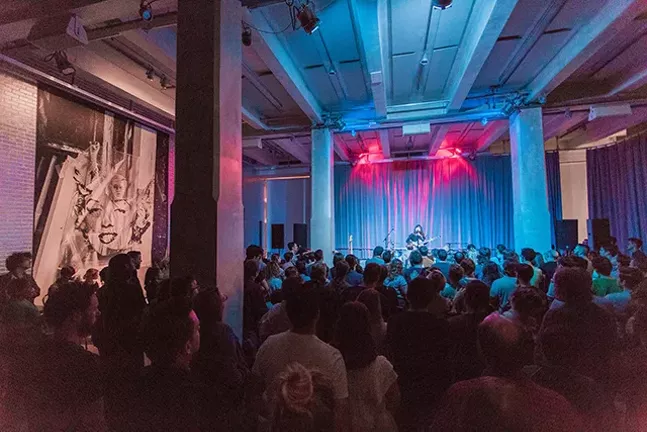 Smoking:
Non-smoking venue (this includes vapes)
Smoking is allowed outside, and reentry is permitted
Food & Beverage:
The Warhol Café, open during museum hours, is located to the right of the entrance.
- Serves seasonal fare: soups, salads, sandwiches, snacks, and specialty coffee drinks
- Vegan and gluten-free options always available
- Whether the Café is open during performances depends on if the museum is open
- e.g., for Friday evening performances, the whole museum is open until 10 p.m., so the Café is open.

• When there are performances on days the museum is closed, the Café serves as a bar
- When performances are in the entrance space, the bar moves to the theater, or further inside the museum to free up room
- The bar is full-size: beer, wine, mixed drinks are available
- Closes 15 minutes before the end of the performance
- Cash, credit, and debit are accepted at the café/bar
- Prices are average, slightly more than a dive, $5-$6 for beer

Bathrooms:
When the museum is not open, the bathrooms are located one floor below the main floor
When the museum is open, there is a set of bathrooms on the second floor that can be used as well
The Warhol website states "We respect the right of our visitors to use the restroom that best matches their gender identity."
Two stalls in each bathroom
All ADA accessible
- Elevators can take you to either set of bathrooms
Age Restrictions:
All-ages venue
Warnings on shows with adult content (language, nudity, etc.)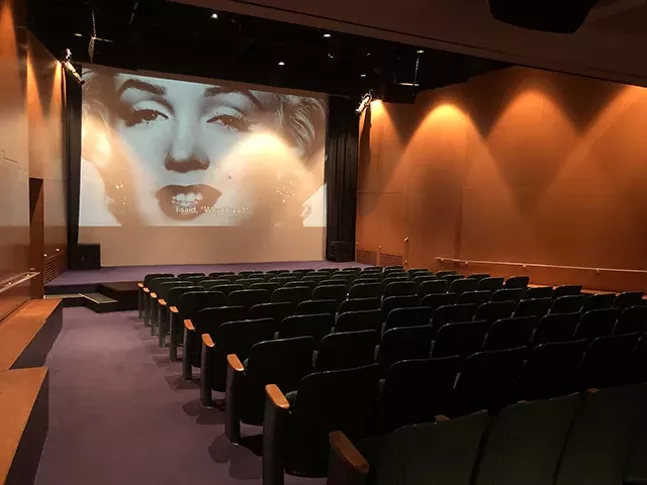 Room
Theater Capacity: 130, seated
Entrance Space capacity: 300, standing
Stools available upon request in entrance space, but call ahead
Transportation
There is a parking lot across the street from the museum, located on the northeast corner of Sandusky and East General Robinson Streets
If it is not a Friday evening, and no sporting events are going on, parking is often free. This happens 75 percent of the time. If a performance has free parking, it will be indicated on The Warhol's website
Paid street parking (free after 6 p.m.)
A few parking garages in the area (just be aware of sporting events)
Uber or Lyft
Buses 1, 2, 4, 6, 7, 8, 11, 12, 13, 15, 16, 17, and P13 stop across the street
Walkable to those living in or visiting the North Side area
Security
House security is always around, monitoring space
No dress code
Purses and small bags are fine if just coming for a performance
- If visiting the museum, bags, and items over 11×16 inches are not permitted
Coat check/lockers available for large bags and possessions
- Coat check/lockers are 25 cents, and you get it back at the end of your visit (basically free)
Ticketing
If not sold out, tickets for an event can be purchased at the front desk
- Shows often sell out because of the small capacity so make sure to buy in advance
The Warhol has its own online internal ticketing service and because of this, there are no fees
Will call available, pick up tickets at the front desk
Tickets can be emailed, with a virtual ticket on your phone upon arrival
Accessibly
ADA compliant
There is a wheelchair accessible ramp that leads inside the building
Elevators are available to any floor of the museum but are not needed to access the theater and entrance space. Both performance areas are located on the first floor