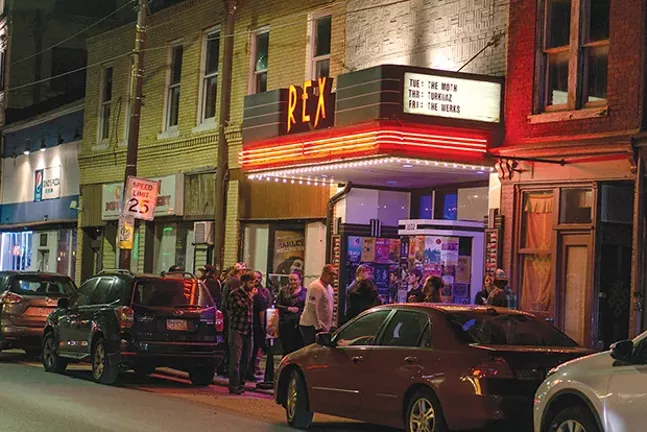 Heading to a venue for the first time can be anxiety-inducing or at the very least cause inconveniences. Where's will call? Is there parking? Will you have to hide your expensive bag behind a tree because it's too big to pass security?
Pittsburgh City Paper wants to help make attending shows as easy as possible. So, welcome to our venue guide, where you can find out what to wear, where to smoke, and everything in between. CP will detail the ins and outs of venues in Pittsburgh, so you can fully enjoy the experience and not worry about little nuisances like not knowing the bar was cash-only.

---
Rex Theater
. Located in South Side, the former vaudeville stage hosts a
variety of live music and events
and promotes an all-inclusive environment.
---
Rex Theater
1602 E. Carson St., South Side
412-381-6811
rextheater.net
---
Smoking:

Non-smoking venue (this includes vapes)
Smoking is allowed outside, and reentry is permitted
---
Food & Beverage:
There are two full-size bars, one in the lobby, one in the theater
The bars are cash only, but there is an ATM in the lobby
Prices are more than a dive bar, but less than Stage AE, ($4 for a 16 oz. Yuengling or a Vodka Cranberry)
Specials depend on the show; if an artist has a Coors light sponsorship, there will be Coors Light specials
The bars typically close when the band is done but are sometimes open up to 30 minutes after (but don't expect this)
---
Bathrooms:
Two sets of restrooms: one in the lobby, one on the balcony*
Lobby men's room: two stalls and three stands
Lobby women's room: six stalls
One ADA bathroom in the lobby (single-occupancy)
Balcony men's: one stall
Balcony women's: two stalls
*Balcony restrooms are a Rex regular secret
---
Age Restrictions:
Age restrictions depend on the show. Check before purchasing tickets
EDM shows are 18+
Anything with a mosh pit is 21+
Those under 18 or 21 are allowed to attend shows if a parent or guardian escorts them
---
Room
Capacity: 600 people

Seating/Standing room depends on the show
Most shows are standing room only
Some shows (comedy, NPR, etc.) will have seating
Some shows will have a mix of both standing room and seating (tables line the sides of the room)
Seating is available upon request at standing room only shows. Contact the theater prior to the show to be accommodated
---
Transportation
Rideshare! Parking on the South Side sucks!

48, 51, and 54 buses get within walking distance
• 75, 81, and 83 buses get within a longer walking distance
---
Security
No full-size backpacks permitted, all other bags OK
All bags are subject to search
No dress code
Hula Hoops, poi, etc. are allowed if there is space
---
Ticketing
Will call and ticketing are at one window, in front of the Rex (looks like movie theater ticket window)
You can always buy tickets at the door, unless the show is sold out
Tickets can be bought at the door with cash, credit, or debit
Tickets can also be bought at

Culture Shop, South Side – no fees and cash only
Dave's Music Mine, South Side – small fee and takes credit
Juke Records, Bloomfield - $1 service charge, cash, and credit
---
Accessibility
Full ADA accessible venue
Ramp outside, no steps to enter
No restrictions as to where you can set up in the venue
It is recommended to come early to get a good spot