Heading to a venue for the first time can be anxiety-inducing or at the very least cause inconveniences. Where's will call? Is there parking? Will you have to hide your expensive bag behind a tree because it's too big to pass security?
Pittsburgh City Paper
wants to help make attending shows as comfortable as possible. So, welcome to our
venue guide
, where you can find out what to wear, where to smoke, and everything in between. CP will detail the ins and outs of venues in Pittsburgh, so you can fully enjoy the experience and not worry about little nuisances like not knowing the bar was cash-only.

---
The third venue in our guide is Cattivo. Found burrowed on 146 44th St., in Lawrenceville, the bar and "function space" turns 26 years old in June. Besides live music from local and national acts, the two-floor establishment hosts Christmas events, dance parties, private functions, and more. Most music performances take place on the bottom floor, leaving the top floor as a bar space. On non-event days, Cattivo is open 4 p.m. – 2 a.m. Wednesday through Saturday.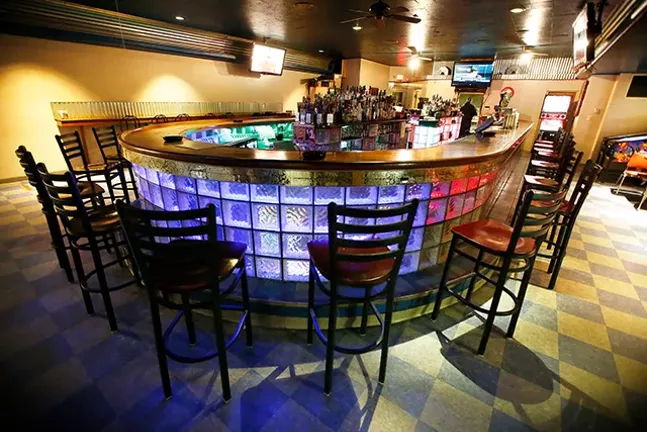 Smoking:

Cattivo is an indoor smoking venue, but the act/promoter can delegate whether smoking is prohibited or not
The owners ask that only legal vapes are used inside (no marijuana)
Food & Beverage:
Two full-size bars available on both floors, full food menu available on both floors
Cash, credit, and debit are accepted. An ATM is located inside the venue on the top floor
Prices are on the lower end (e.g., domestic drafts are $3)
Food is available for dine in or take out, the kitchen is open until 1 a.m.
Cattivo offers pizza, hoagies, salads, calzones, gyros, and bar bites (fries, nachos, chicken tenders, etc.) Prices range from $8-20 for meals, $4-7 for apps. Full menu can be viewed online.
Vegetarian options available
Bathrooms:

Men's and women's bathrooms on both floors, located on the right side of the venue
Both men's rooms have one stall and two urinals
Both women's rooms have three stalls

Room
Capacity: downstairs 250 people, upstairs 200
Seating and standing room
Tables and seating available on both floors
Capacity can go up if tables are removed
Security
No dress code
No backpacks, large bags, etc. If you do bring one, it will be searched
Depending on the function, all bags are subject to search
Age Restrictions:

Transportation

Uber or Lyft is suggested
Paid street parking in front of the venue only (free after 6 p.m.)
91 and 93 buses get within walking distance on Butler Street
Walkable to those living in or visiting the Lawrenceville area
Ticketing
Promoters for the show choose ticketing site (Ticketfly, Eventbrite)
If not sold out, tickets can be purchased at the door
Cattivo does not sell tickets itself, it is all handled though the promoter
Will call at door
Accessibly
Not 100 percent ADA compliant
There is a wheelchair accessible ramp that leads inside to first floor
Steps lead to bottom floor, not handicap accessible
Bathrooms are partially accessible