Two large paintings by Richard Rappaport, from distinct stylistic periods separated by 22 years, hang at the International Children's Art Gallery, in Friendship. The exhibition, Rappaport Unblurred, is a play of opposites that also includes two other perennial favorites by this 66-year-old artist, alongside his portrait of guru of the postmodern Robert Lepper. At City Paper's request, the Friendship resident commented on the works via email.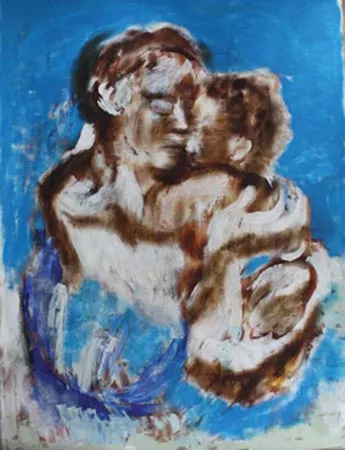 Rappaport's work has been nationally and internationally exhibited for more than four decades. At 9 feet high, "Blue Madonna" (1986) represents for Rappaport a jump in scale "at a time when I was imagining what it would be like to paint figuratively in the dimensions needed for high ceiling fresco. It still falls short of that." For all its iconic scale, "Blue Madonna" is a tender expression -- "a painting made for children showing mother and child embracing in a field of blue."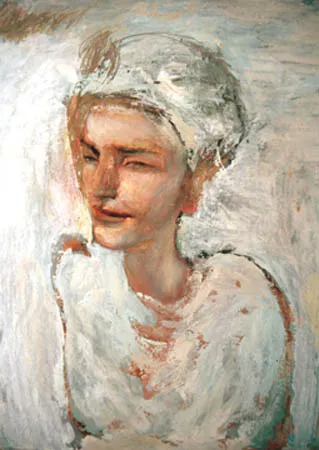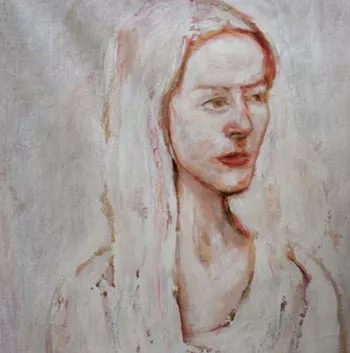 Two more paintings on view continue in this sentimental mode. "Like Picasso's lyrical works of his mistress Marie-Therese," Rappaport writes, "I have painted my muses that include these paired versions of 'Woman in White.' The one of 'Jessie' shows a woman alert for challenges, whereas 'Shelly' floats serenely secure in her relationship to the world."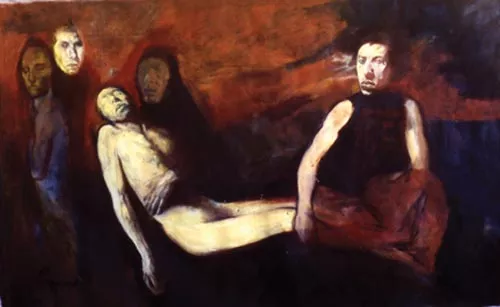 Rappaport says his 10-foot-wide "Burial of Christ" represents "a religious passion very different in mood and figurative scale to 'Blue Madonna.'" As homage to the sublime medieval "Villeneuve-les-Avignons Pieta," "'Burial of Christ' is one of my most sensually realistic and sober works," writes Rappaport. "Like many paintings on this theme over the centuries, it walks a thin line between haunting vision and obvious theatricality. Very possibly it is one of my most perverse works."
Painted in 1964, during his sophomore year at the Carnegie Institute of Technology, the painting "is far from ironic pastiche, at least on first viewing. Yet neither was I naïve to such subtle ironies as the unsettling ambiguity of ownership of the hand resting on Jesus' rib cage. This deadpan pantomime, staged as passion play, holds to its own rules, for the serious gazes looking toward the viewer brook no questions. With the exception of the sole woman on the left, all are self-portraits including that of the nude figure of Jesus, more asleep than cadaverous, languorously stretching across the canvas as if attended to by his disciples. Try holding a pose while painting it."
"Mel Bochner, having returned to Pittsburgh for the year, wanted me to glaze the portraits in the manner of Rembrandt," Rappaport adds. "But no thank you. I preferred the dryness of what some call 'underpainting.' I didn't see the need to disguise the simplicity of drawing, visible on the canvas through the wash of color. Acknowledging the medium has always been implicit in the illusion of realism. … Accepting its status as illusion, the viewer is free to enjoy the intimacy in seeing the traces of the painting's conception."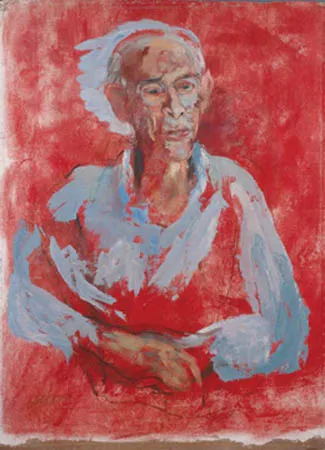 In 1964, Rappaport was introduced to artist Bochner's mentor, Carnegie Institute instructor Robert Lepper, whose portrait is also displayed at ICAG. Rappaport remembers Lepper's "seminal dialogues on contemporary technology's alternative means to traditional methodologies, and how that alters expectations. These ideas had already sparked Warhol and his early sidekick Philip Pearlstein, and soon triggered Mel's conceptual provocations back in New York, and later, Jonathan Borofsky's hybrid fabrications for his sculpture, 'Hammering Man.'"
Rappaport remembers meeting Lepper for the first time. "After throwing back his head with a loud honking chuckle, he admonished me: 'Oh, I know you. I have seen what you do to teachers. Promise me, Richard, you will not do to me what you did to Douglas Pickering' -- whose class I bypassed to paint my first grand work ['Burial of Christ'] alone.
"I had taken Pickering's introductory painting class the summer before, and immediately afterward did a suite of portraits. It had served me well, and I was grateful. But his classroom presence had become intrusive. I had literally used him up. Pickering, like a woman scorned in public, threatened to fail me if I didn't finish the painting to his standard. … I kept it my way -- bare and minimal. Pickering gave me a C."
Nonetheless, Pickering posed for Rappaport years later, in 1987.
RAPPAPORT UNBLURRED continues through Sat., July 23. International Children's Art Gallery, 5020 Penn Ave., Friendship. 412-403-8568