After the usual late-August concert lull, September is bursting with notable performances, thanks — in large part — to the incidental tag-team scheduling of the VIA and Thrival festivals.
By now, VIA is an institution and this new-music-and-media event (Sept. 24–Oct. 3) features one of its most exciting lineups yet, including MC Lyte, Lower Dens, Sheer Mag and Ikonika (check the schedule for info on various locations). At this year's Thrival Festival, the music is happening on a stage in Hazelwood. That fest, held Sept. 25-26, focuses on various facets of innovation, and boasts a weekend of high-profile musicians like Raekwon and Ghostface Killa, Panic! At the Disco and Strand of Oaks.
The Andy Warhol Museum prefers to spread great lineups throughout the year: This fall, its Sound Series welcomes the influential art-punk band Television on Sept. 25, long-standing dream-pop band Luna on Oct. 14, and the always delightful Jonathan Richman on Nov. 4.
Fans of heavy music will have busy schedules over the next few months. Experimental metal band Godflesh comes to Altar Bar on Sept. 23; Spirit Caravan — featuring the nearly legendary Wino — plays the 31st Street Pub on Oct. 21; power-metal stalwarts Blind Guardian will be at the Carnegie of Homestead Music Hall on Nov. 4; and a couple big-name black-metal bands — Watain and Mayhem — bring their evil to Mr. Small's Theatre on Nov. 22.
As for jazz, Manchester Craftsmen's Guild's season includes Lisa Fischer and Grand Baton on Oct. 9, Al Jarreau on Oct. 14, and David Sanborn on Nov. 19, among others.
No matter when you were born, there will be plenty to inspire nostalgia. 1990s post-rockers Godspeed You! Black Emperor will appear at the Carnegie of Homestead Music Hall on Sept. 23. Original members of The Zombies will perform Odessey & Oracle at the same venue on Oct. 14. For the old punks, Gang of Four appears at Altar Bar on Sept. 29, The Vibrators play the 31st Street Pub on Sept. 30, and Altar Bar will host Public Image Ltd. on Nov. 12. And indie-rock fans of a certain age should note Yo La Tengo on Sept. 29 and Built to Spill on Oct. 4 (both at Mr. Small's.)
So far, there's not much on the landscape in terms of big-name hip-hop tours — that could change in the coming weeks — but Def Jam's Big K.R.I.T performs at Mr. Small's on Oct. 29.
You may not be able to place the name Icona Pop, but you've likely had its hit "I Love It" stuck in your head at some point. The Swedish electropop duo plays Stage AE as part of the 96.1 KISS Halloween show on Oct. 31.
If you've got a soft spot for tough-guy hardcore, don't miss Madball on Sept. 30 at Cattivo or Terror at Altar Bar on Nov. 30. You'll also want to note Sincerity Fest 2015, happening at Altar Bar on Oct. 10. The lineup includes Bitter End, Shai Hulud, Eternal Sleep and many more.
Locally based neo-folk singer-songwriter Brooke Annibale releases her new record at Pittsburgh Winery on Oct. 3. Alt-Americana band The Lone Bellow returns, heading to the Rex Theater on Nov. 3, and the Rex stage will be full on Nov. 21, when seven-piece rock/soul band Sister Sparrow & the Dirty Birds comes to town.
On Sept. 30, electric-blues singer Shemekia Copeland plays Club Café, and Valerie June, who plays blues of a folkier sort, appears Oct. 10 at the Carnegie Lecture Hall, in Oakland, as part of Calliope's main-stage season.
And speaking of Calliope, its schedule in the coming months includes Jorma Kaukonen, of Jefferson Airplane and Hot Tuna, on Oct. 25; he'll be joined at the Carnegie Lecture Hall by Ernie Hawkins. And at the Root Cellar at Pittsburgh Center for the Arts, it's Ronny Cox on Oct. 15, and singer-songwriter Vance Gilbert on Nov. 12.
Roots-music fans can also look forward to Patty Griffin on Sept. 27 and Lucinda Williams on Oct. 14 (both shows at the Byham Theatre). Arlo Guthrie brings his Alice's Restaurant 50th Anniversary Tour to the Palace Theater in Greensburg on Oct. 2.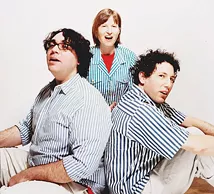 Mark Knopfler comes to Heinz Hall on Oct. 13; and on Oct. 21, Norah Jones will appear at the Carnegie Music Hall in Oakland to sweep listeners away with her smooth vibes. Much-admired singer-songwriter Josh Ritter will appear at Mr. Small's Theatre on Oct. 25;
Canadian indie-rock band Stars plays at Mr. Small's on Oct. 9, and Rachael Yamagata (who has collaborated with everyone from Ryan Adams to Toots and the Maytals) stops at Club Café on Oct. 15. Providence, R.I.'s sweet and stark folk artist Sianna Plavin will appear at the 31st Street Pub on Oct. 27. Also in the realm of the lovely and heartfelt, on Nov. 3, Sufjan Stevens makes a highly anticipated appearance, bringing his heart-wrenching baroque pop to Heinz Hall.
A few more events of note: Krar Collective, a London-based Ethiopian three-piece, will play at Tana Ethiopian Restaurant on Oct. 1; Hold Steady frontman Craig Finn will be joined by Esme Patterson at Club Café on Oct. 31; and Pittsburgh's favorite synth-post rock band, Zombi, appears at Cattivo on Nov. 14.