Food trucks are a summertime staple for hungry Pittsburghers. This June, a new store on wheels will hit the same streets (but it won't be selling pierogies or tacos.)
The Vape Van, a mobile offshoot of City Vape & CBD in Leechburg, will be officially unveiled at Pittsburgh Pride in June. The colorful converted ambulance, owned by partners Janel and Lisa Gregory, will sell various CBD and vape products.
Cannabidiol, or CBD, is a naturally occurring compound found in the cannabis plant. The compound can be extracted and diluted with coconut or hemp seed oil to be incorporated into vapors, creams, lotions, sublinguals, edibles, and other products.
CBD products have been gaining popularity as natural remedies, with some scientific studies indicating they can be used to treat some ailments and conditions, like epilepsy. CBD's legality varies from state to state, though unlike other products derived from cannabis, it's not psychoactive, so it won't get you high.
Lisa says she and her wife were inspired to create the Vape Van in order to make vaping and CBD products more accessible to the Pittsburgh community. Considering the stigma surrounding cannabis-derived products, the two thought it might be easier to bring the products to people rather than the other way around.
"There's a lot of benefits that come with CBD, but there is a barrier of access. Some people don't feel comfortable walking into certain stores and asking about it," Lisa says.
The Gregorys got into the CBD and vape business following the passing of a close elderly friend from lung cancer, who had used CBD to ease his pain. The two founded City Vape in order to provide a health-and-safety-oriented, comfortable experience to people of all backgrounds.
Lisa says with the Vape Van, the couple plans to sell CBD-infused waters, gummies, and other products intended to be consumed on the spot or socially, rather than some of the more serious products "meant for the medicine cabinet."
"We'd want people to come to the store to buy the oils and creams, that allows them to come in and have a conversation about what delivery method is best for them," she says.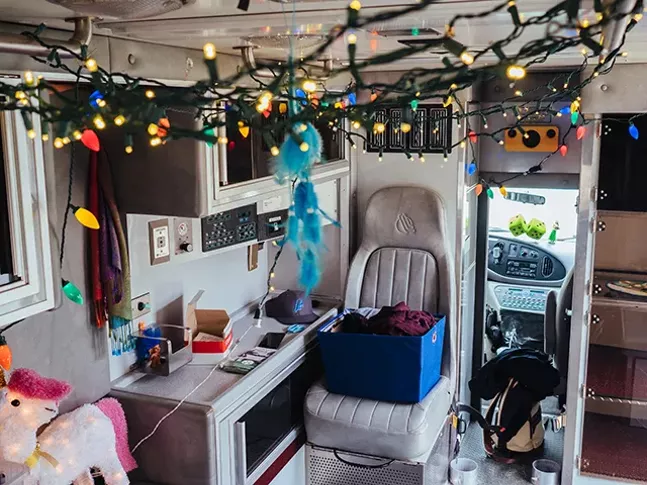 Lisa describes herself and her wife as "fans of regulation" when it comes to selling CBD.
"We could mix our own soap and sell it, rather than sell one with a label that shows people what's in it, but we think the safety of the consumer is important," she says. "CBD isn't Pepsi or Coke, you can't just put [it] on shelves and expect people know how or when to use it."
The Gregorys have been testing out the Vape Van prior to its upcoming unveiling at Pride, parking it on street corners and handing out promotional materials and giveaways. Right now, they're still trying to figure out exactly how a van selling vape and CBD products ought to operate.
"We're trying to work out a lot of bugs no one else has worked out," Lisa says. "We haven't gone into the city yet because we're still working on permitting. We look like a food truck, but act like a vendor. We're still working out the classification."
Local artist and City Vape customer Samantha Hoover is responsible for the bright design of the van. She says she and the owners aimed to give the vehicle a "throwback, hippie kind of feel" in order to make it stand out.
"We wanted it to pop, we wanted people to look at it and be like, 'What is that? A vape van?'" she says. "We wanted it to be out of the ordinary."
So far, the Vape Van has been met with more confusion than interest. Lisa hopes that will change.
"People are like 'What the heck is that?'" Lisa says. "They're used to food trucks, not truck vendors. We do hope in a year from now the questions and answers are totally different."
Lisa says a main goal of the Vape Van is to help people have more conversations about the benefits of vaping and CBD and help people understand how the products actually work.
"I hope that the Vape Van allows a bit of fun and whimsy in a world right now that just feels it has lost its place," she says.