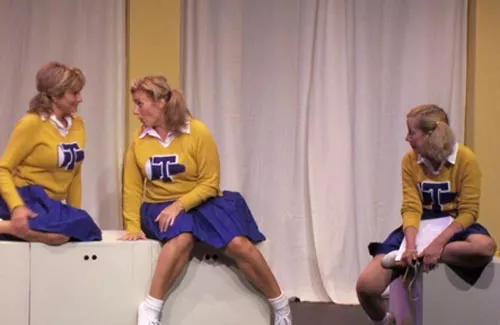 South Park Theatre has chosen a really weak play, Jack Heifner's Vanities. Neither director Joe Warik nor his capable cast compensates for the emptiness of the first two acts.
The title may refer to the shallowness of the three women whose lives are glimpsed over 20 years. Until the third act, such shallowness is reinforced by unimaginative writing, trivial dialogue and an absence of character development. If this is supposed to be a satire, you might expect something clever or funny. Forget that: Heifner didn't write enough to make it clear. Finally, things do become somewhat interesting, if only in contrast to the preceding dreariness.
At first, nearly innocent, interchangeable Kathy, Joanne and Mary practice cheerleading, and gossip about boyfriends prior to a football game -- a game nearly canceled when President Kennedy is shot. Next, all three are college sorority sisters debating about whom to admit to their exclusive group. Amid passing references to the peace movement and new sexual freedoms, we learn that Mary enjoys promiscuity, Joanne embraces conformity and Kathy is wondering what to do with her life. Finally, as fully emerged adults, they reunite in Kathy's classy New York garden apartment to reveal who they've finally become.
All three performers, whose actual ages seem to dovetail with those appropriate to the third act, do reasonably well portraying their characters' younger selves. Their best emerges when the writing finally gives them something worth playing, at which time Kathleen Caliendo makes Kathy's mysterious present provocative. Renèe Ruzzi-Kern gives Joanne's undiminished simplicity bewildered truthfulness and Cindy Swanson's Mary looks convincingly sophisticated and sassy.
Still, it would not be surprising if some audience members left at intermission, given how little worth their time has transpired, underscored by one seemingly interminable scene-change.
Heifner has written about 30 other plays and musicals produced in New York, Los Angeles and elsewhere and written for television and film. Vanities (1976) ran for four years off-Broadway and has been produced there since, also becoming a 2009 musical. Clearly, audiences have found something to admire. Perhaps it depends on the director and performers. But such a major challenge didn't get met this time.
Vanities continues through Sept. 17. South Park Theatre, Corrigan Drive and Brownsville Road, South Park. 412-831-8552 or www.southparktheatre.com