Anyone going to see
Utopia or Oblivion
, a new solo exhibition by local artist Kevin Clancy now on view at Bunker Projects, should expect to be bombarded by light and color. The site-specific installation includes custom dichroic lights and films that cover the windows and wash the second-story space in fluorescent pink and yellow.
Despite the brightness, Clancy admits that the show's themes are less than cheerful.
"It's definitely more on the bleak side, I would say," says Clancy, an interdisciplinary artist who works in installation, sculpture, light, and new media.
He goes on to describe it as "very much a personal dive" into the larger social ramifications of the rapid accelerations of technology, including facial and hand gesture recognition, screen time, and, as he puts it, "humans merging with machines and melting into the void."
"It's a lot of questioning how we're using these devices and what their effect is on us," says Clancy.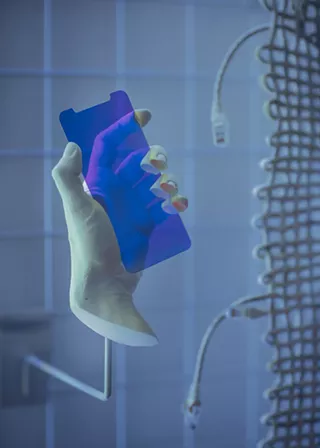 To achieve this, he created an immersive environment occupied by sculptural tableaux with fake laptops, smartphones, and tablets with holographic, reflective screens. These are all set into built-in alcoves and arranged on commercial gridwall displays. Adding to the effect is a soundscape composed by John Also Bennett.
Funded by the Professional Artists Grants Program, a partnership of The Pittsburgh Foundation and The Heinz Endowments,
Utopia or Oblivion
is a continuation of a body of work that, over the last few years, has been investigating the way our devices and technology shift our relationships to the world, ourselves, and each other, says Clancy. But while he feels that addressing these concerns is important, he also believes it's the job of the artist to maintain hope and vision.
"Hopefully, [
Utopia or Oblivion
is] doing all those things at once, and creating a space where people can sit with that, and using beauty and aesthetics to create a space where people can be calm and comfortable, but still go into those subjects," says Clancy.