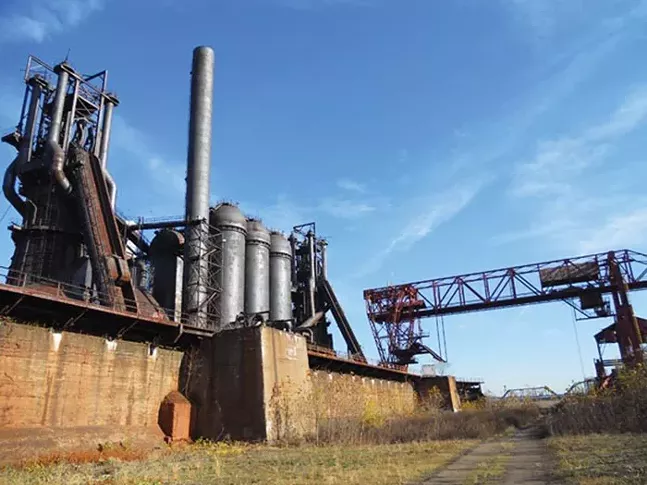 Rivers of Steel is Pittsburgh's go-to resource for anybody looking to learn more about the region's industrial past. The nonprofit hosts boat tours, preserves historic sites such as the Carrie Blast Furnaces, and maintains collections of materials of the regions's once-thriving steel industry.
Soon, it may get the chance to expand its operations even further.
The U.S. Senate recently passed the Natural Resources Management Act, which includes provisions to provide more federal funding for the nation's heritage areas — sites specifically dedicated to preserving a region's historical, social, and cultural past. Sen.
Bob Casey
(D-Scranton) sponsored the particular amendment that raised the cap for the 1996-2021 funding period from $17 million to $20 million.
This is a boon for
Rivers of Steel
, which covers more than 5,000 square miles through the Pittsburgh metro area.
"I am pleased that we were able to work together on legislation that sets provisions for the conservation of federal lands in south central and southwestern Pennsylvania," said Casey in a statement. "The Senate took an important step in protecting our historic landscapes, and I urge the House and the President to pass and sign this bill into law."
The bill would also extend the Lewis and Clark Historical Trail to start in Pittsburgh. The trail extension would mostly follow the Ohio River from Pittsburgh to its current starting point in St. Louis.
The Senate just passed legislation that protects public lands – and benefits #PGH! This bill permanently authorizes #LWCF, continues funding for Rivers of Steel National Heritage Area (@CarrieFurnaces), and extends the Lewis and Clark National Historic Trail to start in #PGH.

— Mike Doyle (@USRepMikeDoyle) February 13, 2019
The amendment benefits the 48 other national heritage areas in existence, and will introduce six more if the NRMA is passed. This includes a proposed national heritage designation for the Susquehanna region in Lancaster and York counties.
Besides the two wins specific to Pennsylvania, the NRMA proposes measures to protect millions of acres of public lands, watersheds, and rivers in dozens of states, including Hawaii, Utah, and Connecticut. This includes shielding national parks such as Yosemite from mining efforts and expanding the size of several parks and other protected lands.
The vote on the NRMA follows the expansion of oil and gas drilling on public lands by Former Secretary of the Interior Ryan Zinke, who resigned in January 2019 following several ethical controversies. He also worked to shrink several national parks and monuments by millions of acres. The recent government shutdown also negatively affected many national parks, with a lack of federal funding leaving many unsupervised by staff and open to vandalism and littering.
The NRMA addresses this issue by permanently authorizing and funding the Land and Water Conservation Fund. The LWCF, which funds a huge variety of public lands programs in every state, had been allowed to expire around the time of the shutdown. By permanently reauthorizing it, the NRMA removes any uncertainty about future funding for conservation and public land access efforts nationwide and allows for more long-term projects to be considered.
Another bill concerned with wilderness protections that may soon come to the Senate floor for a vote is the
Green New Deal
, sponsored by U.S. Rep. Alexandria Ocasio-Cortez (D-NY) and Sen. Ed Markey (D-Mass.). The plan, meant to address climate change, emphasizes the role of public lands and waters, calling for "low-tech solutions that increase soil carbon storage," including land preservation and planting new forests.