If you need a gift, chances are you can find it at European Treasures on Wabash Street in the West End.
"We've got items in this store from $1 to $3,000," co-owner Valentina Busch said in mid-May. "We have been open in this location for seven-and-a-half years and in the city for 30, so we do know what we are doing.
"But times have been difficult."
It's not just the economy. Busch and her neighbors have been struggling, they say, because of a delay-plagued $53 million road-construction project. The project was meant to make life easier for those trying to get around and through the traffic nightmare known as the West End Circle.
And it will. But for those whose businesses were actually located in the West End, there was a price to be paid.
South Main Street, the heart of the area's business district, was closed off for more than six months, and most of the businesses took a serious hit. Patti Harding, owner of Muetzel Florist and gift shop on nearby Wabash Avenue, says her business was down 30 percent last year. Kelly Sue Carryer, owner of Sue's Cozy Corner says, her earnings are down about $10,000.
Even at lunchtime on a sunny May afternoon, there are several empty tables at Carryer's restaurant -- just as there are several empty storefronts along Main Street outside. The district has lost bakeries, gift shops and restaurants -- roughly half of its 15 or so businesses have gone under since 2007. More are likely to follow.
"We are trying to survive. I'm just not sure how long we can do so without some assistance from someone," says Busch. "Construction is a fact of life, but when it drastically hurts your business, how long can you go on?"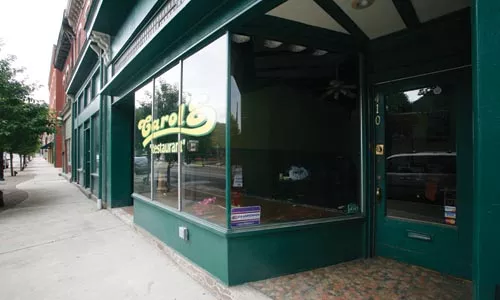 For Busch, the answer is "until August 1." PennDOT opened up South Main Street in April, connecting the street directly to and from the West End Bridge. But by then, Busch says, it was too late. She recently gave her landlord 60 days' notice, and is hoping to move into a new location far away from the West End.
Others may end up following suit. "We need help," says Carryer bluntly. "We're all struggling down here, doing the best we can.
"These are tough circumstances and you'd think someone would be around to help us get through this, but there's not."
"It makes you wonder," asks Harding, who has owned Muetzel Florist on Wabash Street for the past 10 years. "Are we really wanted here?"
The West End Circle has long been known to have some of the most confusing traffic patterns in the region. It's where Route 51/19, West Carson Street, South Main Street, Steuben Street and the West End Bridge all merge. Anyone who has ever driven through the area has probably done so in a cloud of confusion, rage and expletives.
Part of the $53 million project began in 2002 with the so-called "hole-in-the-wall" built through a railroad embankment, and under a trellis to provide a straight shot from 51/19 to the West End Bridge. In early 2003 the project was finished, behind schedule. It was used for only a few months in 2003 as a detour during the Fort Pitt Bridge and Tunnel construction.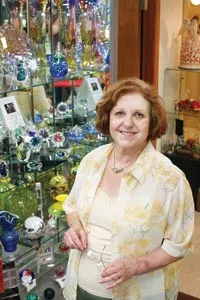 It was then covered up and left unused, because actual work on the West End connector didn't begin until fall 2007, roughly nine months behind schedule, due to funding problems. There were no disruptions until work actually started, but it was originally expected to wrap up this year. And a late start means a late finish: The new timeline for completion is fall 2010.
By comparison, the final phase of the Fort Pitt rehab itself was finished in seven months.
The West End was already put at a disadvantage by basic geography. The South Main business district is tucked behind Mount Washington, isolated from the rest of the city.
Given such constraints, say some civic leaders, PennDOT did the best it could.
"This was a massive and complex project and PennDOT absolutely did their due diligence," says Andrew J. Marcinko, president of the West End Village Business Association.
"We worked closely with the business leadership in the West End and did everything we could -- and then some -- to help," says PennDOT spokesman Jim Struzzi. When some merchants wanted additional signage to tell drivers that West End businesses were still open, for example, the agency responded. In addition to the increased signs, Struzzi says, PennDOT's contractors regularly attended business-association meetings to hear concerns, and included reminders in press releases that businesses were open.
"PennDOT has been wonderful," says Dru Simeone, executive director of the West Pittsburgh Partnership. "They have been as accommodating as they could be."
Still, she says, "I think it would be a wise investment for PennDOT to invest in communities during these long construction projects. If nothing else, it would at least help battle the perception that an area that is under construction is closed for business." The WPP, she says, asked the highway agency for funds to hold events -- "something like a 'Traffic Jam' with bands and food" -- to help drive foot traffic to the area.
PennDOT said no, and in some cases, PennDOT's best may not have been enough. The West End was already difficult to navigate: Added construction didn't help. Carryer, for example, says she used to get lunch patrons from the North Side. But "when you only have a half hour or hour for lunch," she says, "you're not going to drive into a construction zone to eat."
In April, South Main was reconnected to the outside world with a new bridge to take South Main Street over Saw Mill Run Boulevard. But additional traffic on the street hasn't created much new traffic in local stores.
"The street's open, yes, but now cars can just drive by faster," says Carlo Dozzi, owner of Buon Sapore, a West End store filled with handcrafted Italian imports ranging from ceramics to glasswork. "I was offered a deal to move to the SouthSide Works and given the current conditions in the West End, I couldn't refuse."
Of course, some of the neighborhood's hardship is bigger than any road project. Everyone -- across Pittsburgh and across the country -- is struggling during the current economic downturn.
But it's not like this is the first downturn these businesses have seen.
"We first opened up in 1979 when Jimmy Carter was president," Busch says. "Do people forget what the economy was like back then?"
"Muetzel's has been here since 1947," echoes Harding. "It's been a part of the West End for a very long time. ... I'll take a 10 to 15 percent drop in my business and blame that on the economy," she says. "But not 30 percent, and that's what my business has been down the past year."
Will it recover?
There is still a construction presence in the West End, especially at its entrance on Routes 51/19. While the entrance into the West End Village is a lot easier to navigate -- the convoluted circle is gone and it is a clearly marked straight shot to get in and out -- there are often long construction-related delays getting to that point.
"That bridge opening was a joke," says Harding. "They made a big loop through here, but that doesn't bring the people back, because there is still a lot of construction going on.
"The best part is, two weeks later Equitable Gas shows up and starts ripping up the street 10 feet from my front door to replace gas lines. When you look at it all together, it really is sad."
Business owners say that if anyone was going to help, it should be the West Pittsburgh Partnership.
The WPP, located on Wabash Avenue almost directly across from Harding's and Busch's stores, is a nonprofit community-development corporation charged with helping the area's businesses and the district move forward.
"This area is not what it should be, and unfortunately the people who are supposed to be helping us aren't doing a good job," Busch says. The partnership "said, 'Let us help you by getting new signs and light poles and trees and sidewalks.' But what good is a new sidewalk if there aren't customers walking up and down them?"
"It was tough when South Main Street was closed," agrees Dru Simeone, executive director of the West Pittsburgh Partnership. But traffic is returning, she says, and the WPP is working on a master plan to help the area move forward. There have been five or six design-oriented businesses moving into the area in recent years.
"When you look at the bigger picture," Simeone says, "you see that the future for the West End Village is looking pretty bright."
The West End has heard such optimism before. On Aug. 24, 2006 -- one year before the construction project began -- the Pittsburgh Post-Gazette ran a story on the West End under the headline: "West End and its cornucopia of businesses should not be bypassed." The story featured 10 businesses poised to help revive the area. Of those 10 businesses, half have closed or are closing.
"This is a great spot," says Busch. "You have access to highways, you're five minutes from Downtown, it's a great place to live and I do think the future here is a bright one.
"But you always hear, 'Wait until tomorrow, wait until next month, six months, next year.' I can't wait any longer and neither can a lot of other businesses."
"Things are starting to happen here," says Harding. "But I think this area is still at least three years away from the West End everyone envisions. What do I do until then?"
Within the past two months, Simeone points out, the WPP started a loan program to help out area merchants. Business owners can seek between $1,500 and $10,000 for three to five years. The goal, she said, was to "help businesses that need assistance."
But the loans come with an 8 percent interest rate, and business owners like Harding balk at paying it. (So far, only one business has taken up the WPP on its offer.) Harding says that if the goal is to tide her over until traffic construction dissipates, she shouldn't be punished with interest payments.
"It wasn't in my mind for a second to take a loan at 8 percent from this organization when they're there to help us out," Harding says.
But the WPP's resources are limited as well as according to its most recent financial disclosure forms filed in July 2008. The organization spent roughly $111,000 on services, including low-income housing initiatives and other projects.
City Councilor Theresa Smith, who represents the district, says something more ought to be done. "I would think that stabilizing businesses in the district during this time would be a good use of resources," she says.
Smith herself has approximately $30,000 in discretionary funds, money to be used across the district. And she says that "once word got out that I had $30,000, everyone wanted a little bit of it." But the West End is just a small part of Smith's District 2, and Smith wonders, "If we give out a little here and there, will that really be enough to help anyone?"
Besides, she says, the city's Urban Redevelopment Authority advised her not to give grants to individual businesses.
The URA offers numerous forms of assistance to spur development, but those generally take the form of loans, says Rob Stephany, executive director of the URA. (Even Smith's discretionary funds, he says, need to be paid back so that there's money to loan to other businesses in the future.)
Stephany admits that the repayment requirement has been waived in the past on rare occasions, but it's not a practice the URA favors. "To just go in and give a grant often times doesn't do anything but defray the businesses' problems to a later date," he explains. Stephany says that the URA is "excited about the West End," and plans to help its businesses prosper. But funds should be used to help business grow, he says -- not just survive.
"If a business wants $3,000 to put in a new computer system and cash register to help develop a mailing list or to coordinate a marketing strategy with a shop or gallery across the street, then that's [a recipe] for success," Stephany says. "But if somebody needs $3,000 to pay back rent, that's not a [a recipe for] success."
Nor is it likely that PennDOT will change its direction. Told that some West End businesses are still hurting, agency spokesman Jim Struzzi responded, "Still? We opened the road.
"I think," Struzzi adds, "it would behoove businesses to take it upon themselves to find ways to improve their businesses."
That may not be particularly helpful advice, but Ray Vargo, director of the University of Pittsburgh's Small Business Development Center, says such counsel is about as much as the West End merchants can expect.
What about money to help offset the cost of a protracted construction process?
"I've never heard of anything like that, and I'm not sure it would make a lot of sense," says Vargo. He notes that most construction work is done by contractors who "are independently owned businesses themselves. So making them subsidize other small businesses doesn't make a lot of sense to me."
In some places, governments do help businesses when launching a big public-works program.
In Seattle, light-rail construction threatened numerous businesses, so at the urging of community advocates, the city created the Rainier Valley Community Development Fund, a $50 million mitigation fund to offset the harm done by large-scale construction projects. The organization paid out more than $12 million to 166 businesses affected by the construction starting in 1999. It also paid relocation costs for businesses that had to move.
But for the most part, Vargo says, "The contractor's responsibility is to first and foremost get the job done on time, and do all they can to minimize the impact on these businesses."
Some businesses simply won't survive a big construction project, he acknowledges. "Is it fair? No. But unfortunately that's part of the risk when you open a business." And with "planning and marketing, you have a pretty good shot."
Simeone says the WPP has sponsored events -- like a progressive brunch -- to help drum up support for the district. And she notes the organization is planning a cable commercial for the business district. For his part, Carlo Dozzi doesn't blame the WPP, even as he prepares to relocate to the SouthSide Works in a few weeks.
"We have barely survived through this phase of construction," Dozzi says. "But there's nothing the West Pittsburgh Partnership could have done about that."
Indeed, some West End business owners say that despite road construction and other setbacks, they still control their own fate.
James Frederick, owner of the James Gallery on South Main Street, says he intends to be part of the West End's future. Construction has been tough, he says, but "We all know the state the economy is in and there are businesses going out left and right. I don't think you can blame that on road construction. Sometimes, businesses fail."
But Frederick, like Simeone, says the West End could become a hub for design-oriented businesses, several of which are already located there -- businesses like Ceramiche Tile and Stone and Caldwell's Windoware.
"If you look around, you can see a lot of potential," Frederick says.
Adds Simeone: "We see the future of the West End as a destination district." Becoming a destination for people outside the area, she allows, "can be hard for businesses reliant on heavy foot traffic" -- businesses like small restaurants and retailers that provide services to neighbors. But "if you're known for something like a good core of design-oriented businesses," she says, "people will come and we will be successful by working together."
The WPP is in the process of completing a master plan, which the group hopes will fulfill a vision for the area that includes housing, retail and office space, as well as a green space called Independence Park, complete with an expansive trail system.
"We have the road project ongoing and with our master plan we're hoping to fill in the missing links with trails and green space to connect the West End with the rest of the city," Simeone says. "In community development there are peaks and valleys. And while the time in the valleys are hard, it does make you stronger as a community."
Assuming you're still around afterward.
"I know there are plans for the West End," says Harding. "I just don't know if we're included."
If not, she says, it won't be for lack of trying. At Easter, for example, Harding sent out postcards to 50 of her best customers offering them a free $30 Easter lily for coming into the store. Only seven people came in to take advantage of the offer.
"Others called to thank me but said, 'We're not going to come down there and fight that mess,'" Harding says.
"I don't know how it will all pan out. I keep telling myself I'm not going anywhere," says Harding, "but my pockets just aren't cooperating with me."
"We've been hanging on by the skin of our teeth and a lot of that is due to our very loyal customers," says Carryer. "It's just frustrating to see how great the West End will be in the future and being unsure of whether or not you're going to make it."
For her part, Valentina Busch says she'll be holding an event that may finally bring some new traffic to the area.
"We'll be having a big sale," she says. "A going-out-of-business sale."