Any euphoric feelings occurring May 12 after the Pennsylvania State Senate overwhelmingly passed its second medical-marijuana bill in eight months didn't last long before the hangover set in.
Days after the senate voted 40-7 to pass legislation legalizing the use of cannabis extracts for medicinal purposes, House Speaker Mike Turzai sent the bill to the house health committee and into the hands of state Rep. Matt Baker (R-Wellsboro), the committee's chair and a staunch opponent of such legalization. And that leaves many wondering whether it's ever going to leave.
"I'm becoming more and more skeptical that we'll ever be able to pass any sort of cannabis legislation in this state that will actually be a benefit to people," says Patrick Nightingale, a Pittsburgh defense attorney and head of Pittsburgh NORML, a cannabis-advocacy group. "And even if it would somehow get out of committee and pass, we'll likely not see a single gram of Pennsylvania-produced medicine before 2018 because we'll need a complete set of regulations drawn up.
"I don't see any of this happening in the very near future."
But while things might look bleak, state Sen. Daylin Leach (D-Montgomery) says the law isn't dead yet.
Legalization efforts in Pennsylvania have been around for years but didn't gain any real headway until last year, when conservative Republican Sen. Mike Folmer (R-Lebanon) joined the long-time efforts of Leach, the progressive Democrat, after meeting with the parents of seriously ill children who believed they could be helped by medical cannabis. Many families have spoken out about children with an array of physical ailments, including very dangerous seizure disorders that can produce hundreds of seizures per day. Since legalization has hit other parts of the country, a lot of anecdotal evidence has surfaced indicating that these children have been helped by oils extracted from cannabis.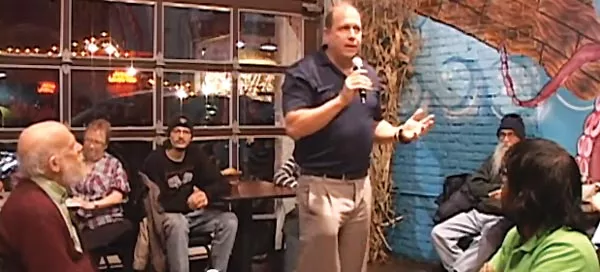 A bill was originally passed in October and died after Turzai sent it to the house judiciary committee. That bill never reached the house floor for a vote, and there are fears that the same thing may be happening now.
But despite the setbacks, Leach says that not only does he still believe a bill can be passed this year, he suspects it could potentially be on the governor's desk by the end of summer.
"I'm very confident that this can get done," Leach says. "Some people in the general public panicked when the bill was sent to the health committee, but I always knew it would happen." Leach says there has been negotiation with house leadership, which he says is working on its own bill, one that would provide medical marijuana "in a wide variety of forms for a wide variety of medical conditions." However, he adds, "the core of the bill will largely remain the same and it will then be sent to the appropriate committee." Asked whether he worries about any new bill being steamrolled, Leach replies: "I don't think the house would draft a bill just to send it to the health committee."
But still, for the patients who say they need the medicine, the delays have been frustrating. Supporters of the measure question how one or two conservative legislators can stop a bill that, according to a 2014 Quinnipiac Poll, is backed by 85 percent of Pennsylvanians.
"It's frustrating, because we believe that if we can get it to the floor, it will pass," says state Rep. Ed Gainey (D-Pittsburgh), a staunch supporter of the bill in the house. "It may have been a deliberate move by leadership, but right now that doesn't matter. The bill is in the health committee with Rep. Baker, so that's where we have to take the fight."
"The last time this measure was passed it wasn't supported by Gov. Tom Corbett," continues Gainey. "This time, we have the governor [Tom Wolf, who favors medical marijuana]. We have to continue to apply pressure and not let up."
When it comes to medical marijuana, however, Matt Baker seems immune to outside pressures. In an email interview with City Paper, he supplied information that he says has formed his opinion on why medical marijuana should not be passed at the state level until it is given full study and approval by the federal Food and Drug Administration. He also says he favors expanded clinical trials of a drug that claims to be a substitute for medical marijuana.
He points to marijuana's labeling as a Schedule 1 narcotic under federal law along with heroin, LSD and meth. He sent letters from groups like the American Epilepsy Society, American Psychiatric Association and the National Multiple Sclerosis Society that show their stance against legalization. He also sent an email containing more than 150 links entitled, "Scientific Studies Showing the Dangers of Marijuana."
Add to that three committee hearings on the matter and Baker appears as unmoved toward legalization as ever.
"[F]ederal law places Marijuana as being so potentially harmful and dangerous that it has listed the drug as a schedule 1 drug right next to Heroin, LSD, Ecstasy, Meth, and many other drugs. This is in stark contrast to marijuana activists claiming Marijuana is harmless and should be approved as medicine," Baker writes. "I have not found a preponderance of evidence that would support putting either children or adults at risk of serious adverse health reactions for cannabis oils that have not conclusively been proven to be safe, effective or even have the necessary support by the American Epilepsy Society,  FDA, American Academy of Pediatrics, ... and many other groups too numerous to recite.