Since mid-February, Wisconsin Gov. Scott Walker has dominated national headlines by seeking to limit collective-bargaining rights for his state's public employees. Closer to home, as this issue goes to press, Pennsylvania Gov. Tom Corbett is preparing to give his first budget address. Labor leaders are watching anti-union initiatives -- from a proposal to privatize liquor stores currently staffed by 4,000 unionized state employees, to the potential introduction of a "right to work" bill, which would allow workers to opt out of joining a union.
Labor issues have made local headlines, too. Pittsburgh officials have publicly grappled with how to shore up the city's depleted pension fund, and there has been outrage when, despite efforts to fire public workers involved in notorious incidents, arbitrators have kept them on the job.
On March 3, City Paper convened a panel of labor leaders to talk about public-sector unions, how they're perceived and the threats they face. The panelists were: Jack Shea, president of the Allegheny County Labor Council; Kevin McCarthy, a United Steelworkers official who represents the county's district attorneys and public defenders; Darrin Kelly, trustee, Pittsburgh Firefighters Local No. 1 (via telephone); Bryon Shane, a representative of the Amalgamated Transit Union 85; and Marty Marks, communications coordinator for the AFL-CIO.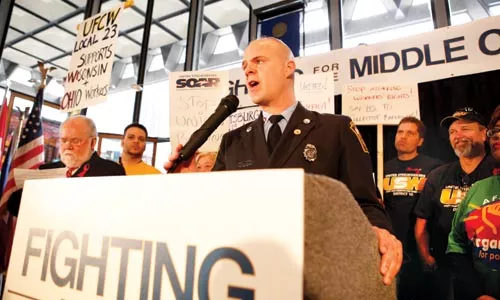 CP: How do you think the public perceived public-sector unions before Wisconsin, and now after?
Shea: I believe that public-sector unions are getting a heck of lot more play in the media and amongst brothers and sisters in organized labor, and it's kind of awakened some folks ... who may have been a little lazy, [and] kind of taken the union for granted. I think it's showing everybody that nothing's forever. Elections have consequences.
CP: In Wisconsin, Gov. Walker has proposed an increase in what employees pay for their pensions and health care. Union workers are upset, but you can hear non-union workers say, "My retirement plan has been crushed by the recession and no one is giving me anything. But my taxes could go up to pay benefits for public workers. How is that fair?"
Shea: It is a fact that union workforces make at least 30 percent more in wages; are more likely to have pensions; and are more likely to have conditions of employment that are better. ... No doubt about it. That all comes through collective bargaining. So the rage you see against [unions] ... that's one of the reasons why, because we have made a better standard of living.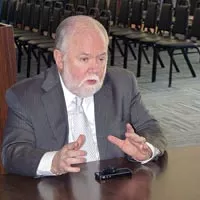 Kelly: This isn't like unions come in and ... say, "I want this and this." You live within the parameters of what your government establishes. That's what being forgotten here. ... Collective bargaining is the fairest form of bargaining in the world. People are dying all over the world to have that type of say. ... Collective bargaining is not a pot of money. We have to go by limitations just like everyone. ... That unions come in and demand all of these things -- that's a falsehood.
Shane: Over the last two contracts we've made numerous ... concessions. The Port Authority itself has published reports that we've had $53 million in concessions.
CP: But that hasn't always been the case. Among the Port Authority's biggest expenses are retiree pensions and health care. Those costs can't be changed, which is one reason there are service cuts coming. What could have been done to avoid that?
Shane: I'll say it: We have a lot of retirees out there that are not paying anything for their health care. And it was negotiated -- it is what it is at that point. ... We have 2,400 active members and over 2,000 retirees, [and under current contracts,] no one can retire with fully paid health care anymore. In time it will level itself off.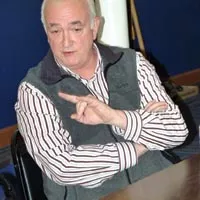 McCarthy: At the time those really good benefits were given ... the ridership was substantially greater and the revenues collected by Port Authority were substantially greater. That's why when those contracts were negotiated ... they were measured against sustaining revenue. At the time we had a fairly thriving economy here. What's happened is ... you've had this retraction of business and manufacturing and employment measured against the increased costs [of] running a bus company. ... The point that gets me crazy on what's happening in Wisconsin is that this governor doesn't want to deal with the economic issues. He wants to take away the right of collective bargaining, and that's where we have to draw the line.
CP: One gripe is that these public-sector workers can retire with a full pension in their mid-50s or so; the rest of us are lucky if we can retire at 65. As union leaders, how do you respond to that?
Marks: When you talk about early retirements, those are only in some specific job categories that are highly stressful -- [such as] public protection. It's also true with the operators and people in the transportation industry. It's one of the most stressful jobs there is in government service.
Kelly: For most of us, [it] is dictated by the state when we can retire. [If you] put every one of us on pension right now, I guarantee it would not make 1 percent of the loss that came from Wall Street. ... Yes, you do see some of our members who may have a very high pension. It wasn't given to them; they had to work for it. But come with me for a day, and let me show you 48 widows who make $360 a month, [if] you want to see someone struggle. So let's find a medium when it comes to this. Yes, we do have some extremes. ... [But] we have some people out there who are trying to make ends meet, too. It's not that everybody who retires in the public sector goes to Florida and buys a condo and lives the good life.
McCarthy: Back to collective bargaining. ... It's one thing to say that today, going forward, we can't afford to fund these pensions to the same degree; how can we rearrange or reschedule the benefits for new employees that are signing on now? [But labor foes] don't want to do that. They want to rewrite all the old pensions and take it away from people. We worked for less money before so we'd have something to retire on. That's what I find outrageous.
CP: Obviously, the backdrop for all this is what's been happening in Wisconsin and across the country. But some recent events strike closer to home. For example, an arbitrator reinstated paramedic Josie Dimon, despite the fact that she was among the paramedics who didn't treat a Hazelwood man who later died during the snow storms of 2010. Dimon refused to walk to the man's home, and could be heard on the radio saying that she wasn't running a taxi service. Yet she was reinstated by an arbitrator. How can that be justified?
Shea: [Arbitration] is sacred to us. What that means, very honestly, is if we win, then we win. If we lose, then it's over. ... There has to be a way to settle disputes. Now the way we used to settle disputes -- some think maybe it's the best way to settle --is that we hold back our services instead of arbitrating it. ... We believe in arbitration completely. Everybody can second-guess it, and nine out of 10 people who second-guess it don't know anything about it.
McCarthy: Rarely do we ever have all the information a judge or jury is going to hear. I don't think it's fair to make the conclusions just by what's in the media.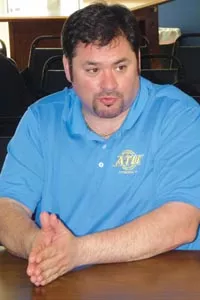 Kelly: The front page of the Post-Gazette does not constitute one of my members or any union members as guilty. That's the problem here. It's reported in a certain way, whether this person is innocent or guilty. Don't get me wrong -- I'm not here to defend that. But when these people are put into the media, automatically it's assumed, "Look what this person did." A prime example is the paramedic ... case. You say, "How did this arbitration come out this way?" Well, maybe people don't have all the facts before we jump, and that's the problem. ... And I'm not saying this because my firefighters have had their share of run-ins. [Just] because we're dragged across the town square ... doesn't constitute [guilt]. Public opinion doesn't constitute [guilt]. A jury of their peers will decide that. In this case, an arbitrator will decide that.
CP: With regard to the Dimon case, the thing that seemed to really sting was the 911 recording, where she can be heard saying things like, "This ain't no cab service."
McCarthy: I can understand [how] people can be given the evidence on the television and radio and form that opinion. My point is that an arbitrator reinstated that person. At the end of the day, she may be terminated again. We're still in the middle of [the process].
Shane: You have a company and a union that agree to a process on how they're going to handle disciplinary cases. ... Once they get a decision they don't like, now they want to use the court systems. How fair is that to the employee, and the taxpayers? You agreed to a system on how to settle disputes. [In other cases people have been] completely wrongly discharged and their lives slandered, and they've gone to court on charges that are completely trumped-up and then vindicated. ... But you never hear [employers] say they were wrong.