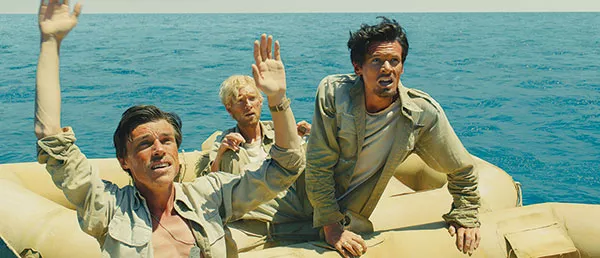 The life experiences of Louis Zamperini would seem perfect for a film (or two). Son of immigrant Italians, he was an Olympic medalist as a teenager. Later, he served as a bombardier in the Pacific theater in World War II. He survived an at-sea plane crash, and more than a month floating in a lifeboat. But he was rescued by the Japanese and sent to POW camps, where he endured sadistic treatment until the end of the war. A survivor against all sorts of physical and psychological odds, Zamperini lived to be 97, dying earlier this year.
With such dramatic and emotional resonant material, I feared Angelina Jolie's bio-pic of Zamperini would be the standard retinue of "real-life inspirational," with easily identified stock characters, rousing (if clichéd) dialogue and lots of soaring music, designed to make us feel happy/sad/uplifted/etc.
While handsomely filmed and featuring decent enough actors, Unbroken is almost the opposite of what I expected. Characters are unnamed and unknowable; even Zamperini (Jack O'Connell) remains a determined set of facial features, revealing little emotion other than grit. Beyond the harrowing crash, Unbroken is short on action, but Jolie never fills the space by developing characters and relationships, or humanizing the experiences beyond the depiction of physical discomfort. In the end, it's a respectful look at Zamperini's remarkable experiences that is emotionally distant, flat and even, at times, boring.