When thinking about contemporary, boundary-pushing art, still life paintings rarely come to mind. But Artists Image Resource (AIR) will try to change that with B(L)OOM, a pop-up exhibition working to reinvent an all-too-familiar genre.
Set up by local independent art curator and dealer Jeffrey Jarzynka, B(L)OOM includes 47 new paintings by Pittsburgh artist Cara Livorio. The show explores a common theme in still lifes — the flower — with a raw approach less concerned with capturing exact details than with creating an evocative explosion of colors, textures, and styles.
"[Florals are] a great subject matter," says Livorio, a career artist who studied in Italy and owns the Fox Chapel gallery/art school, Artissima Studio. "It's also challenging because it's a subject matter that has been done a lot in the form of a still life. What I really wanted to portray in this show is the idea that it's not a static composition. I wanted to show more of the life and the energy that I see with florals and with organics."
Jarzynka believes the paintings in the show are "not what you would consider your traditional still lifes." Livorio goes as far as calling the pieces "un-still lifes."
For B(L)OOM, Livorio says she took multiple trips to local wholesalers and bought "way too many flowers," making arrangements and photographing them at different angles. On canvas, she used various styles and techniques, including line work and painting with thick layering or drips. She says she wanted to create a sense of energy through the immediacy of her brush strokes and by not laboring over details, making the work appear less forced and more "action-oriented."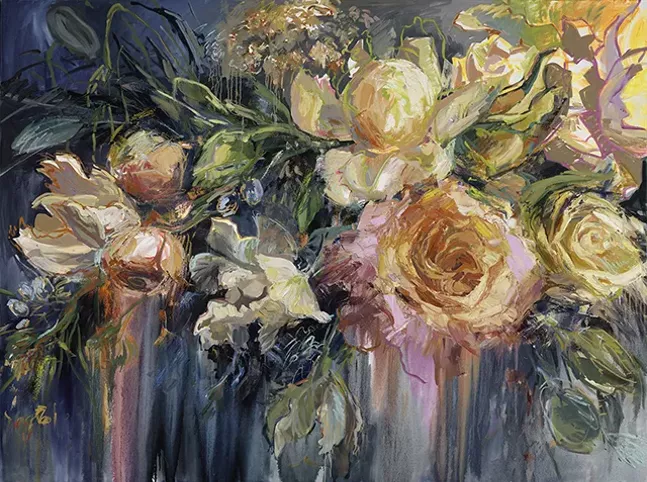 "The flowers are more than just dead, beautiful things that have been cut," says Livorio, describing them as "little perfect pops in our world."
Livorio also sees B(L)OOM, with its tribute to short-lived beauty, as exploring themes of the ephemeral found in much of her previous work. For example, her Passing by series played on Post-Impressionist paintings by catching people in fleeting, unposed moments, from a restaurant server leaning over a customer's table to two people greeting each other in a doorway.
"They're all different narratives of people in candid moments in time that I take a snippet of," says Livorio. "I've always been interested in themes of nostalgia, and time passing, and how you can't necessarily freeze those moments. You kind of have to enjoy them."
While she understands that still lifes are nothing new, she believes that they continue to have plenty to offer beyond art history books and beginner drawing classes.
"I think still lifes are still very valid," says Livorio. "It's just it comes from a really rich tradition. For me, the way that I paint and the way I see these, it's more than just a still life. It's something that's dynamic and moving."