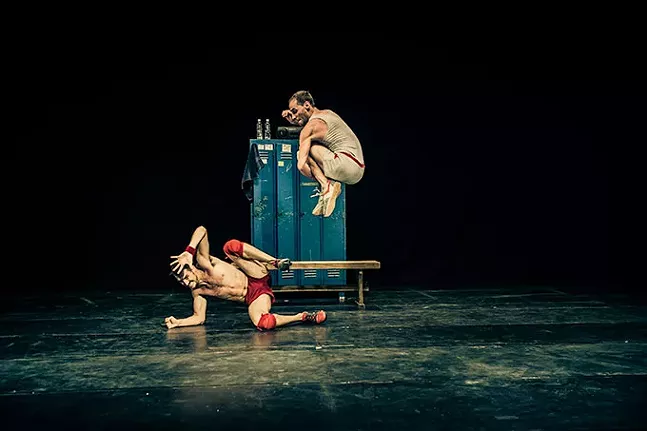 A common stereotype of dance is that it's a deeply serious art form, one that people can develop a strong distaste for based on concept alone. Randal Miller, director of dance programming at the Pittsburgh Cultural Trust, hopes to change that perception with Un Poyo Rojo, a two-man show from Argentina that combines dance, comedy, and wrestling into an acrobatic show. Presented in partnership with the Pittsburgh Dance Council, the show will have its U.S. debut at the August Wilson African American Cultural Center on Sat., Sept. 14.
"I think that dance is one of those genres of performance that people don't hesitate to make assumptions about, or feel that they know what it is about [in] one or less experiences," says Miller. "I think people are hard-set and make assumptions without any real experience or exposure. That's why I work so hard to try to push people to challenge themselves."
Miller first saw Un Poyo Rojo — which translates to "a red stone bench" — at a dance festival in Bogotá, Colombia. It wasn't the show he went there to see, but it was the one he thought was most worth bringing to audiences back home. The show consists of performers Alfonso Barón and Luciano Rosso donning tiny shorts and kneepads, and a minimal set with a row of lockers, a bench, a working radio, and some small props like water bottles and cigarettes. As audience members enter the theater, Barón and Rosso are already on stage, stretching before their performance.
The show combines themes of athletics, masculinity, competition, and sexuality with physical comedy and humorous dancing. Barón and Rosso play characters engaging in playful one-upmanship that slowly builds sexual tension between the two as they appear to mock the world of athletics that upholds rigid standards of (heterosexual) masculinity, even in a sport like wrestling.
"The commentary on masculinity is this whole relationship in which they're trying to outdo each other in this locker room," says Miller. "But then it kind of flips on its head when you see this romantic spark happen."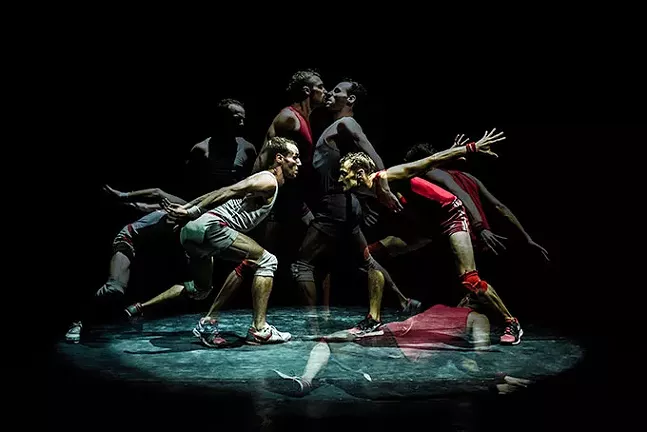 The Cultural Trust put a "sexual content" warning on the show, due to some of the aggressive horniness of the characters, though Miller doesn't think it's especially necessary; the raciest bits are a flash of a performer's butt when he gets his shorts pulled down.
After Pittsburgh, the show will go to Philadelphia for three performances, then Canada, Spain, and Serbia. The location actually factors into the show, as one improvisational aspect involves tuning the radio to a local station live onstage. The stop in Pittsburgh is one of the only chances to see it in the U.S. for the foreseeable future, and Miller says the encore alone, which features a crazed lip-sync bit Rosso developed for a South American variety show, is worth the price of admission on its own.
While Miller says the Cultural Trust has only had a handful of previous performances that combine dance and humor at a similar level, including drag ballet company Les Ballets Trockadero de Monte Carlo last April, there is always room to keep expanding the public understanding of dance.
"When I'm working on curating our dance offerings here," says Miller, "broadening perceptions of what dance can be is always at the center of everything."