If you ask Uber drivers, most of whom prefer not to be identified for fear of being deactivated, their views on the company vary depending how long they've been at it.
Newer drivers like all the things Uber touts as plusses: flexible working conditions, steady income, the chance to meet new people and explore unfamiliar parts of the city. But longer-term drivers for Uber Pittsburgh have less rosy opinions of the San Francisco-based ride-hailing (also known as ride-sharing) behemoth. The company has cut rates and raised fees so much, these disgruntled drivers say, that it's become almost impossible to earn a living.
"It was like being [an] ambassador for Pittsburgh," says former Uber driver Luke Snatchko. "No matter how many times I came through the Fort Pitt Tunnel, it was cool every time. And I got to see neighborhoods I never would have seen otherwise." But Snatchko says that after Uber cut its fares in July, he went from making close to $30 for a trip from Pittsburgh International Airport to Downtown to making $17 for the same trip. "It felt like a bait-and-switch."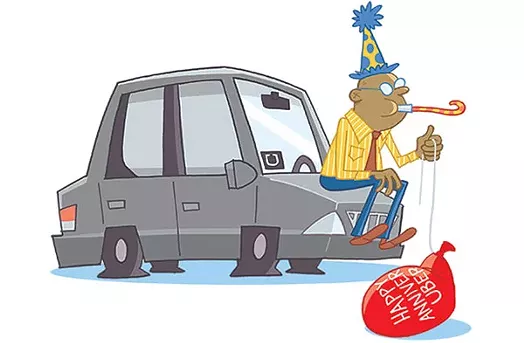 Two years after it rolled into Pittsburgh with its image as the ultimate disruptor of outdated urban transit systems, including what CEO Travis Kalanick famously referred to as "an asshole called 'taxi,'" Uber has grown exponentially: The company is now valued at $68 billion. It's expanded into 300 cities around the world, and by all measures of success within the Silicon Valley tech scene, it's achieved unicorn status. But critics, including many of its own drivers, say the company's business model is decidedly old-school: reaping the rewards of its lowest-ranking workers while doing little to share the wealth.
Uber came to Pittsburgh in February 2014, not long after its smaller rival, Lyft, arrived in town. The first-ever Uber passenger in Pittsburgh was, fittingly, a Steeler: Pittsburgh native Cam Heyward. The companies offered an alternative to Pittsburgh's notoriously spotty taxi service, with easy-to-use apps that summoned drivers in their own vehicles for cashless transactions. It was hailed as a win for Pittsburghers who needed to get around the city more easily, and for its drivers, independent contractors whom Uber refers to as "partners."
But the Pittsburgh launch marked the beginning of a lengthy battle with state regulators, since neither company had obtained licenses from the Pennsylvania Public Utility Commission before beginning operations. It's worth noting that this is how Uber has traditionally done business wherever it's entered a new market: asking for forgiveness from regulators rather than permission. Under current Pennsylvania law, offering transportation for hire requires a certificate of public convenience from the PUC, except in Philadelphia, where the Philadelphia Parking Authority oversees taxis and ride-hailing companies.
Pittsburgh taxi companies cried foul, and the PUC's administrative-law judges levied fines against both Lyft and Uber before imposing a cease-and-desist order on each on July 1, 2014. The companies continued to operate, and the PUC's enforcement arm levied fines against individual drivers in Pittsburgh.
Part of the problem was that the PUC had never encountered an entity like Uber, which insists it's a technology company, not a transportation company. After months of legal back-and-forth, Uber and Lyft both applied for and received two-year experimental licenses from the PUC. Those will expire this December, however, and the only way Uber and Lyft can become permanently legal in Pennsylvania is if the state legislature enacts a new law.
State Sen. Wayne Fontana was the first to introduce a bill creating a new "transportation network company" category for such companies. It would have required background checks and training programs for drivers. Last February, Fontana's bill stalled in the Consumer Protection and Professional Licensure committee.
What happens to the ride-hailing companies if the PUC licenses expire before the legislature takes action? It's not totally clear, but PUC spokeswoman Robin Tilley says the licenses could possibly be extended.
But while all this is going on — or not going on — in Harrisburg, Uber has increased its presence in Pittsburgh and furthered its agenda of evolving past the point where it needs any drivers. Pittsburgh welcomed Uber with open arms, but what has Uber done to deserve so much love? It depends whom you ask.
Last February, Uber partnered with Carnegie Mellon University's National Robotics Engineering Center to produce driverless cars. It announced it would locate its Advanced Technologies Center here. Not long afterward, reports surfaced that Uber had in fact hired away some of the NREC's top talent, enticing the personnel with large salaries.
Rather than work with the NREC, Uber had in effect set up as a competitor. Whether or not it's fair to classify what Uber did as talent-poaching, it didn't do much to soften its image as an aggressive, no-holds-barred disruptor. Was its $5.5 million gift to CMU in September, to endow a robotics faculty chair and three fellowships, an attempt to make amends? Possibly. Uber simply cast the gift as part of the "partnership" with the university.
It now looks like Uber wants to put a test track for its still-in-progress driverless cars at the Almono site, a mixed-use development site located on the former LTV Steel property, in Hazelwood. The company outlined the plans at a Feb. 23 community meeting.
Pittsburgh City Councilor Corey O'Connor, who represents Hazelwood, says having a worldwide company like Uber invest in the site was an attractive option. But he adds that the city wants to ensure that any company moving in there would be a responsible tenant. He hopes to see specifics for what Uber plans at the site, but also for what happens with any test track after Uber is finished with it.
"We want companies who are loyal to their employees, and loyal to the city of Pittsburgh," O'Connor says.
And the company has continued its exponential growth around the world. CEO Travis Kalanick said recently that while the company was losing money in China, it's now profitable in the U.S. It's widely expected that the company will go public sometime in 2016.
However, until its driverless cars are ready to roll, it's not clear how Uber can continue to grow with an ever-more disgruntled pool of drivers. Snatchko says a blitz last year to bring on more drivers, coupled with two rate cuts over the past six months, was more than his bottom line could handle. The way Uber's service is set up, when there are fewer drivers than there are customers, its algorithm goes into surge mode, raising fares exponentially. Because drivers make more money when surge pricing is in effect, the practice is intended as an incentive to get more drivers on the road. (Among Uber's critics, surge pricing has also raised calls of price-gouging.) But more drivers means fewer surges, and less money to be made.
So in several cities, including Pittsburgh, drivers have taken it upon themselves to attempt work stoppages, urging drivers to choose peak times to shut off the app and not be available, essentially disrupting the disruptor.
Uber driver Sandra Speicher tried to organize drivers in Pittsburgh over Valentine's Day weekend, a typically busy time for the company. She says several dozen drivers took part. But for those who did not, the resulting shortage of drivers led to surge pricing, which meant they were able to take in more money than they would have without any work action. So with approximately 4,000 Uber drivers in the Pittsburgh area, any action would require a great deal of solidarity to be effective.
According to Uber spokesman Craig Ewer, the impact on Uber was minimal. "Drivers did substantially more trips per hour last week, which means less time wasted without a rider in the backseat," he said in an email statement. "As a result, hourly earnings in fares were up 20 percent compared to pre-price cut levels."
Would the company consider reverting to pre-price cut levels? Ewer says maybe. "If, for whatever reason, individual drivers are making less money, we've instituted hourly fare guarantees as high as $25 per hour in fares during peak times. Price cuts need to work for drivers, so if there is an impact on earnings in the long run, we'll consider reversing the price cuts as we've done in other cities," he says.