It's been eight years since Lisa Bennington left her Pennsylvania House of Representatives seat after serving just one term. But there are certain things she'll never forget.
"This is one of my favorite stories," says Bennington. "The guy's bathroom on the floor of the House is like a palace. There is literally a barber sitting in there. There's a shoe-shine man in there. It's like a lounge in a bathroom.
"And the women's bathroom in the back of the House is a shoe closet. You have to turn sideways to get into a stall. And the sink is like what you put in a powder room under the stairs in an old Pittsburgh house: this mini Smurf sink."
The bathrooms at the state capitol in Harrisburg are a microcosm of a larger issue. And it's one of many stories that illustrate what it's like to be a woman in politics, not just in Pennsylvania but nationally.
Bennington was one of the first two women elected to full terms to represent Pittsburgh in the state house. In 2007, she was sworn in alongside Allegheny County Controller Chelsa Wagner.
Today, neither woman is still in the House, and there are no women representing Allegheny County in the state legislature. Of the House representatives at the state level only 36 are women, equaling about 18 percent. Nine of the 50 state senators, also 18 percent, are women.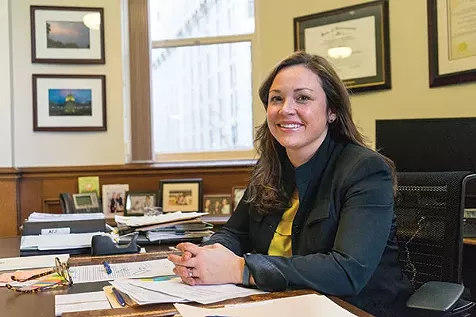 "I think it's staggering, when you look at by numbers, that you have — combined house and senate — 26 seats in Allegheny County and not one female," says Wagner. "That number should really wake people up."
Former legislators and organizations focused on increasing the number of female elected officials say addressing this disparity is a bit of a chicken-or-egg dilemma: Culture in the state legislature can only change if women make up a greater portion of the body, but electing and retaining women is difficult in the current culture where women often don't feel welcome.
"One woman in 26 or 30 isn't going to make a huge difference until you have more people that look like you also around," says Wagner. "Even though I had many very good colleagues as individuals, they aren't as cognizant of the problem. The only thing that's going to change the environment is if the environment itself changes. You need more women. It's that simple."
Still, there are local and national organizations working to address the issue. And the upcoming April primary, when house seats are up for grabs, presents an opportunity for more women to get their foot in the door. Already, two have announced their candidacy.
"To help people think about why it is important for there to be more women in Pennsylvania elected to office," Heather Arnet, executive director of the Women and Girls Foundation wrote in an email, "I ask them to close their eyes and imagine a world where the mayor of their city is a woman; the county chief executive is a woman; where the entire county delegation to Harrisburg is female; where all of the members of Congress and Senate representing our state are female. How would that feel? If you were a man, would you feel represented by this group of elected officials? Would you think that perhaps having some men in those groups might help?"
Wagner served as a member of the state legislature for five years. Despite her tenure, she says she could walk into a meeting with a new pair of glasses on and staff who didn't recognize her would talk to her like she wasn't a representative. Wagner was also the first Democrat in Pennsylvania to give birth while serving in the House, and this sometimes led to people questioning her presence on the House floor.
"I'd bring my son onto the floor because I was also nursing, and I remember people saying, 'That's great that your boss lets you bring your child onto the floor.' So all of a sudden, now that I was carrying a baby with me, there was no way I was a member," says Wagner. "It's that you don't look like you're a member because they haven't seen enough women there."
Wagner says another example of when she felt excluded because of her gender was when she expressed interest in getting involved in a House campaign committee, but wasn't included.
"The member who was coordinating it, he looked at me, and I was pregnant at the time, and he said, 'Well, I just figured with all that you had going on …' And I just said to him, 'You have two kids, right?' And just walked away," says Wagner.
Wagner's colleague Bennington, who practices divorce, custody and child support litigation at Bennington Law Firm, in Shadyside, echoes the feeling of being unwelcome.
"It's definitely a boys' club, no question," says Bennington. "When I was there, out of 203 legislators, there were 27 women. When you're sitting on the floor of the House and you look out there, all you see are suits."
Two of the most important pieces of legislation Bennington says she tried to get passed during her tenure were a bill to expand the statue of limitations for childhood victims of sexual assault and another to have hospitals inform rape victims about emergency contraception. Neither was passed.
"I definitely gave that speech from a man's perspective because I was speaking to an audience of 180 men," Bennington says of remarks she made when trying to get the emergency-contraception bill passed. "I put it in terms of 'you're a father and your daughter just got raped, you're a husband and your wife just got raped. You don't want her to have access to that?'"
Bennington is quick to say the issues she tried to address with her legislation aren't only women's issues, and she doesn't automatically attribute their lack of success to the scarcity of women in the legislature.
Still, Bennington points to research that suggests increasing the number of women in organizations to 30 percent can have a positive impact. And she says she hopes there are people out there encouraging more women to run.
"The idea you hear is women don't feel like they're qualified to run. When someone said to me, 'You should run,' I was like, 'I'm not qualified to run,'" Bennington says. "So I think it's like breaking that barrier and saying, 'There are not qualifications; you can just do this.'"


The simple act of having more people telling women to run for election is a major key to increasing diversity in the legislature, experts say, and it could help increase the number of women running in the upcoming April primary.
"What we know historically is these political parties are organizations that were created by men for men, many years ago, in order to identify and recruit candidates," says Dana Brown, executive director of the Pennsylvania Center for Women in Politics at Chatham University. "I think it's incumbent on the leaders of the party to be purposeful of their recruitment. There's research out there that indicates that it really was a political party official asking a woman to run that was really a tipping point for her to make that decision."
Chatham runs training sessions for women interested in running for office and recently had a session on Jan. 30 where women learned about topics like political parties and fundraising. The university also inspired Run Baby Run, a non-partisan political action committee established in 2006 that helped Wagner and Bennington get elected.
Brown says another barrier that keeps women from running for office is the challenge of facing off against an incumbent, which experts say is difficult for candidates regardless of gender. That's why Brown says organizations dedicated to getting more women in office should be monitoring seats to keep abreast of when vacancies are going to be available.
That's exactly what led to Arnet, of the Women and Girls Foundation, to run for a state Senate seat in a special election last year when former state Sen. Matt Smith announced he was stepping down. Arnet was ultimately defeated by Republican challenger Guy Reschenthaler in an election that broke fundraising records.
"The greatest barriers for women running for state legislature right now are experienced in a partisan fashion," Arnet said in an email. "The GOP is investing heavily — in our state and across the nation — in buying up legislative seats and legislative chambers. … Until the Democratic party, partners, and national (and local) progressive donors and PACs begin to take state legislatures seriously, the party will continue to lose seats and women will find it a continued challenge to oppose heavily financed GOP candidates."
According to the National Foundation for Women Legislators, fundraising and a lack of support from political parties are two of the largest barriers women face when getting elected. But another barrier is the gender roles that still exist in society.
"I mean, let's face it, the women in America, by and large, are still the ones who take care of the children and run the house," says Jody Thomas, NFWL executive director. "So that's a big drawback, the difficulty of the work-life balance and being able to be out of town for days at a time to go to the state capitol."
And even when women don't view themselves as responsible for traditional gender roles, Thomas says some of their colleagues are quick to remind them.
"There's still a lot of biases," says Thomas. "We have a state senator in South Carolina, the only woman senator in South Carolina, and last year one of her male colleagues made the comment that 'Women should stay home and be barefoot and pregnant.'"
Despite setbacks like these, Thomas said progress has been made, and she hopes efforts to get women elected at the national level will begin to trickle down to seats in the state legislature.
"When you think about it, it took 72 years of struggle to get the 19th Amendment to the Constitution," says Thomas. "This year, we already have two women running for president, so we are making major strides. But we just can't stop."