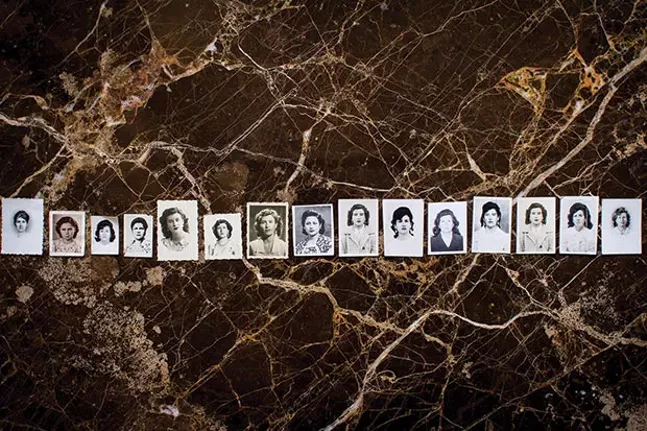 In both exhibitions currently at Silver Eye Center for Photography, photographers create fantasy from bits of reality. Tarrah Krajnak's Sismos tells the story of returning to her birth country years after her adoption through other people's photographs and documents. The aptly named Fantasy Life, by Tabitha Soren, depicts minor-league baseball players and explores the realities of the romanticized American dream.
Sismos is at once deeply personal and romantically fictitious, blending stories, imagery and cultures. Born in Peru and immediately adopted by a family in Pennsylvania, where she was raised, Krajnak returned to Lima "with no romantic expectations of 'finding her roots,'" writes Silver Eye executive director David Oresick in the gallery guide. Instead, she used her experiences in Peru to collect and compile images of other people's lives, collaging these portraits and histories to create a gritty, fantastical imagining of an alternate life, perhaps of her birth mother, or of herself, had she been raised in Lima. Krajnak's photographs focus not just on the experience of individuals in Peru, but specifically on the experience of women and how they are pressured to fulfill their society's conception of womanhood.
Sismos consists of three distinct series. The first contains photographed collages of newspaper clippings, books and pictures, overlaid with colored broken glass that subtly refracts and distorts the viewer's experience. The images themselves speak of exploitation and fear, including headlines about terrorism and imported American pornography, juxtaposed with portraits of Karl Marx. The photographs are disturbing in all the right ways, with aggressive colors and uncomfortable imagery, reflecting the Lima of Krajnak's birth, which was facing a violent and turbulent political period in a year that Krajnak says "created orphans."
The next series features found photographs of Peruvian women from the 1960s, posed stiffly, mounted on broken shards of marble from a mansion that had been abandoned during this period, representing the changing culture surrounding Lima. These images too feel exploitative in that the women are highly posed, and some of the photographs even mimic the male gaze, showing women in pin-up poses.
The exhibit's final series consists of modern portraits of women who were born in the same city and year as Krajnak. She took oral histories of these women, and asked to photograph them in a place of their choosing. The histories she transformed into a series of poems, which she printed on high-contrast black-and-white images, and which are available for visitors to take as a mementos. This series feels like the culmination of the exhibit, and an act of empowerment: After exploring the ways in which the turbulent culture exploited and transformed its people, and its women especially, Krajnak gives these women the chance to tell their own stories and be seen as they wish.
The second exhibit at Silver Eye similarly explores the intersection between reality and fantasy, here by following the stories of a minor-league baseball team, and the players' dreams, successes and losses as they attempt to move into major-league baseball. Soren's images juxtapose the soaring beauty of the American dream with painful reality. As you move throughout the room, you are always pivoting around the single sculptural piece, "Bone Spurs & Knocked Out Teeth from Draft Class and Others," which is exactly what its title indicates, and serves as a gracefully curated representation of the cost of that dream.
The photographs on the wall provide similar nuance: One huge print shows a player basking in the sun like a biblical hero, and another captures a baseball stadium lit up in a dreamy, movie-magic light. Alongside these posed shots are photos of these men's everyday lives, showing their families, their partners, their hope and their exhaustion. The photos handle the men with tenderness, perhaps reflecting Soren's prolonged relationships with them as she followed their professional and personal lives for about 15 years. (The team is part of the Oakland A's system; a few of the players, including Nick Swisher, did go on to the majors.)
She provides expansive portraits of their lives through fragments, not only of their bones but also through memorabilia: a Little League trading card depicting a player's childhood dream, and a haunting brain scan that alludes to the danger of losing oneself in pursuit of it. One small print that you must not miss shows a player falling into rippling blue water, mimicking the blurring of fantasy and reality emphasized throughout the exhibition. The photographs portray the mundane and the disappointing with the same empathy and reverence as do the images of players at the plate, and highlight the beauty in each moment of the men's lives.