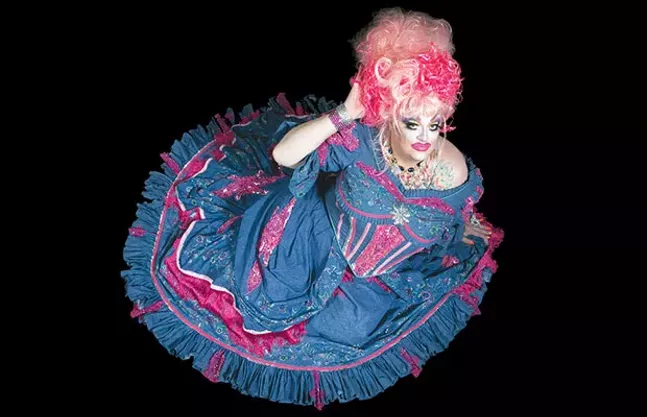 Outlandish, wild and extremely fashion-forward, Pittsburgh drag legend Marsha Monster Mellow and her alter-ego, Mark Wilkes, have been tearing up the local drag scene for more than 20 years. City Paper recently sat down with the pair to get their take on drag, shopping and 4 a.m. trips to Primanti's.
How did you two meet?
Marsha: Mark and I met while we were working in a Jewish kitchen. We had to fight through the fumes and alcohol just to earn our monthly keep!
Mark: Exactly. I was a little gay boy going to public school when I saw these New York club kids profiled on the Joan Rivers show. So, some friends and I forged some signatures, got fake IDs, and we took a little field trip to the [notorious New York nightclub] Limelight. I hadn't really discovered drag yet, but I was a club kid.
How did Marsha and the drag scene become a part of your life?
Mark: I started feeling her presence. Being 16 and going to New York was such an eye-opener. I had to figure out who I was. So back in Pittsburgh, I started using my ID to get into [former dance club] Metropol, and I discovered the Pegasus [a legendary Pittsburgh LGBTQ club]. Around that time, I felt like I was more of a drag queen:
Marsha: I'm all about the attitude; especially in the early days I wanted to do things that were a little more, you know, scandalous. But I was also political and did things like the March on Washington. We were just this little gay girl and scared little gay boy who turned into the fabulous Marsha Monster Mellow, the drag queen who cares.
Mark: I made so many mistakes in my life, but I'm grateful that Marsha was there for me. She helped me get through the college of life. It's been an education.
Marsha: Mark and I are twins. My volume is just turned up more.
Working in drag really puts you into the public eye. Do you both think much about how you're received by other people?
Marsha: I don't care. Mark does.
Mark: She used to care.
Marsha: Yes, but that went away. Do you know what I realized about those people? They don't love you, they don't fuck you, and they don't pay your bills.
Mark: We're a good team. I try to see the best in everybody, and she's able to see right through their bullshit when necessary.
How else has Marsha changed over the years?
Mark: There was a time when she always ready to mix it up, always ready to sink her teeth into a situation with a sharp retort.
Marsha: I'm getting older, we're 40 this year, I'm more willing to step back and assess the situation first.
Marsha hasn't been around the drag scene for a while. Are you taking a break? Retiring?
Marsha: These days I like to pick and choose what I do. A lot of it is for the press.
Mark: She's definitely pickier.
Marsha: You know, I'm kind of a Bipolar Betty, a moody kind of a gal. I'm trying to take it easy and getting rid of some of this drag stuff. I get rid of a lot, and then there's more and more. I get rid of that, and still there's more. I'm trying to take it easy and take care of Mark.
Mark: I'm doing more with our video and archives, and I'm writing my autobiography, Delusions of Glamour about all the things I've done in the name of glamour. I'm also working on a horror story set in the drag/trans community and the world of beauty pageants and pumping parties, you know the kind where queens and trans showgirls go into backrooms and seedy motels for illegal surgeries. [Pumping parties are attended usually by trans individuals, but also women looking for inexpensive cosmetic procedures, where silicone is pumped into the bodies to create curves and other more feminine features]. It takes place in a seedy hotel room. It's going to be very Rob Zombie-esque, although I've always thought of myself as more of a John Waters guy.
Marsha, are you into horror flicks? What are some of your other interests?
Mark: She's definitely more well-rounded. She's more into music.
Marsha: I love spending time at Jerry's Records, talking to Jerry. I needed a turntable so I went there. I'm a yinzer at heart. I love to shop local and support our local merchants. I stay off of places like Amazon because I look at shopping as my cardio!
Did you take a vacation to relax on your time off?
Mark: She really needs to. We were supposed to go to Key West for our 40th birthday.
Marsha: But then the place we were going to stay was wiped off the earth by Hurricane Whatever! And then the backup plan, I swear, was to go to Puerto Rico. We were supposed to be lying in the sun drinking strawberry daiquiris and looking for cute boys. But in all seriousness, we need people to dig into our pockets and donate to save Puerto Rico.
Mark: Marsha really cares about people, and she will go out of her way to help.
Marsha: When I care about someone, I'll always wish them well. And if I don't, then I wish them well … away from me!
Marsha, do you serve as a fairy godmother to some of the aspiring queens in town?
Marsha: Oh my God, I love [up-and-coming drag queens]. I've got so many kids — I call them kids — who run around and call me Auntie Monster! I've been getting rid of a lot of my drag outfits and accessories. I'm a complete accessory whore! But I love to give it to the younger people, the [RuPaul's] Drag Race girls. Honey, there are a lot of my wigs out there in circulation.
Did you ever consider making a run at Drag Race?
Marsha: Oh, that's not my style. I've been doing drag for more than 20 years. I don't want that party lifestyle anymore. I rarely drink, although I do enjoy smoking a little pot every now and then. That lifestyle is so hard on the girls. They're in drag, sometimes for 10-day stretches at a time. They're not getting proper nutrition; it's a lot of smoking and drinking.
Mark: Marsha is more of a comedian, emcee and storyteller. But Drag Race will be around awhile.
Marsha: But you know what I don't like are these 13-year-old girls on that Reddit stalking the queens and speaking to them so horribly. They're on there calling the girls "filthy cocksuckers!" Now, I talk that way now, but if I had acted like that as a child, my mother would have whooped my ass. I guess when it comes to the children, I'm a little bit more of a conservative mother figure.
Marsha, you mentioned being a yinzer. What other yinzer activities do you partake in?
Mark: She loves Primanti Brothers.
You do? A lot of Pittsburghers pretend that they don't like Primanti's, like they're too good for it.

Marsha: Jesus, then don't fucking eat it or talk about it. Go to McDonald's and clog your arteries that way; what do I care. But, I mean, what's better? They do it your way. If you want the coleslaw separate, eat the coleslaw separate. If you don't want the coleslaw, then don't fucking eat the fucking coleslaw. You have to go to Primanti's after hours.
Mark: I once saw her at Primanti's at 4 a.m. eating a sandwich with her wig in her hand, using it to wipe the lipstick off her teeth.
Marsha: Look, I go party, and then I go to Primanti's. One time I partied, went to Primanti's at 4, and then went out and partied again until noon. And then I had to ride the bus from Mount Washington to Lawrenceville to my mother's house because I lost my goddamned keys. Primanti's is the best at 4 a.m., and I can't believe some people think it's beneath them. Who's got the energy to be bougie at 4 in the morning?