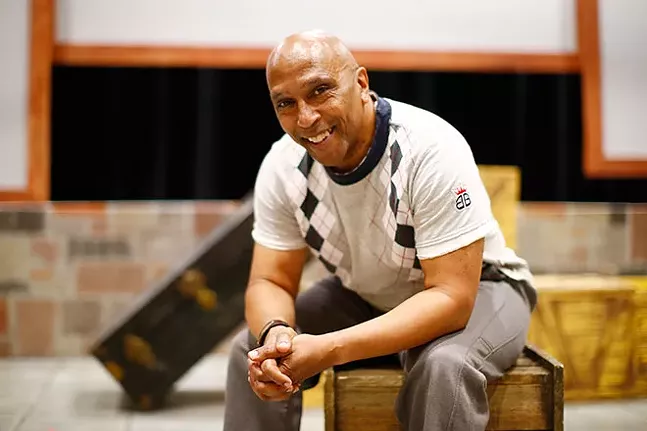 In a small rehearsal space at a Shadyside school, bodies are veering and staggering from one side of the room to the other, as if being thrown by a strong wind. They fling themselves with abandon, teetering off kilter, hopping from right foot to left. Some have bananas — one, two, or a basketful. And when they reach the conclusion of the passage, the performers are unable to conceal their pure delight in the fun they're having.
This is not what most of us would typically imagine as preparation for an opera, but if you consider that this one was written by one Fred Rogers, better known as Mister, the atmosphere of joy and jubilation in the exploration of one's own creativity through the creativity of others makes all the sense in the world.
The Pittsburgh Festival Opera has selected two short pieces, "Windstorm in Bubbleland" and "Spoon Mountain," from the thirteen that Rogers penned, premiering on stage as "Mister Rogers' Operas," supplemented with video interviews in which people speak on who Fred Rogers was and what he meant to them.
It's inspired programming, made even more so because it is being directed by renowned artist and director Tomé Cousin, once a resident of the Neighborhood of Make Believe as Prince Tuesday's Rag Doll.
Rogers first met Cousin after seeing him perform in George C. Wolfe's The Colored Museum, produced by City Theatre.
"I played this over-the-top drag queen, every other word out of my mouth was 'motherfucker,' and I can see Mister Rogers in the audience," says Cousin. Rogers came backstage, greeted the cast, complimented the show, and departed. Two days later, Cousin received a call telling him Rogers had written him a part. Once on set, Cousin learned that the care, mindfulness, and concern he saw on the show was genuine.
"He made you feel like everything you do is important and matters. I had been performing for a long time and no one had ever asked me my opinion of my work. He'd say, 'What do you think?' and I'd say, 'What do you mean?'" says Cousin. "He'd say, 'If you don't like it, we'll do it again until you like it,' and he meant it. That stayed in my head, stayed with me."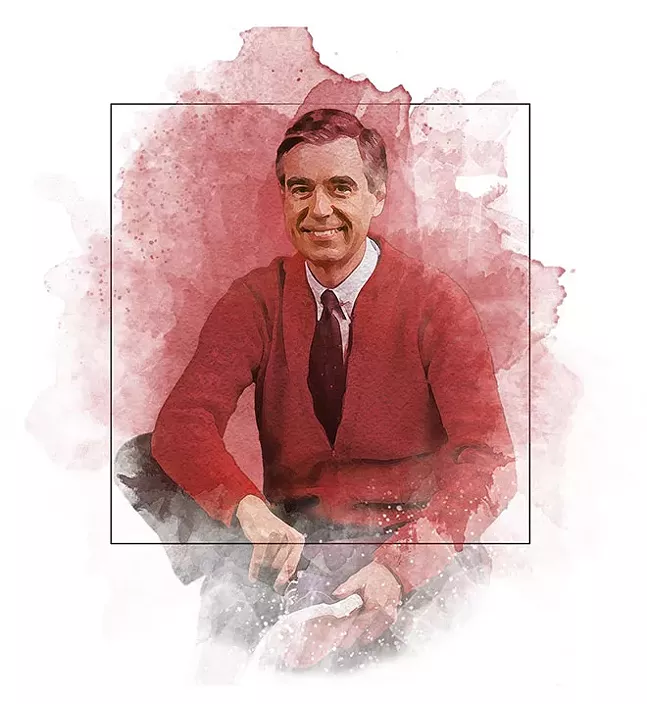 It's essential to Cousin to honor that mindset here, staying true not only to Roger's aesthetic and artistic vision, but to his approach to the world. As the "Windstorm in Bubbleland" rehearsal bubbles over, performers who more often experience staging that's "park and bark" — walk to place, stop, sing, leave — are now hurtling themselves around pell-mell, and they appear to be loving every minute of it.
"Opera singers aren't necessarily used to doing work that's physical," says Cousin. "Here, they have to move in character, really inhabit these personas that they change all over the place drop of a hat, with puppets involved, a raked stage, all kinds of things. And sing at the same time."
As they laugh and whoop between takes, it seems to be working for them, having been given the rare opportunity to perform the debut of an original work of opera whose elements include hummingbirds, porpoises, cans of Spray Sweaters, weather-controlling villains, and the celebration of childlike things.
While Rogers still posthumously speaks to the hearts and souls of young people, the youth of those who grew up with him continue to hold him dear as a source of learning, comfort, and love. This isn't in terms of something nostalgic and representative of the past, but as an ideal in the present, as the kindness and care that he personified are what we find ourselves seeking, and what we strive to offer. This is what Cousin wants to create.
"There's a line in the piece, 'The child in me is still and not so still,' that resonates," says Cousin. "It's the chance to go back to his world again. It was quite fun and amazing, and that is the same sense of play and truth I'm trying to bring to the operas. They are quite honest, and they are relevant today to adults."