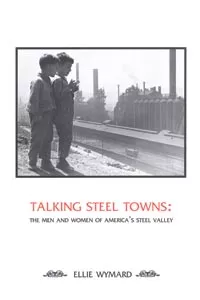 Talking Steel Towns
By Ellie Wymard
Carnegie Mellon University Press, 97 pp., $16.95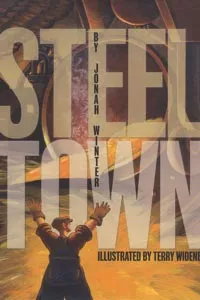 Steel Town
By Jonah Winter, illustrated by Terry Widener
Atheneum Books for Young Readers, 40 pp., $16.99
While it's often overlooked that the Pittsburgh region still has a steel industry -- including Andrew Carnegie's very first mill, U.S. Steel's Edgar Thomson Plant -- it's hard for newcomers to imagine what life was like here before Big Steel collapsed, two generations ago. How to explain, in digital-era, service-sector U.S.A., a vanished world where seemingly everyone worked in heavy industry, people seldom left their neighborhoods, shift changes ruled the clock, and blackened skies meant that both metal and money were being made?
One way is to ask those who lived it. Ellie Wymard is qualified, and not only because she directs Carlow University's graduate creative-writing program. She's also from a mill family: Her grandfather, Petro Buntak, was crushed to death in Thomson Works rollers a century ago. And indeed, the stories Wymard gathers in Talking Steel Towns: The Men and Women of America's Steel Valley do illuminate everyday life in the big-steel era in towns like Braddock, Duquesne and Homestead.
While Wymard conducted countless interviews with generations of retired millworkers and mill families, her book is less a comprehensive study than an empathetic survey of anyone with a story to tell. And notwithstanding former mill kids' nostalgic memories of watching slag heaps glow by night, Talking Steel is resolutely unromantic. The first chapter's titled "Danger and Death," and Wymard is keen to highlight both the heat and grime of the mills and the indifference of those who owned them. "I think the company can make tin plate cheaper than kill their men off," the late Ted Haas wrote his wife in 1939, during his first days at U.S. Steel's Irvin Works. Wymard also documents the ethnic and religious prejudices that divided both workers in the mills and families in their neighborhoods.
And while labor history may be conventionally composed of long periods of profitable equilibrium punctuated by cataclysmic strikes (as in 1892 Homestead, or 1919's "Hunky Strike"), Wymard reminds us that strikes and layoffs were nearly as continuous a fact of mill life as the industrial noise echoing through the valleys.
Meanwhile, perhaps her signal contribution is to highlight the work women did, both in the mills (during World War II) and at home, in particular with fascinating stories of neighborhood healers and folk remedies.
Talking Steel has its weaknesses. Though it's structured thematically, and moves in rough chronology, it's filled with digressions. Worse, it's often left maddeningly unclear when particular stories took place. Many anecdotes are unattached to dates, and time and again we're left wondering during which decade something happened. Moreover, Wymard frequently returns to the same interview subjects, and it's often hard to tell whether a particular story reflects lived experience, family history or simply community lore. (She also consistently misspells the name of iconic Homestead bar Chiodo's Tavern.) One expects more of a book dedicated to remembrance.
Surely some of these flaws are due to Wymard's necessary reliance on secondhand talk -- the recollections of descendants of the men and women she calls steel's "pioneers." Yet that in itself reminds us how quickly first-hand memories of the lifestyle are vanishing, and Wymard deserves thanks for preserving a few more slices of it.
Meantime, those furthest removed from the age of American Big Steel -- say, 4- to 8-year-olds -- could receive a worse introduction than Steel Town, by Pittsburgh author Jonah Winter. With grand and gorgeous illustrations by Terry Widener, this picture book is set in a fictional valley burg, hard by "the Midnight Mountains," cut through by "Pitch-Black River." But it's admittedly inspired by the iconic Pittsburgh of the 1930s (when many of Wymard's stories are likewise set). This "Steel Town" is painted in shades of olive, gray and rust, with raindrops that perpetually plummet like tracer bullets from the never-day-lit sky.
"In Steel Town, it's always raining, but no one carries an umbrella," writes Winter in the book's plain-spoken, blank-verse style. "You walk beneath the railroad trestle then walk back into the rain. Your face stays the same." The book is centered on tours of an iron mill and a steel mill, and savors the names of beehive oven, skip hoist and monkey boss, along with details of the manufacturing process -- likely to be many a kid's first look at the provenance of slag and pig iron, and at how much hot, hard work mill boys did before lunch.
Smiles are scarce in Steel Town; the prevailing impression left by Widener's artwork is that of wiry, dauntless men in vintage headwear attempting to appease some molten pagan god. Winter notes the danger: "Outside the furnace, it's so hot, you'd die if you took the [protective] suit off." There's also a sort of claustrophobia, with just one glimpse outside Steel Town: a steel-skeletoned skyscraper against a jarringly sunny sky.
Of course, a book aimed at the Dora the Explorer set is necessarily sanitized -- there are no giant mill rats, such as those in the stories Wymard collects. Though Winter describes workers as "tired and dirty," Widener's illustrations don't suggest grime so much as pervasive gloom. And after work, though some men play pool, this Steel Town is missing its taverns -- though the book's panorama does encompass images of home life from backyard fences and vegetable gardens to restful porches and potfuls of pierogies.
Winter, a native Texan whose other children's books include Roberto Clemente: Pride of the Pittsburgh Pirates, is clearly captivated by Pittsburgh's industrial past. His and Widener's vision suggests a world that today can feel nearly as distant as colonial America -- or the North Pole of Chris Van Allsburg's The Polar Express. Every day, as Wymard's Talking Steel implicitly emphasizes, that's a suggestion that's closer to reality.