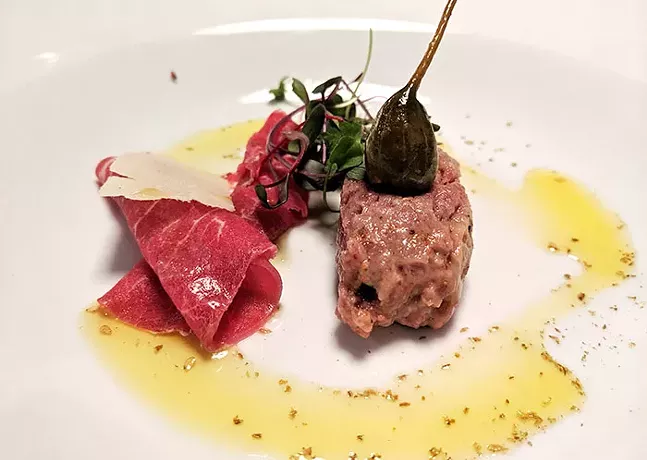 Pittsburgh isn't known quite yet as a destination for French cuisine, as our French restaurants can almost be counted on one hand. But two recent additions in the city's southern neighborhoods are adding to the likelihood we'll soon see a Parisian popularity that spawns menu items like Beef Bourguig-Mon.
If you're looking for a place to get a steaming bowl of French onion soup, slice of quiche, or even the perfect plate of French fries, here are two eateries that are worth crossing a bridge for.

---
Bertrand
1910 Cochran Road, Scott Township. 412-819-4417. bertrand-pgh.com
Out of his 45 restaurant ventures, Lou Bucci says that 44 have been successful, so it comes as no surprise that his latest eatery, Bertrand in Scott Township, captures French cuisine with perfection.
The cozy eatery, hidden in a strip mall, is tucked away in a bubble of tradition. White, crosshatch fences line the patio, the parking lot blocked by a thriving garden of flowers. Inside, dark blue hues make the small space feel luxuriously intimate.
Bucci's menu, built after years of research with his chef partner of seven years, is equally as charming. It welcomes those unfamiliar with French cuisine through the basics (this is something Bucci is insistent on, he doesn't want to be ostentatious, hence the lack of white tablecloths) and offers a few surprises for those that have been through their fair share of tartines and bourguignons.
The croque monsieur, a boiled sandwich that Bucci laughs is "just a ham sandwich," is nothing special, but deliciously simple. Tartines, bread (sourced from La Gourmandine bakery) topped with fresh fruit and cheese, are light and refreshing, an ideal snack for a midday glass of wine. Pommes Lyonnaise are baked twice before being sautéed with onions; they're ridiculously tasty.
Bucci's heartier options, French signatures like beef bourguignon (beef stew) and hace de viande (meatloaf) are like wrapping yourself in a cozy blanket. Bertrand's meatloaf is smothered in sauce, and the owner laughs that the French are surrounded with bad food "so they created great sauce." But contrary to Bucci's joke, the food easily holds up on its own. It's like a meatball made by my grandmother, comforting in both taste and spirit.

---
Jean Louis Parisian Bistro
3271 W. Liberty Ave., Dormont. 412-207-9724. jeanlouispgh.com
Jean Louis Parisian Bistro will sweep you up in its charm.
The Dormont eatery is elegant and cozy, throwing in small details — curtains on the edges of booths, blue-checkered tablecloths — that bring out the classic beauty of French decor. It feels only right that the servers weave between tables in long, bistro-style aprons and black ties; anything more casual would feel too informal for the low-lit, intimate space.
Chef Gaetano Ascione is a chef of the world. Born on the Amalfi Coast, Ascione has cooked all across Europe, for two U.S. presidents, spent over a decade in Asia, and last year, ended up in Pittsburgh.
Though Jean Louis is a Parisian bistro, Ascione refuses to lock down his menu to a specific cuisine, let alone a region in France. The chef, toting a long list of culinary influences, describes his style "only good food." This means his menu may jump from Italian to French in one course, as long as it's "good." In some dishes, such as the tartare and carpaccio, the countries appear alongside each other.
While Ascione won't limit himself to French food, the menu boasts a few traditional plates. There's escargot, wild Burgundy snails de-shelled and smothered in a luscious garlic and herb butter. Coq au vin, made with Amish chicken, oyster mushrooms, lardon, and a red wine sauce, sits above a daily pasta selection. (The Parisian gnocchi, made from ricotta and drowning in a gruyere sauce, soars above many Italian iterations.)

Ascione manages to make even the simplest of dishes — an English muffin-style toast topped with pancetta butter — indulgent.