Now in its seventh year, the ReelAbilities Pittsburgh Film Festival screens nuanced and engaging films about people with physical, mental, and intellectual disabilities. The festival runs Sept. 4-11 at the SouthSide Works Cinema. All 22 films will be presented with captions, audio descriptions, and ASL interpretation. Here are City Paper's takes on two of the films being screened at ReelAbilities.
Hearts of Glass

As technological advances and environmental changes shift the landscape of farming, humans are facing a future of food and farmland shortages that can only be overcome with drastic changes. Documentary Hearts of Glass follows Vertical Harvest, an indoor hydroponic greenhouse in Jackson Hole, Wyo., as an agricultural and architectural experiment in growing produce in a place that faces long, harsh winters.
While one of Vertical Harvest's goals is to innovate local farming, equally as prominent is its goal of employing people with disabilities. The new farm runs into challenges, including mechanical issues that prevent it from providing produce to local restaurants, as well as honing the job skills of employees with disabilities.
Directed by Jennifer Tennican, Hearts of Glass is more of an educational documentary than anything else, but it's still an engaging watch. It alternates between following the two challenges of the farm — managing and teaching the employees with disabilities (which comes with the added cost of paying for their job support staff) and troubleshooting the farm's various issues like eroding metal and molding plants.
It sometimes feels like two separate documentaries: one just about the farm and one just about the employees with disabilities, but that's also what makes the farm special. The two parts are inseparable from one another because both make up the structure of the farm. Being a compassionate employer makes them more compassionate farmers, and vice versa.
Hearts of Glass. 7 p.m. Mon., Sept 9. SouthSide Works Cinema, 425 Cinema Drive, South Side. $8-12. www.filmpittsburgh.org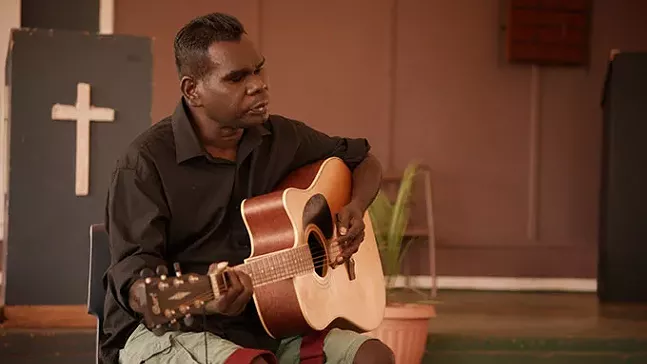 Gurrumul

Before the musical documentary Gurrumul even begins, the audience knows how it will end. The movie opens by stating that its subject, the musician Geoffrey Gurrumul Yunupingu (known most often at Gurrumul), died in 2017. There is also a note that the filmmakers got Gurrumul's permission before he died, and permission from Yolŋu — typically in the Aboriginal culture, the image and voice of the dead are not used publicly. The movie, however, is not about Gurrumul's death, but his surprising life and career.
Gurrumul was born blind on an island off Australia, living with his Yolŋu people. He didn't learn Braille or use other tools that assist people with blindness, and his family worried that he would never be independent. But he taught himself to play instruments like the guitar, played upside down since he's left-handed. But his most notable instrument was his voice, which is described by his producers and fans as singular and angelic. He was extremely quiet, most often having his white Australian producer and friend Michael Hohnen do the public talking for him. He sometimes sang in English, but mostly sang in Aboriginal languages. Listeners noted that they related to the feeling of his songs, even if they couldn't understand the lyrics.
Like Gurrumul, the movie is silent much of the time, choosing music and images over interviews and explanation. Gurrumul's music plays over scenes of ceremonial Yolŋu dances, funerals, and parties. Given the history of white Australians' racism and subjugation of indigenous Aboriginals, Gurrumul's appeal is seen as something that can bridge the divide. In Australia, and when he travels to the U.S., he plays for mostly white audiences, and it sometimes feels like their enjoyment is at least partly driven by a sense of novelty.
Still, Gurrumul's music is undoubtedly moving, and the movie is a heartfelt portrait of a man with a natural-born talent. His clan gave permission for his image to be used because he was an important enough figure that archiving his life and work was necessary, as told by the people who knew and loved him best.
Gurrumul. 7:30 p.m. Fri., Sept. 6. SouthSide Works Cinema, 425 Cinema Drive, South Side. $8-12. www.filmpittsburhg.org