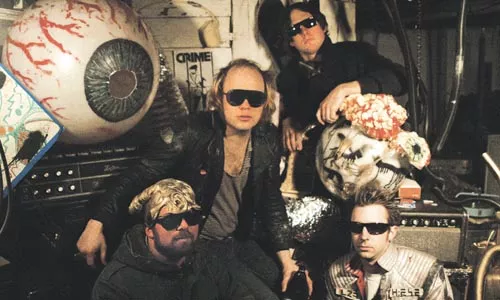 "Totally Wired," the name of a two-day, three-show event that spans three Pittsburgh venues this weekend, comes from a song by punk icons The Fall. Picture the band's Mark E. Smith twitching and describing, to a percussive drone, what's got him so strung out, and you have an idea of what's in store.
"Wired" features 26 national and local punk, garage and psych bands -- many of which trace their roots to earlier art-punk a la The Fall and The Velvet Underground. Just as many have clear antecedents in The Stooges and The Ramones.
The name was first used last year in Chicago for a festival organized by Criminal IQ Records head Darius Hurley. Hurley gave the blessing for a Pittsburgh contingent to use the name, and has helped festival organizers with the legwork.
The inception of Pittsburgh's event went something like this, according to organizer Dan McNellie: "I knew I had some free time in April, so I thought, 'I'm gonna set up a fest in Pittsburgh, so I don't have to travel.'"
With that, McNellie (of bands Test Patterns and Savage Lines) and co-promoter Vinnie Martini (of the perhaps-defunct Rot Shit) set about promoting the fest both locally and nationally via targeted Internet hype. They've already garnered enough pre-sales to ensure a decent turnout, but beyond attracting the usual characters, they hope to turn more locals on to the bands coming into town -- and vice versa.
"I hope a lot of different people come out," McNellie says. "It's an awesome time, it's cheap" -- festival passes are $30 -- "and it's a ton of good bands."
Martini notes that it's also a good way to showcase the city for out-of-town bands and fans. "Most of these bands, it's their first time in Pittsburgh," he explains. "I think it raises awareness of the fact that sometimes it's better to stop in Pittsburgh on a weekend night than playing somewhere like New York or Cleveland."
Night one of the fest occurs at Belvedere's in Lawrenceville, where Human Eye, the oft-costumed weirdos from Detroit, headlines a nine-band bill. Human Eye plays Stooges-oriented punk and is known for a wild, prop-laden live show -- and for its members' propensity for comparing themselves to cavemen, aliens and reptiles. Also appearing the first night are Electric Bunnies, a Miami garage outfit making its first trip out of Florida (the band will also back up lo-fi hero Pink Reason that night). A couple of bands with names that might drive away the PG-13 crowd -- Drunkdriver and Homostupids -- round out the bill, along with FNU Ronnies, Terrible Two's and two locals, Baby Bird and Kim Phuc.
Because of time constraints and the number of out-of-town bands coming in, explains Martini, "We had to keep locals to two bands per show or so, and I wish we didn't have to." Most of the locals playing have close ties to the organizers (Kim Phuc's last record was released by Criminal IQ) and have played with many of the national bands while touring or at other festivals.
Day two of the festival starts with a matinee at the Mr. Roboto Project, the all-ages DIY punk venue in Wilkinsburg, which fittingly will host some of the weekend's more straight-up punk and hardcore bands. Locals Brain Handle and Slices are featured along with Chicago's Smith Westerns, Buffalo's Plates, Flying Tchreros (from Cleveland) and Austin's Naw Dude.
Saturday evening, Howler's in Bloomfield plays host to the final leg of the fest: McNellie says he's "excited to see Bloomfield overrun with mutants and weirdos." The night is headlined by Cheater Slicks, the longtime garage-punk band originally from Boston that now resides in Columbus. Started in 1987, the band has established a sizeable catalog but little mainstream notice until lately. "They're starting to get some attention now," notes Martini, "which they definitely deserve."
Vee Dee, headed by Criminal IQ's Hurley, also plays the Saturday night show, as does popular local act Modey Lemon. Appearing as well are The Manikins, who get the prize for farthest-traveled, coming from Sweden as part of a full Midwest tour.
Festival passes are available at Paul's CDs in Bloomfield and Wicked Discs in Oakland, or online by e-mailing totallywiredfestival@gmail.com. Individual show admission will be offered on a first-come, first-served basis; ticket prices vary. For more information, visit www.myspace.com/totallywiredfest.
Totally Wired Fest
Human Eye, FNU Ronnies, Electric Bunnies, Pink Reason, Drunkdriver, Homostupids, Terrible Two's, Baby Bird, Kim Phuc. 8 p.m. Fri, April 17. Belvedere's, 4016 Butler St., Lawrenceville. $15. 412-687-2555
Brain Handle, Smith Westerns, Slices, Plates, Flying Tchreros, Naw Dude. 2 p.m. Sat, April 18. Mr. Roboto Project, 722 Wood St., Wilkinsburg. $8. 412-247-9639
Cheater Slicks, Vee Dee, Modey Lemon, Manikins, T.V. Ghost, Box Elders, Savage Lines, Burndowns, The Yuppies. 8 p.m. Sat., April 18. Howler's Coyote Café, 4509 Liberty Ave., Bloomfield. $12. 412-682-0320