On Sat., Sept. 20, the Pittsburgh Center for the Arts and Media (PCAM) will celebrate the opening of sculpture exhibits by the Center's Artist of the Year, Dee Briggs, and Emerging Artist of the Year, Saige Baxter. As the titles suggest, the yearly awards are given to one established and one up-and-coming local artist. While Briggs has exhibited all around the city and beyond, this is the first solo show for Baxter.
Whether it was intentional or not, the artists' styles complement each other well; both artists frequently work with steel, making medium-to-large scale abstract works, including ones from Baxter made specifically for the exhibit (she documents her welding process on Instagram) and smaller works from Briggs, since many of her pieces are too big to fit in to the PCAM building.
"Normally, I work with outdoor sculpture, so this indoor exhibit is a new challenge for me," says Baxter. "Each piece is made to have interactive elements for people to sit, lay, crawl, and walk throughout the sculptures."
Baxter started off as a painter, but when a professor in college introduced her to welding, she became enthralled with "the grit, labor and love required to work with steel." Like Briggs, she was influenced by growing up in a city where steel has such a heavy presence.
For Briggs, who has a background in architecture, making large-scale sculptures is a challenge in designing, drawing, developing, and fabricating works that honor the material from which they're made. She's had large-scale steel pieces at the Mattress Factory, Three Rivers Arts Festival, and Public Parks in New York, but she's also known for her Wilkinsburg-based House of Gold project, which involved painting the outside of a house gold and then demolishing it carefully to salvage as much of the materials as possible. She also works with other metals, concrete, and stones like basalt, which she drove out to the Pacific Northwest to retrieve.
While she can't buy steel materials locally (the stuff made here is specialized and not available commercially), Briggs does buy domestic steel to avoid the bigger carbon footprint that would come from importing it. "It's very complex and layered. Buying new materials is not very environmentally conscious," she says. "It's a delicate balancing act of being as efficient as I can with the materials, being careful about the processes that I use."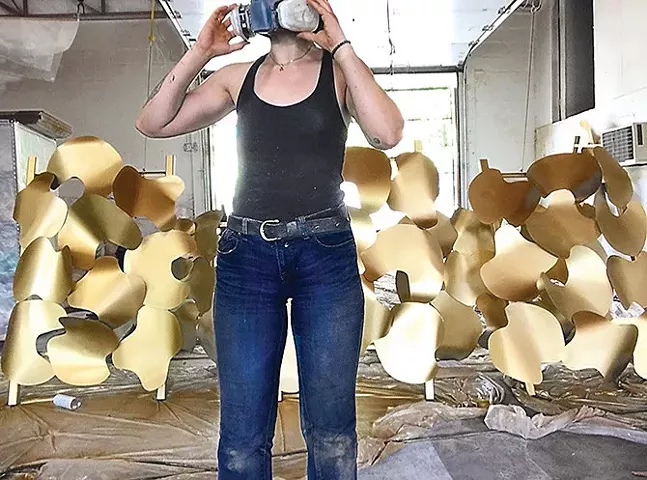 Her pieces are usually not coated or painted, and their appearance changes over time, as steel does when exposed to the elements. "I admire Dee's attention to her audiences while carefully acknowledging the environment her sculptures are placed in," says Baxter. "You need to listen to the people and add purpose to the space."
After teaching at an artist residency in Portugal that focused on reusing and recycling materials, Baxter says she "learned just as much as my students" and brought ideas back to workshops she teaches in Pittsburgh.
While the two artists will have their own galleries of work, the show is, by design, billed equally for both of them. "I sort of insisted that the PCAM market the exhibition as she and I together," says Briggs. "We've got a great friendship and relationship, so I'm excited to be showing with her."
The exhibit will run through Sun., Nov. 3. Tina Dillman, director of exhibitions and programming at PCAM, says that there is a retrospective planned for next year featuring past winners of the Artist of the Year award, including Thaddeus Mosely, Diane Samuels, and Jon Rubin, with more to be added.