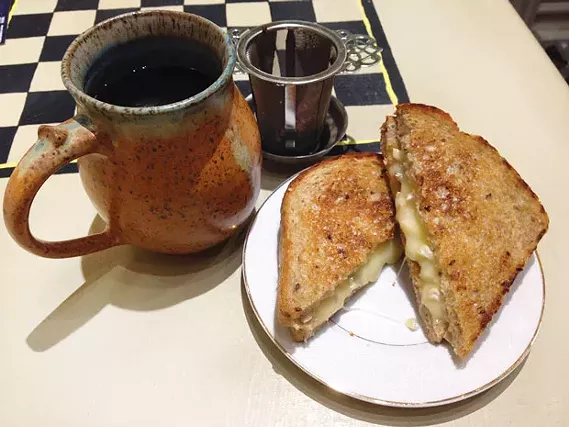 Walking into Tupelo Honey Teas' new brick-and-mortar spot in Millvale makes you, not unexpectedly, want to curl up in an armchair with a cup of steaming tea. An electric fireplace blazes a simulated flame; there are small lamps for each tabletop and, on the shelves, gift baskets that double as ornaments for sale.
"I want it to feel like an extension of my home," says Tupelo owner Danielle Spinola. "It's warm and cozy, without feeling over-cluttered."
Tupelo started as a wholesale tea-blender, then moved to a shop in Allison Park. It now occupies a space in the Millvale business district. For Spinola, a Millvale native, it's a homecoming.
The storefront provides dozens of different hot and iced teas (from typical varieties like English Breakfast to unique blends like plum cinnamon). For a more exotic palate, Tupelo will soon be offering a Kashmiri pink tea, which mixes green tea with baking soda, cream and almonds for an authentic taste of northern India.
Pastries and homemade sandwiches, soups and salads (all vegan and vegetarian) are now also on the menu, including the popular grilled-cheese sandwich, made with brie and pepper jam.
Spinola says the homey feeling is not just in the decor, but in her business model, too. The store's hours are 10 a.m. to 9 p.m., giving Millvale residents a place to go that isn't a bar; most shops close at 4:30 p.m. "One couple even came in for some tea before going to the area breweries, then just decided to hang out here until close," says Spinola. "The neighborhood needed something open later."
211 Grant Ave., Millvale. 412-821-0832