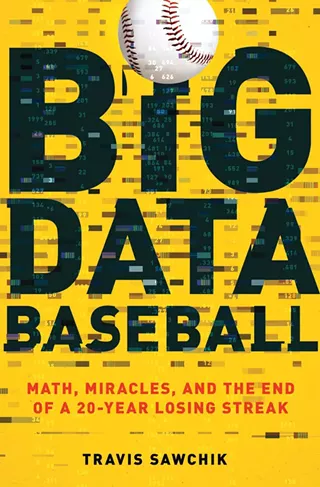 For 20 years, Pittsburgh Pirates baseball needed a term grander, more operatic, than futility in motion. As much fun to watch as a stinkbug collection, the team drove its fans to both outrage and apathy, an impressive balancing act. Then came 2013, when the team started to win and kept on winning, all the way to the National League Division Series. The love affair was back on with a vengeance.
In his very readable and revealing new book, Big Data Baseball (Flatiron Books), Pittsburgh Tribune-Review baseball writer Travis Sawchik explores just how the Pirates turned their narrative around. From the GM's office right down through the last man in the bullpen, Sawchik explores the innovative, risky and possibly desperate approach that took the Pirates from wretched to sublime in 2013.
How did the small-market, even-smaller-budget team do it?
They developed and scouted talent like Andrew McCutchen, Gerrit Cole and Starling Marte even as they embraced new technology. General manager Neal Huntington focused much energy on building a team to collect and analyze reams and reams of data. That was a particularly gargantuan task, given that when Huntington came on board in 2007, the Pirates had no in-house analytics in place. That alone might go a long way toward explaining that 20-year losing streak. Huntington assembled some of the sharpest, most creative numbers-crunchers around to bring the Pirates to the forefront of the technology revolution.
In the 1970s, Bill James started analyzing baseball data in new and fresh ways, an approach known as sabermetrics. In the 1990s, Major League Baseball took notice, and a few small-market teams eased into the waters of sabermetrics. Michael Lewis' 2003 book Moneyball, for instance, chronicled the Oakland As' commitment to scouting and evaluating offensive talent with sabermetrics.
Moneyball-era sabermetrics focused exclusively on generating more base-runners, ignoring defensive contributions. Unable to buy offensive firepower or high-priced pitching aces on the free market, the Pirates turned to the defensive side of the coin, finding new ways to allow fewer runs.
They committed to a variety of "defensive shifts," wherein fielders move from their typical, equidistant positions on the field to spots where an opposing batter is likely to hit a ball. They valued defensive speed, particularly fast outfielders who could turn fly-ball singles into outs in PNC Park's cavernous left field. They valued pitch-framing, thanks in large part to catcher Russell Martin (now departed to the Toronto Blue Jays), to assure that pitches that could be called either way would be deemed strikes.
Ever since Bill James sat down with a stat sheet and a pencil, there has been a divide between the bean-counters and the men who coach and play the game. Sometimes there is detente and sometimes open warfare, but, rarely, if ever, have the two sides worked together peacefully and purposefully. If Huntington was the man with the vision, manager Clint Hurdle is the heart of Sawchik's book, the human bridge connecting the analytics team with the more traditional players and coaches. There is a romanticism at the core of baseball, but the Pirates, through Hurdle, managed to hang on to baseball tradition while embracing new technology.
Sawchik remains grounded in telling these very human stories as he deftly describes the advances in analytics that helped the team win 94 games in 2013.
Big Data Baseball goes on sale on May 19.