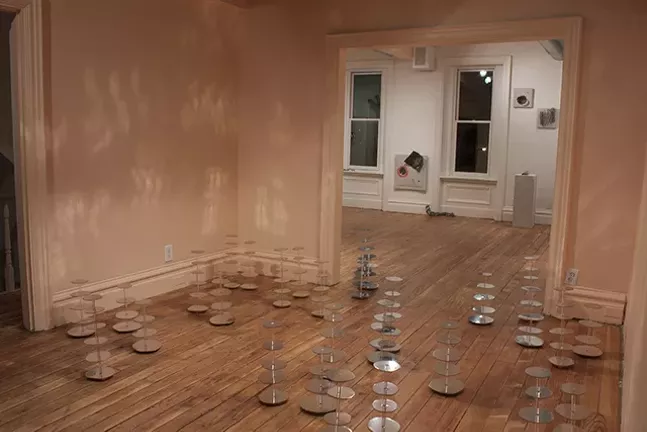 When Henry David Thoreau wrote in his journal "…see things as they are, grand and beautiful," he was referencing the greatness of nature. In his lifetime, cities hadn't yet evolved to their current extent, but if they had, he might come to see them as nature too. Artist Morgan Rose Free's exhibit, Things As They Are, part of a residency at Bunker Projects, combines observations about nature and urban life into sculpture, ceramic, and textile works.
As visitors enter the gallery, they are first greeted by "Standing in the Sky," a flock of small towers made up of reflective discs seeming to float above each other. The underside of each disc has a photo of the sky, taken by Free, so that when looked from a bird's eye view, the sky is reflected in the disc above it. "When we move through the world, a lot of time we are looking down at our phone," says Free. "[It's] taking that space we're looking down into and reminding us that there's something to look up to as well."
Another series of works in the exhibit features faux sidewalk panels affixed with ceramic pieces modeled after trash. Free used papier-mâché, coffee grinds, and cat litter to mimic the appearance of sidewalk cement and modeled the ceramic pieces after waste she found and collected around the city. There is a ceramic soda can tab, a milk carton seal, a plastic drink lid and straw, and other pieces of single-use plastic or otherwise un-recycled waste.
Free amplifies the trash, enlarging and mounting it on the wall, as a means of signifying its value. It's not that trash is sacred or special, but the pieces bring attention to the fact that these items were designed, bought, and discarded. "These objects that we just throw away, somebody designed that, somebody used that," says Free. "They have their own kind of histories."
When blown up, some of the objects, like the obvious shape of six-pack rings, are more recognizable than others. A crushed Solo cup is more abstract and requires looking closely to understand the ridges. A green Starbucks drink stirrer/plug, which appears as litter on one of the sidewalk panels, is also replicated in ceramic; when enlarged, it looks like a musical instrument.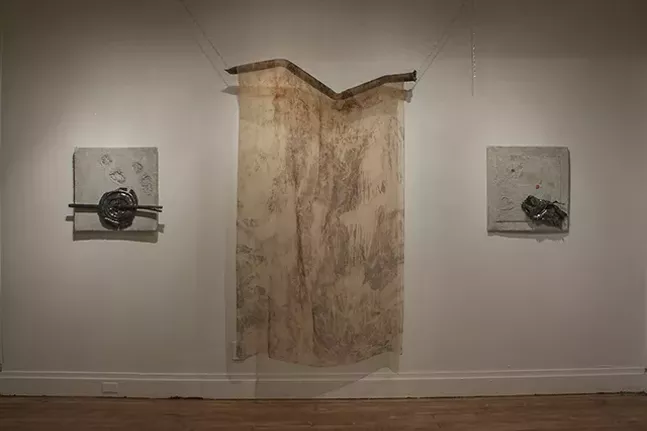 Free's home-base is Montreal, but the work was inspired by her four-month residency in Pittsburgh, all of the trash and found items collected by exploring the streets on foot. One was a large and crooked rusted pipe on the side of the road, which she lugged back without a specific use in mind. Eventually, she wrapped it in a piece of silk she'd brought with her and it colored the fabric, like industrial tie-dye.
"I wanted to take these things that we think of as ugly and try [to] ignore, and elevate them to this status as an art object to try and make us do a double take," says Free.
Along with the sculptural works, Free made a zine (available for sale at the exhibit) of photos taken mostly during her time in Pittsburgh, capturing notable mundanities like clouds, sidewalk cracks, and yard signs.
The Bunker Projects residency program invites artists to live and work in the same space as the gallery, with sleeping arrangements and studio space upstairs and kitchen/bathroom spaces adjoining the gallery. Two artists are usually in residence at the same time. On April 5, after the closing of Things As They Are, Bunker Projects will open with works by Padyn Humble, an artist-in-residence from Missoula, Mont. His sculptural works explore notions of masculinity and queerness, with colorful and kitschy pieces playing on tropes of cowboys and the Wild West.
The gallery will host an artist's talk with Free on March 17 and the exhibit runs through March 29.