Extending the
busways
is all the rage right now in Pittsburgh. Allegheny County Executive Rich Fitzgerald is supportive and the region's long range infrastructure plan includes extensions as top priorities.
Public-transit advocacy group Pittsburghers for Public Transit (PPT) has been calling for busway extensions for years, and is excited to see the idea receive institutional support. But, PPT isn't resting on its laurels.
The group wants to make sure the
East Busway
is the best project it can possibly be, and they are starting a data-gathering project to ensure they get it right.
PPT has launched a transit-mapping tool called "Beyond the East Busway," where residents and transit riders can provide input on where exiting buses should go. People can visit
eastbusway.pittsburghforpublictransit.org
to provide input and have until September 2019 to do so. The website is run by CivicMapper.
Laura Wiens of PPT says this tool is about finding the best way to restore better bus service to the eastern suburbs, which have a high percentage of residents who rely on public transportation.
"Communities east of the city have seen service cuts and there is a high level need for them to get more transit service," says Wiens.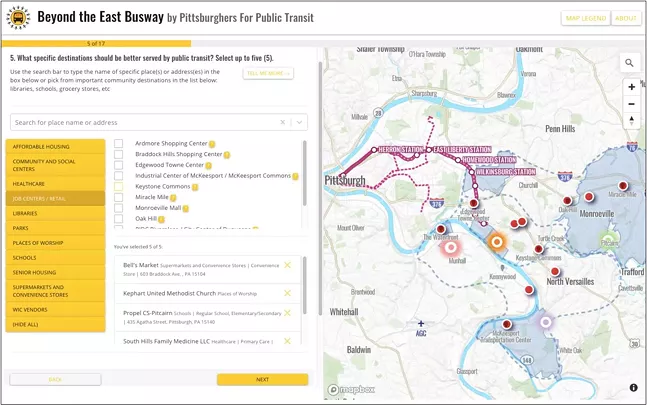 The East Busway currently ends in Swissvale. Wiens says the
Beyond the East Busway
tool is to identify the best routes and methods for buses to exit there and extend into communities like Monroeville, McKeesport, and other Mon Valley towns. She says big projects like building more miles of a raised and separated busway won't be prioritized, and that determining if current streets can be converted into bus-only lanes or have signal priority for buses at stop lights. Wiens says riders need better transit now, and that big projects can take 10 years or longer to complete.
"We are talking about on-street transit improvements," says Wiens. "Better stations, new shelters, real time arrival information, bus-only lanes, and signal priority. We just want this to happen in our lifetime."
And those best and most useful routes will not only be determined by input from the online tool. Wiens says PPT has recruited 16 organizing fellows that will speak to people in places of worship, community centers, hospitals, and grocery stores in eastern suburbs. Those fellows will gather 480 in-person testimonials. Wiens says she hopes this program sets a new example for community organizing and planning around infrastructure projects.
"We think we are really pioneering a process," says Wiens. "The best solutions come from the community themselves."
She says these steps will hopefully avoid official proposals that force riders and transit advocates to play defense. Wiens cites how the initial plans for the Oakland-Downtown Bus Rapid Transit would have had Mon Valley riders make a transfer to get all the way Downtown, costing them more money and time than before. Those plans were eventually altered following public outcry.
Wiens says she hopes the
Beyond the East Busway
project helps to guide officials to the most equitable solutions from the onset.