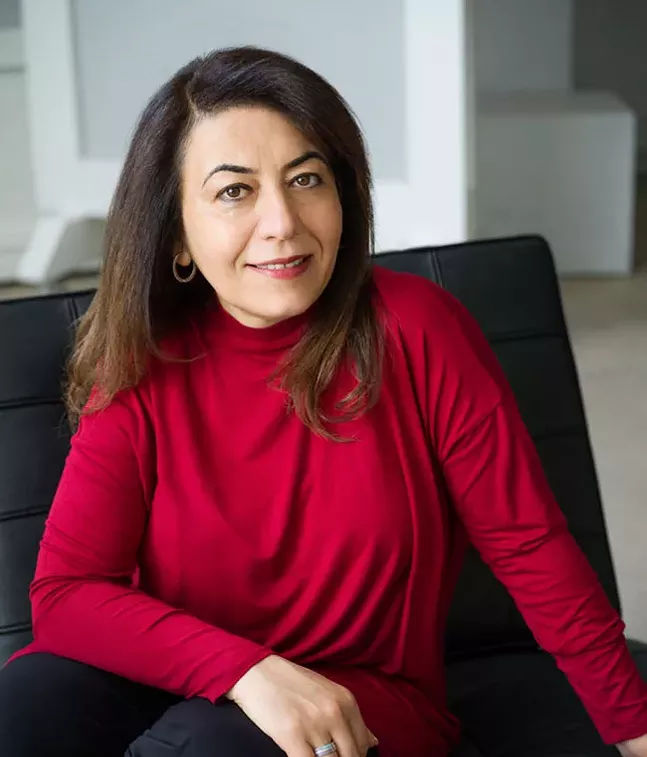 During the Persian Gulf War of 1991, Dunya Mikhail, then working as a journalist at the Baghdad Observer, was placed on a list of suspected traitors to Iraq.
She had not committed a crime. She did not speak out against Saddam Hussein or the Iraqi government. True, the poetry collection she had published, The War Works Hard, used metaphors to avoid censorship, but Mikhail insists there were no overtly political passages.
Nevertheless, she was questioned by the Iraqi government and her work was labeled subversive. The reason? Mikhail was not overtly pro-Hussein.
"Back then, you were supposed to take sides. Their side," says Mikhail, who eventually fled Iraq and settled in Detroit in 1995. "So the book was not taking a side about the war. It was not about the Iranians; it was about humans like us. It was full of metaphors and it was meant that way. It was meant to not be understood by censors."
Since settling in the U.S., Mikhail has earned a Guggenheim Fellowship and the United Nations Human Rights Award for Freedom of Writing. She currently serves as a special lecturer of Arabic at Oakland University in Michigan.
Working as a translator and poet — her collections have been published in Arabic and English — simultaneously leads to "possibilities and risks," says Mikhail. "Translators, when they translate something that is not theirs, they are very faithful. They want to do their best to convey the meaning of the original poem. It's wonderful, but sometimes being faithful is not necessary. Each language has its own cultural connotations. Sometimes being faithful is not necessarily the best way of translating a poem, in my opinion."
Mikhail's poetry draws from many sources, including her experiences growing up in Iraq and as a journalist. Many of her poems are comprised of short, compact stanzas, especially her Tablets series.
From Tablets IV:

Their stories didn't kill me
but I would die if I didn't
tell them to you.
The series is inspired by Mikhail's fascination with Sumerian clay tablets from Mesopotamia that date back to 3200 BC. The tablets are considered to display the world's first written language using symbols and languages. Mikhail considers herself to be a Sumerian.

"It's fascinating to me for two reasons," says Mikhail. "First, how they expressed their feelings or ideas through those images. … Second, and more importantly, I think these [tablets] are political by default because expressing things through images and symbols is political. I tried to imitate that spirit. I call it Iraqi haiku."
Mikhail loves the elasticity of poetry, how a poem can be interpreted in different ways. But she's not sure if the form is transcendent or life-affirming or healing.
"I'm not one of those who believes that poetry is medicine," Mikhail says. "I said in another interview, 'it's not medicine, it's an X-ray' … One of the things that poetry does is [it] brings memory to the future so it becomes permanent."
Mikhail's forthcoming poetry collection, In Her Feminine Sign (New Directions), will be released July 30.
Between the Lines
The Full Pint Wild Side Tap Room in Lawrenceville hosts the Hell's Lid Reading Series. Featured writers and poets include Tai Chirovsky, Janette Schafer, Ben Smiley, Angele Ellis, Rita Staci B, and Cal LaFountain. 2 p.m. Sun., July 7. 5310 Butler St., Lawrenceville. Free, but donations accepted. fullpintbrewing.com.