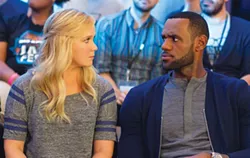 Well, Amy Schumer was having a moment, but now she's gonna have a summer with this fresh and funny big-screen break-out. This year's much-buzzed-about comedian headlines a rom-com she wrote that is notable for: inverting the typical gender stereotypes; starring actors who look like real people; and revealing the heretofore unknown comedic talents of Cleveland Cavalier LeBron James.
Magazine writer Amy (Schumer) isn't interested in serious relationships, and plays the field, hard and frequently drunk. But on assignment, she meets a sweet, sort of nerdy sports doctor (Bill Hader), and the two go steady for a bit. The usual troubles break them up, but Trainwreck actually takes more time to develop its characters and establish relatable reasons for the comedic hurdles. In fact, throughout, Schumer is smart about employing rom-com tropes even while continually subverting them. (I'd quibble about the ending, which seems more Movie Magic than a comment on Movie Magic.)
Judd Apatow directs, and like his other comedies, Trainwreck is bawdy, heavily sprinkled with pop-culture funnies and way too long. But the bagginess won't detract from your enjoyment, particularly of any scene with LeBron James (who kills in the usually thankless rom-com role of best friend), or an unrecognizable Tilda Swinton who plays Amy's scary editor.