Joan Armatrading is a formidable woman. If not for her warm British lilt and a gracious chuckle served after each matter-of-fact remark, she might even seem cold. Her words are straightforward, unsentimental. There's a directness to Armatrading's manner that feels both at odds with her introspective music and aligned with its no-nonsense nerve.
That a woman must be either all teeth and nails or else flesh and blood is fallacy, made palpable by Armatrading's vast catalog of more than 40 years of hits that seep past any emotional binary: "Sing me another love song, but this time with a little dedication" ("Love and Affection"). "I'm not the sort of person who falls in and quickly out of love, but to you I gave my affection right from the start" ("The Weakness in Me"). And "It's not that I love myself, I just don't want company" ("Me Myself I").
"It's not a narcissistic thing," says Armatrading of the latter, a 1980 single. "It's not just because I love myself. It's just that at this time, it's nice to be on your own and it's nice to enjoy your own company. I enjoy my own company. It's a really nice thing to be on your own. There's a lot of people who seem scared to be on their own. I don't know why."
Currently in the midst of the second leg of what is being called her "last major world tour," Armatrading is, at age 64, very much alone on stage. She's performing her songs solo this time around, without her band. "I've never done a world tour on my own before," says the singer-songwriter, who arranges and produces her own music and, on her past three albums, played every instrument with the exception of drums.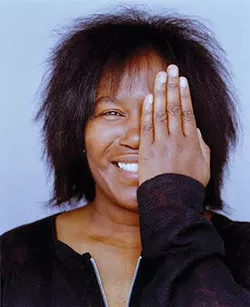 Does "last major world tour" mean last tour, ever? Not at all, says Armatrading. But it does mean shorter tours for the artist who will play nearly 250 concerts on this particular trek. "I think I deserve to have less road time," she says.
Born in Saint Kitts, in the West Indies, Armatrading moved to England at age 7, and taught herself to play guitar at 14. She quickly began writing her own songs, and released her debut album in 1972, at the age of 22. Armatrading has since released more than 20 albums, been nominated for three Grammys and two Brit Awards, and performed for Nelson Mandela, twice. She earned a university degree in history at age 51, and ran her first marathon at 57. She's not afraid of running out of songs to write, and not afraid that people still stop listening.
Armatrading is a force who's referred to, with no exaggeration necessary, as "the first U.K. female singer-songwriter to gain international success" and "Britain's first truly successful black artist."
What does it feel like to shatter those glass ceilings? How do you go about life knowing you've paved the way for Laura Mvula, Lianne La Havas and Corinne Bailey Rae?
Armatrading is notoriously vague about any such thoughts. I'd say tight-lipped, but when speaking with her, nothing about the exchange feels tight. And yet, these are things about which Armatrading is known not to speak: her queerness, her marriage, her family, her vulnerabilities. Anything about her personal life, really, is off-limits and such questions are met with a laugh and a measured response that ties back to songwriting ("I like writing songs, it's quite the challenge to say what you want to say in this short state of time"), record production ("I've always been the full force behind my music, I always know exactly what I want from the songs") and music publishing ("I wish I had known that what they were really doing was taking my stuff").
Unsurprisingly, it's discussing music itself that opens up and excites Armatrading. She loves Snoop Dogg, Eminem and the Killers. She thought Amy Winehouse was "the best." She likes Sam Smith's voice and thinks Ed Sheeran is "really good." When she wants to put on something to "soothe, stir or excite," it's typically "something classical."
How does the diversity of what she listens to affect the music she makes, I can't help but ask. Her records pivot from rock to folk to blues to jazz to straight-up pop. Her choices seem intentional, they feel bold. Does anything intimidate this woman? How is she so fearless?
"I like to hear different music because there's just different music all over the place, and it's nice to hear different music," says Armatrading. Then, of course, a hearty laugh — warm and cold, flesh and blood, and firm, unbending bone.