Editor's Note: Johnstown-based singer-songwriter Matt Miller — who performs under the moniker "The One and Only Matt Miller" — makes lo-fi and warmly experimental music that wouldn't sound out of place on the Elephant 6 roster. He recently joined fellow Johnstown act Stage Hands for a three-week Southern tour, and was kind enough to give us his unique take of life on the road.
By the time I read this, I will be 34 and not on tour. I will have slept on 15 floors in nine cities, snoring next to Stage Hands. I will have sung the word "antidisestablishmentarianism" over 40 times, and smoked twice as many cigarettes, despite saying I was going to quit. Smoking, not singing.
I will have hopefully forgotten how many times I forgot the second verse to that Brecht song I've been singing, or how many names I forget from the last time I toured. I'll be home, worrying about my June tour. But today I'm on tour with Stage Hands, writing an article, while Becky, our host for the night, quotes Pat Garrett and Billy the Kid.
First day, I drove all day. Eight hours from Johnstown, Pa., our home, to Charlotte, N.C., our newest home away from our home. I haven't driven since. I wasn't in the parking lot more than five minutes before I was somewhere else. Ben's advice: "Smoke as much as you can, the weed sucks here."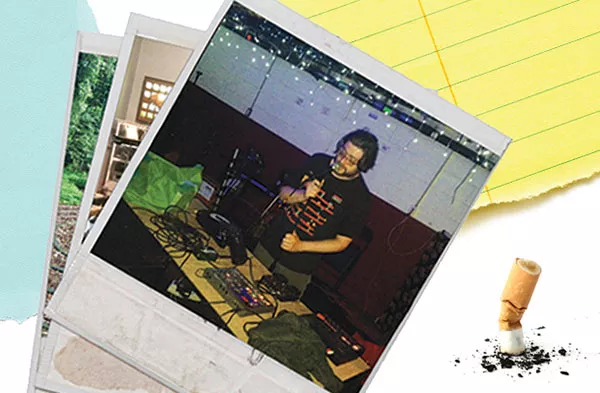 The writing on the Dumpster in the alley has been asking for dick pics since at least November, the last time I was in this alley. Robert's idea was to send pictures of Dick Cheney, Dick Cavett and Dick Nixon. He dialed the number and it came up in his contacts.
Inside, Scott yelled at the crowd until they applauded with enough enthusiasm to meet his approval. On the mic, he said we were some of the nicest people he books. I love that he feels that way because the feeling is mutual. The next day we met Katie, who said we were the worst. I'm sorry she feels that way, but the feeling is mutual. I hate her. I wasn't in her yard more than five minutes before she wanted me to leave because I wouldn't play beer pong. I wish I was oversimplifying that, but I'm not.
It's much easier for me to be misunderstood onstage rather than in real life. In Columbia, no one laughed at the bath salts line in my country song. No one even laughed at me for playing a country song at an experimental electronic show. Maybe that line's not funny. Maybe country music isn't. Maybe I'm too far south. When I'm on tour, I'm hoping everyone likes me. I mean as a person, too. More so, I guess.
Otherwise, it's a terrible night and next day. Tonight in Gainesville, Stage Hands played for a bunch of pretentious twerps, all of whom I wanted to like me. I'm still reeling from being Charleston's least-wanted. I should have known it was going to be bad when no singer-songwriters were allowed on the bill. So all I had to do was dance and sing one song. Here's how bad it was. I overheard someone say, "The touring band is from Johnstown." Then a long pause. Then he said, "Pennsylvania," like his unfortunate conversation partner should have known. Then his unfortunate conversation partner said, "Oh, right," like he knew where Johnstown was. Joel, not Geoff (or Jeff), said no one dances worse than him but me. But then Thursday's go-go dancer remembered my moves from November. So at least someone remembers something.
It's hard most days not to feel like, well ... this article. One of many articles; one of many artists. Skimmed and surrounded. The Furr, Can't Kids, Cult of Riggonia, Naan Violence, Stage Hands — all better articles; all better artists. I mean, in Tallahassee, the bartender free-styled, from behind the bar. "I ain't in it for the tips / but y'all ain't paying me shit." That makes me want to quit. But I can't quit now. Smoking, I will. Well, not now, but I will. Honest. Singing I won't. I can't. I can't quit touring, because I can't quit making songs I want to play, because I can't quit writing. But I'd better go. Oh, and Emmy, please save me as many copies of this as you see. Maybe I'll use it as artwork for a live album. See how it goes next time, too.