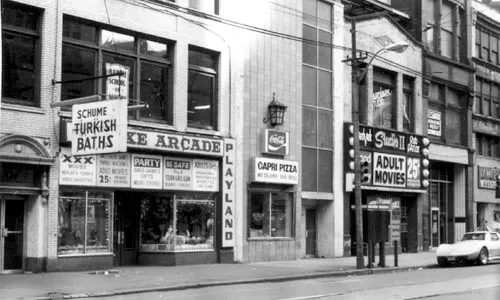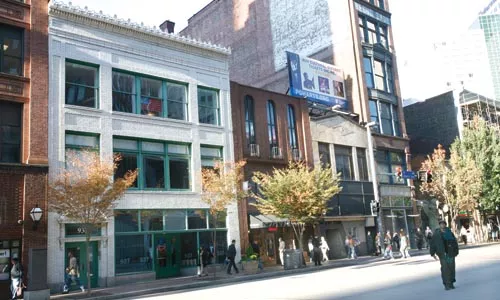 Years ago, Pittsburghers interested in the city's underside had a simple, seedy destination: Liberty Avenue. The Downtown thoroughfare was practically a one-stop-shop for strip clubs, 24-hour magazine joints, massage parlors and adult films. Little by little, though, the district's been reformed into a mecca for highbrow culture, hosting art galleries and art films.
And by Sept. 30, the last of Liberty Avenue's porn palaces closed for good.
The single-floor shop at 943 Liberty Ave. -- known as Fairview Books -- is locked. A sign in the door encourages seekers to visit another Downtown location, at the corner of Boulevard of the Allies and Smithfield Street.
"It's the end of an era," said a man hired to do a final clean-up in the locked-up shop shortly after the closing. He did not want to provide his name.
The newsstand's inventory had been sold off at bargain-basement rates in the days prior to the closing. The front part of the store now bears almost no hint of what had been there; a glassed-in cabinet that once held all manner of buzzing and penetrating novelties is now bare. A peek toward the back of the store, however, left no doubt about its former tenant: Under a sign reading "Adult Arcade" was a warren of black booths, where the distinctive smell of years of left-behind human protein lingered powerfully.
Like many who used those booths, no doubt, Fairview's owners seem to prefer the cover of anonymity. Employees of the Boulevard of the Allies emporium were instructed not to speak to the press, though a clerk there told City Paper that a Cleveland-based porn-and-toy distributor -- known as Global Transworld News -- owned both Downtown stores.
A records check shows that GTN is housed in a Cleveland building that is also home to such businesses as Sex-Toys-DVDs.net and Private Entertainment.
When City Paper called the company directly, a woman identifying herself as a Transworld owner/manager confirmed the company's ownership of the two Downtown stores. She, too, declined to give her name, or to provide other information.
"We have another store Downtown and we're happy to have that one," she said several times between long pauses and putting CP on hold.
"If you want a story, call the Pittsburgh Cultural Trust," she added.
The Trust bought 943 Liberty Ave. from Gemstone Realty Co. -- which also owns Transworld's Cleveland facility, and is headquartered in Panama -- in January 2006. According to Allegheny County real estate records, the Trust paid $5,384 for the building, which had a 2007 market value of $353,100. The porn shop remained as the Trust's tenant until this September.
"Their lease had expired," says Veronica Corpuz, the Trust's public-relations director. She says she's unsure whether the decision not to renew came from the Trust or Transworld. It's not clear what will become of the building, though Corpuz says, "We want to activate it with an arts tenant.
"The goal of the Pittsburgh Cultural Trust over the last few decades has been to establish a thriving arts and entertainment neighborhood," Corpuz adds. "From my personal experience growing up in Pittsburgh and seeing what the Cultural District is today, it's certainly different. I always cite the gallery crawls as a good example of how Pittsburgh is evolving and changing."
Not everyone is so enthusiastic.
"It's like Times Square all over again. It's a shame," says Sherri L. Shaulis, referring to Rudy Guiliani's famous cleanup of that once-notorious area of New York City. Shaulis, who grew up and went to college in the Pittsburgh region, has special reason to object when city leaders toss out smut-peddlers: She's the Web-content manager for Los Angeles-based AVN Media Network, which reports on the adult industry. But she says, "There's a whole history associated with [stores like] this. It's an iconic piece of pop-culture history." And, for her, personal history: Seeing a dirty movie or buying a magazine on Liberty Avenue was a "rite of passage" among her friends.
Still, Shaulis concedes, "The whole adult industry has had to adapt" to the rise of the Internet, adult cable channels and other trends. "There are areas where bricks-and-mortar will continue to thrive, [but] they'll disappear in mid-level cities," she says. Pittsburgh is likely to be one of those cities -- though Shaulis suggests it may not be any more virtuous as a result. "People don't have to be on Liberty Avenue anymore: They can order something darker and dirtier from behind their computer."