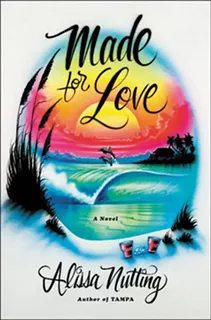 Made for Love by Alissa Nutting
A woman escapes her deranged tech mogul husband to live in a trailer park for the elderly with her father and his sex dolls. This storyline intertwines with a man and his overwhelming lust for dolphins.
Dropped Names
by Frank Langella
This memoir of the actor's long career features dish on basically every old Hollywood actor. Spoiler: everyone was beautiful and horny at all times. Special mention for that chapter on Raul Julia.
Action: A book about sex
by Amy Rose Spiegel
This is basically an adult sex-ed book, with a lot of wit and zero condescension. Read it alone or with a partner.
Sula
by Toni Morrison
This acclaimed author's second novel is a story of family sorrow and tragedy, but it's also about a promiscuous gene passed on through generations.
You Will Know Me
by Megan Abbott
Abbott's prose is sharp enough to whet a knife. This time, her singular obsession with the seduction of girlhood focuses on a murder in the world of competitive teen gymnastics.