Nathanan Manjeen loves snow. Known by her nickname Tookta, Manjeen spent most of her life in the Bangkok heat. She wanted to move somewhere cold.

Snow aside, Manjeen also came to Pittsburgh to cook. Since she was a child, working in her parents' restaurant, Manjeen has aspired to run a kitchen of her own and teach people about Thai cuisine. Pittsburgh gave her a place to achieve both dreams. She enrolled in the international culinary program at the Art Institute of Pittsburgh, graduated, and five years later, opened Took Took 98 in Squirrel Hill.
The menu at Took Took 98 checks nearly every box of Thai cuisine. There are brunch dishes made with eggs, snacks (Thai street food is all about finger food), soups, salads, noodle dishes, rice dishes, and curry. Widely known Thai favorites make the bill — pad Thai, pineapple fried rice, tom yum soup — but there are also unique Took Took signatures, like pad kra pow moo sub kai dow, a pork, green bean, and basil leaf plate, and kai kra ta, an egg dish topped with pork and bacon.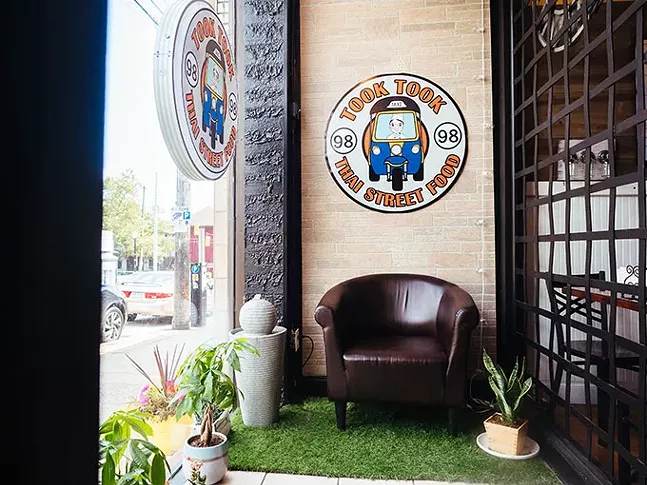 Thai cuisine generally focuses on combining four flavor profiles: salty, sweet, sour, and spicy. A variety of herbs help to make up this group — lime, tamarind, fish sauce, palm sugar — the fourth "flavor" attributed to chilies. These few basic flavors should be found in every Thai dish.
Manjeen has mastered the balance of those four flavors. Her pumpkin curry is on the sweeter side but evens out with the heat from the chilies and sour citrus of fresh kaffir lime leaf. Curry paste is hand-smashed (she buys a mother paste first), and, using her grandmother's recipe, adds nuance to the dish that is unmatched by any store-bought paste.
Thai cuisine includes a number of external culinary influences. Stir- and deep-frying — pad Thai for example — is a technique left from Chinese migration through the country. Chilies are a result of Portuguese missionaries. Ghee, a common ingredient used in Indian curries, has been swapped for coconut.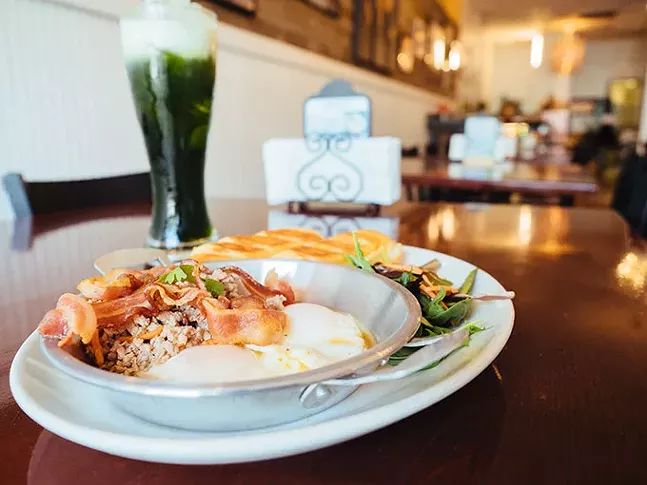 Ba mee keaw koong, one of Took Took 98's signatures, is a beautiful step between pho, wonton, and chicken noodle soup, and a clear representation of Thai adaptation from neighboring cuisines. According to Manjeen, it's sold on almost every corner in Thailand, and for good reason. The soup, made of egg noodles, shrimp wontons, bok choy, cabbage, and herbs, is incredibly flavorful. The herbs are crisp and fresh, adding an aromatic bite to the simple, garlic-filled broth.
Looking at the Took Took 98 logo, there are three things that pop out. There's a giant tuk tuk, a Thai rickshaw, the country's traditional method of transportation. It's a quick, easy way to move through big cities. There's the 98, as nine and eight are considered lucky in Thailand. Nine stands for moving forward and eight signifies infinity. Combined, they mean "moving forward forever."
The final part of the logo is Manjeen, who sits in the driver's seat of the tuk tuk; she is driving the experience at Took Took 98. It connects to Manjeen's original goal, to bring the cuisine she grew up with to Pittsburgh. As she says, "We will move forward together and enjoy incredible Thai food [together]."
Favorite Features

1. Took Took Soda
The "Took Took Soda" is a bright red, bubbly drink made from salak (snake fruit). The palm fruit is tart, bright, and citrusy, like an apple and pineapple combined.

2. Sauces
All of the restaurant's seasoning sauces are imported from Thailand. Try the dumpling dipping sauce — it's vinegar-based instead of soy sauce-based.

3. Purple rice
Mango sticky rice, a popular Thai dessert, gets a colorful twist at Took Took 98. The rice, molded into adorable shapes, is purple.