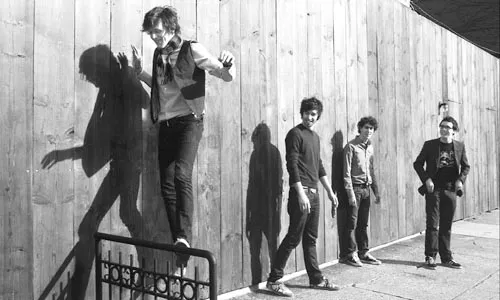 Last April, Tokyo Police Club played Mr. Small's Theatre, a high-energy show that was notable in a couple of ways. Not only was it the Toronto band's last night of the tour -- meriting an extra encore of fleet-fingered indie-pop and Morrissey melancholy -- it was also just days before the release of its buzzed-about full-length debut, Elephant Shell. But as bassist and vocalist David Monks rattled off the lyrics, plenty in the young crowd were singing along, as if anyone who really wanted to hear the record already had it -- the iTunes release was weeks before the Pittsburgh date, and the album had leaked online in early March.
Many shows and accolades later -- as well as stints on the late-night TV circuit, even an appearance in Desperate Housewives -- the band is returning to Mr. Small's on Sat., Feb. 28. "We had a really good time, we're excited to play there again," says spastic keyboardist Graham Wright, on the eve of what he's predicting will be the band's last U.S. dates until it has a new album to promote.
"I don't know if we could reasonably tour again and play the same songs and expect people to come out," he says. Including a stint opening for Weezer, the band toured the U.S. three times in the last year; this final run will mainly hit smaller rooms in new markets, and without the band's heady LED light show -- "bare bones, just the four of us onstage," Wright says. "We're calling this the victory lap [tour] for our album," and adds, "mostly we're gonna just yuk it up and enjoy ourselves."
They've certainly earned it. The young band has logged a lot of miles since Monks and Wright formed Tokyo Police Club with guitarist Josh Hook and drummer Greg Alsop in 2005, as high school seniors in Newmarket, Ontario. "Your typical Ontario suburb," says Wright. "Little neighborhoods, new developments, a mall."
Located 45 minutes outside central Toronto, in an area without much of an indie scene at the time, "it forced us to work in a vacuum," Wright explains. He thinks that helped keep the band from getting caught in a self-contained local scene. "If we wanted to play, we had to drive down to Toronto, or have our parents drive us down to Toronto." Indeed, it was an appearance at the Pop Montreal music festival that put Tokyo Police Club on the radar of Paper Bag Records, who signed the band and released its EPs A Lesson in Crime (2006) and Smith (2007).
By the time it switched to the Saddle Creek label for 2008's Elephant Shell, the band had found a niche for its unapologetically nerdy indie dance-pop, with a tendency toward art-rock flourishes and Smithsy vocals. It's a niche shared with friends and frequent tourmates Ra Ra Riot, and one not so terribly far from, say, Vampire Weekend, or slicker fellow Canadians The Coast.
With Elephant Shell, the band has drawn some criticism for self-conscious bookishness, using words like "tessellate" as the title for its lead single. "I don't think it's supposed to be ironic at all -- we're just nerdy dudes," Wright says. (As evidence, one of the band's songs suggests we should have robot servants by 2009 -- "We really dropped the ball on making the year too close," Wright jokes, though "the economy's crumbling, computers could take over any time.") "It's not like we sit around with our Word of the Day calendar trying to figure out how to confound everybody next."
If the words can seem a bit daunting to those without the benefits of a Canadian education, the music is quite democratic: two-minute blasts of in-the-pocket rhythms, snarling Geddy Lee-ish basslines and tinkly, mercilessly addictive hooks. Make no mistake, though -- songs like "Your English Is Good," with its opening chant, "give us your vote, if you know what's good for you," are nothing if not arch in sentiment.
Even live, the songs remain tightly focused and trim, which can make a 10-song set by Tokyo Police Club feel rather long, even though less than half an hour passes by. "It can be challenging for people to watch the shows, when they're like that," Wright admits, especially on festival dates with audiences new to the material. "With us, you sort of reach a point where you're just figuring out how to get into the songs, and it's over."
Which seems all the more reason to -- ahem -- hit the books before Saturday's show.
Tokyo Police Club with Harlem Shakes and Ruby Coast. 8 p.m. Sat., Feb. 28 (doors at 7 p.m.). Mr. Small's Theatre, 400 Lincoln Ave., Millvale. $13. All ages. 412-821-4447 or www.mrsmalls.com